In a city where the people are unable to elect their own leader, hopefuls for Hong Kong's leadership spot seem to be falling over themselves to prove that they are "of the people."
Three, potentially four, candidates are in the running to be Hong Kong's next chief executive in July, as the embattled current leader Leung Chun-ying steps down. There will be no election by universal suffrage to elect the next leader. Rather, an elite 1,200-member committee that is heavily loyal to Beijing will make that decision.
Authorities north of the border will ensure the chosen candidate is trustworthy, loyal, and patriotic. But they'll also be looking for someone who can help bridge the city's various divides—many of which stem from gross inequalities.
To that end, the chief executive hopefuls have been lining up for photo ops to showcase their common-man credentials. Housing, arguably the most acute social issue in Hong Kong, is a popular theme. The city is by some measures the world's most unaffordable real estate market.
The most visceral symbol of Hong Kong's inequality are its infamous cage homes, which on a per-square-foot basis rival the prices of some of the city's high-end real estate. Many residents live in sub-divided units that are often dangerous and semi-legal. Most young people can only dream of getting on the property ladder and are forced to live in cramped spots with their families long after they've entered the workforce. Capsule homes are their newest hope of privacy and independence.
To demonstrate their empathy for Hong Kong's poor, two of the candidates, lawmaker Regina Ip and retired judge Woo Kwok-hing, visited a mock coffin-sized cubicle at an exhibition in one of the city's poorest districts, Sham Shui Po. Ip even climbed into one of the cubicles to lay down for photos—which inadvertently resulted in a barrage of ridicule and memes, as Ip is extremely unpopular among pro-democracy supporters, particularly young people. Some doctored photos (link in Chinese) to show Ip lying in an actual coffin.
Former financial secretary John Tsang, who resigned recently, is rumored to be a contender for the chief executive role. Even though his intentions have not yet been made clear, his recent actions certainly smell of campaigning (Tsang has said he will clarify his decision in the coming days). Over the weekend, he visited one of the city's public housing complexes, and shared photos of himself eating a typical tofu-and-pork rice dish at a neighborhood restaurant.
"I heard that beer goes well with this pork dish, but because I still have engagements to attend, I don't have a chance to enjoy it. I hope I will have another chance to drink with the neighbors here in the future," Tsang wrote on his Instagram account (link in Chinese) after visiting the low-income district Wong Tai Sin, on Jan. 15.
As finance secretary, Tsang presided over a massive budget surplus—a point not lost on many in Hong Kong who have clamored for the government to spend more on social services and welfare, in a city where some one in five people live below the poverty line. Tsang—who's spent much of his life residing in the US—has tried hard to foster an image of being a local Hong Konger (rather than someone who is simply obsequious toward Beijing). He remarked during his meal (link in Chinese) that HK$50 (US$6.50) "isn't really cheap for a plate of rice," lamenting the high cost of rent and suggesting that the government should do more to relieve economic pressure on the population.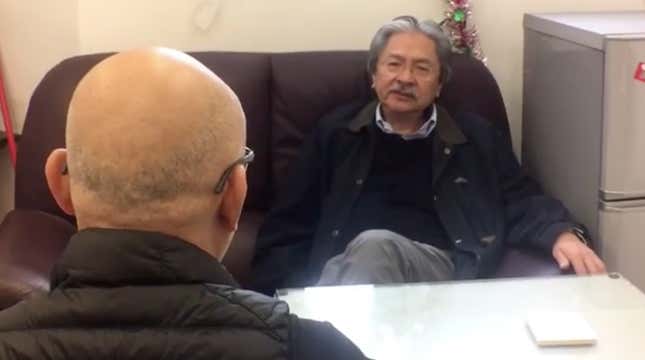 Tsang also visited a family (link in Chinese) in their apartment in a district close to the border with mainland China—far away from anywhere he would typically visit—where many low-income residents live.
Carrie Lam, said by many to be Beijing's favorite contender for the top job in Hong Kong, recently resigned from her role as the city's No. 2 official and announced her candidacy for chief executive. Cameras in tow, she paid a visit (link in Chinese) to a 96-year-old man living alone in a public housing flat. She also stopped by a co-working space for selfies and went hiking with a member of her campaign team who later posted photos of Lam with other hikers. She was "super popular" on the trail, according to her companion, executive council member Bernard Chan.