After five years under the unpopular Leung Chun-ying, Hong Kong will get a new leader on July 1, the 20th anniversary of the handover from British to Chinese rule. For many, the removal of "CY" has long been at the top of their wish list. "ABC," or "Anything but CY," became a popular refrain last year, until the man himself declared a month ago that he would not seek a second term. The question now is whether his replacement will be any better.
Certainly Leung has set a low bar. Many believe Hong Kongers' loathing of him fueled the independence movement. During the pro-democracy Umbrella Movement in 2014, demonstrators demanded his removal. He added little to his image when his administration filed a judicial review last October to stop two pro-independence lawmakers from even starting their jobs.
Leung won't be missed much, but with Beijing holding ultimate control, it'll be tough for any chief executive to win lasting popularity in Hong Kong.
Another problem is how the chief executive is decided in the first place: not by direct elections, as pro-democracy demonstrators call for, but by a 1,200-member "election committee" that is supposed to be representative of the broader society but that critics charge is heavily stacked in favor of business interests likely to be pro-Beijing.
Whoever does win the top spot is still at the mercy of Beijing. As written in Hong Kong's Basic Law, the city's head "shall be selected by election or through consultations held locally and be appointed by the Central People's Government."
None of this has stopped candidates from stepping forward, of course. Here are the contenders so far:
Woo Kwok-hing, 71, retired judge
Woo was the first to announce a bid for the city's top spot. He resigned from his post as a deputy judge in the High Court on Oct. 18, 2016.
In the statement (link in Chinese) announcing his candidacy issued about 10 days later, he criticized Leung for failing to bridge Hong Kong and Beijing, citing the 2014 protests: "I do not think Leung Chun-ying has been able to address public grievances and halt the division of our society." Woo touted his neutrality and experience as a judge, saying he's "in a strong position to help assuage conflicts and dilemmas amongst different political parties and community groups."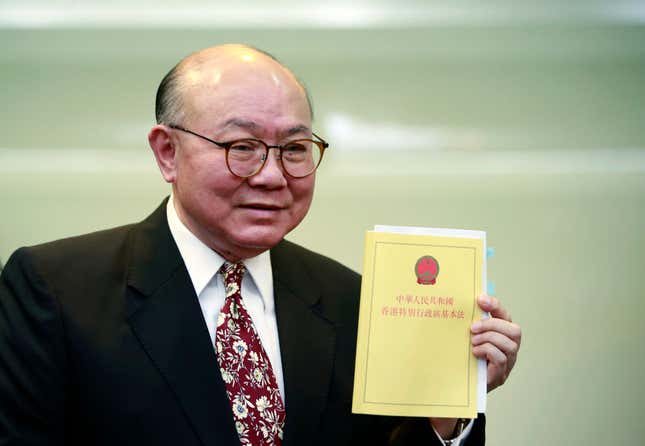 Woo says reforms are needed in how the city's election committee is put together.
Last week he admitted to meeting with (links in Chinese) Wang Guangya, Beijing's top official in charge of Hong Kong affairs. He declined to offer details on what they discussed.
Meanwhile he's since been busy visiting the city's poor and meeting with members of the election committee.
Regina Ip, 66, lawmaker
On Dec. 15, a week after Leung declined to run again, Ip became the second candidate to throw a hat in the ring. This will be the political veteran's second attempt at the top post. In 2012, she dropped out of the race (link in Chinese) after failing to receive enough nominations from the election committee.
In the 1990s, Ip became the first female director of immigration, and then the first female security minister. But as a pro-Beijing lawmaker, she's deeply disliked by Hong Kong's pro-democracy camp. As security minister she was criticized for backing Article 23 of the Basic Law, which addresses treason and sedition. She's stuck to her position, and says she would implement the article with "suitable measures."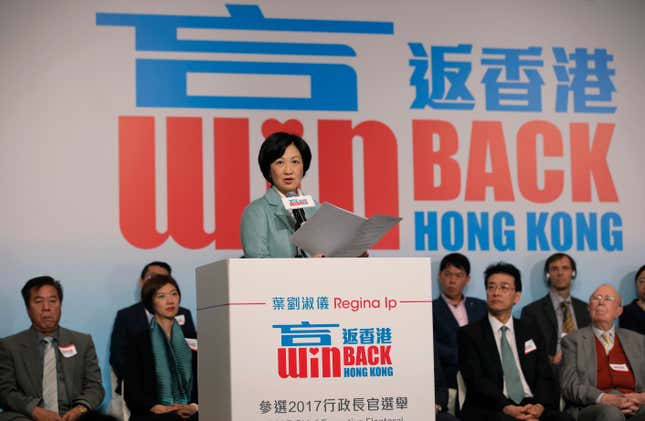 With her campaign slogan "Win back Hong Kong," Ip has been campaigning around the city—not always successfully. At an art exhibit focused on the lack of affordable housing, she posed next to a replica of a coffin-sized home to show she's empathetic with residents forced to inhabit such claustrophobic dwellings because of the city's high rents. Hong Kongers didn't buy it, and a meme mocking the move arose online, with doctored photos showing Ip lying in various coffins.
Ip says she's had no official contact with Beijing.
Carrie Lam, 59, Hong Kong's chief secretary
As chief secretary, Lam has already held the second-highest office in Hong Kong. Now she's gunning for the top post. To that end she recently resigned as chief secretary (as required under the law). Earlier she had hinted at least three times at retirement, saying she would not run (link in Chinese) for the chief executive spot.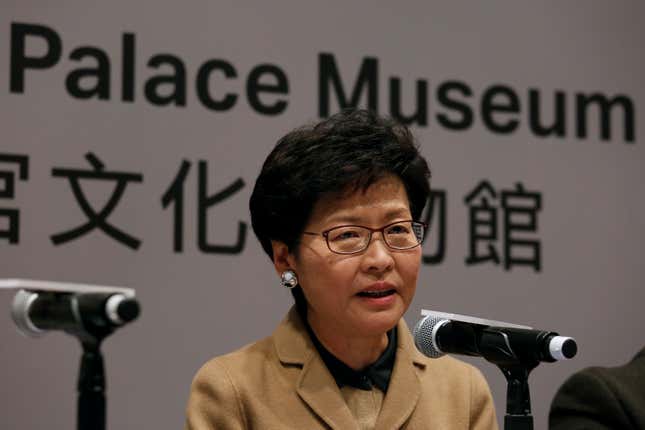 That changed in late December after she approved spending $450 million to build a Hong Kong branch of Beijing's Palace Museum, which she had visited weeks earlier. The move was fraught with politics but sure to play well with leaders in Beijing.
A few days after announcing her run, Lam, a Catholic, said god told her to run.
Lam had been nicknamed (paywall) "the good fighter" for as she had played a bridging role in earlier disputes between the public and government, but since 2014 her stance has hardened and she is believed to be Beijing's favorite for the top job in Hong Kong.
John Tsang, 65, former financial secretary
A relatively popular politician in Hong Kong, Tsang looks set to announce whether he'll run within days. In mid-December he resigned as financial secretary, an act interpreted as preparing for a bid.
In a TV interview in July (link in Cantonese), Tsang described the position of chief executive as a "bad and hard job." But Tsang added that if assuming the post would help the city, he'd be "willing to take it… it is beyond question that I love Hong Kong."
Once criticized as being too conservative, Tsang earned some praise among pan-democrats after delivering a February 2015 speech in which he suggested an understanding of the city's youth: "The people of this city, our younger generations in particular, are hungering for spiritual contentment. This is what a mature society should manifest, and this is a change that needs to be addressed and dealt with."
Nicknamed "Mr. Pringles" for his resemblance to the snack mascot, Tsang has recently been visiting neighborhoods and meeting the elderly in what certainly looks like campaigning.
In a poll commissioned by the South China Morning Post and conducted on Jan. 4-10 by the Chinese University of Hong Kong's Centre for Communication and Public Opinion Survey, 27.6% of 1,024 respondents preferred Tsang as the city leader. That put him 4.4% ahead of Lam, followed by Woo at 12.6% and Ip at 9.7%.