It's easy to forget that 2016—a year dominated by Donald Trump's election victory, Brexit, and tragic terrorist attacks in Europe—was a time of seismic importance for Asia as well. Not unlike other parts of the world, political instability and authoritarianism remained on the rise, especially in Southeast Asia. Corruption was a dominant theme and will likely continue fueling dissatisfaction in 2017.
Potential leadership changes this year will be pivotal to the region's future, and will be closely watched by the rest of the world as geopolitical tensions rise in such hotspots as North Korea and the South China Sea. Strongman leadership seems unlikely to recede in parts of the region.
1. China—long live emperor Xi?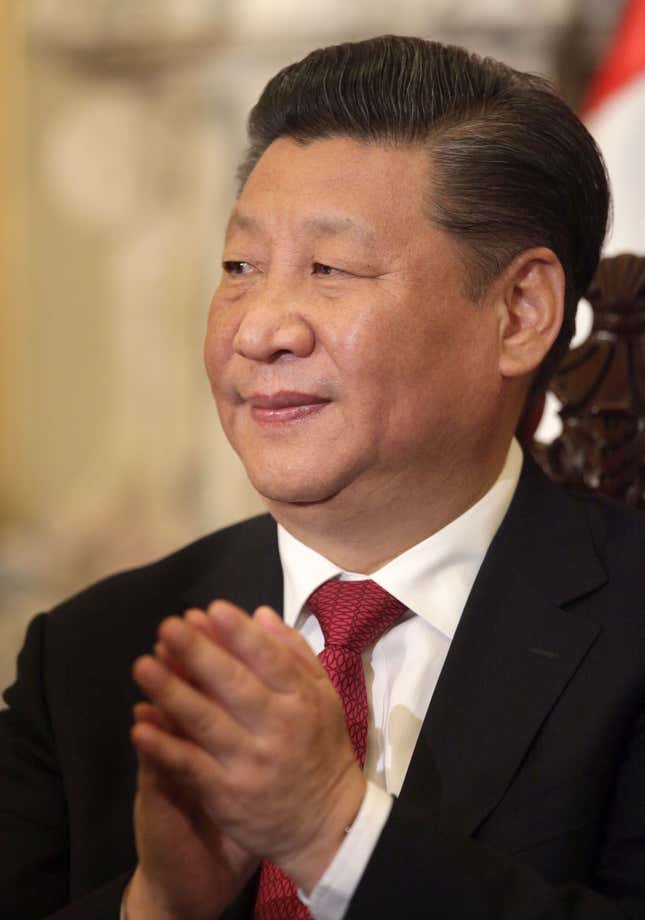 It's more a selection than an election, of course.
The Chinese Communist Party will kick off its 19th National Congress in Beijing this fall, on a date that has yet to be decided. The twice-a-decade meeting is essentially a leadership-reshuffling event. President Xi Jinping took office at the previous congress in 2012, and is set to start his second five-year term at the coming one.
A majority of the party's elite seven-member decision-making group, the Politburo Standing Committee, is expected to retire at this congress. The key question is whether 69-year-old Wang Qishan, the party's top graft-buster and a man often considered a close Xi ally, will seek a second term despite an unwritten rule about retirement at 69. China watchers say Wang's fate will determine whether Xi himself keeps power beyond 2022, when he is due to step down. Speculation is also rife that Xi could oust premier Li Keqiang from the committee due to their conflicting views on economic reforms, although Li is only 61.
Xi has already become China's most powerful leader in decades, having waged war against corrupt officials and won official recognition as the party's "core" during an October meeting.
2. Hong Kong—after "ABC," what next?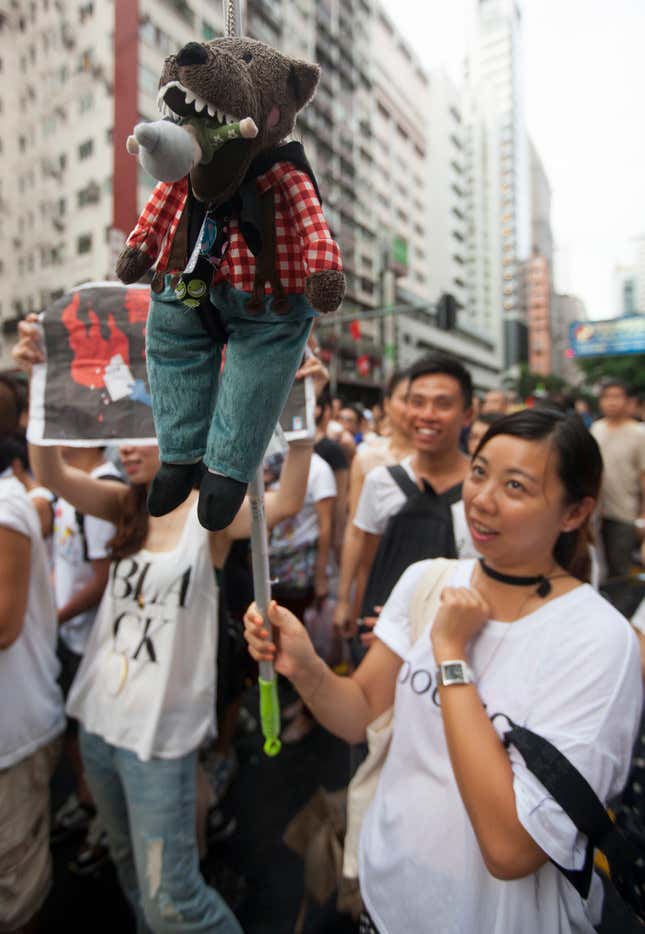 "ABC," or "anything but CY," was a rallying cry for Hong Kong's pro-democracy opposition last year. The phrase refers to Leung Chun-ying, commonly abbreviated to CY, who is widely blamed for fueling political divisions—his unpopularity is said to have given birth to a Hong Kong independence movement. Anger at Leung and his administration mounted in 2016 as the mainland's grip over the city accelerated. In November Beijing ruled that two democratically elected lawmakers must be booted from Hong Kong's legislature for espousing pro-independence views.
Many feared that Hong Kong's political malaise would continue for another five years if Leung, who came to power in 2012, was to run the city for a second term. But Leung unexpectedly announced last month that he would not seek to stay in office.
In a few months, Hong Kong will hold an "election" to determine the city's next leader. The chief executive is decided by a 1,200-member "nominating committee" made up of representatives that are supposed to come from a cross-section of society divided into four categories. In reality, it's a system heavily stacked in favor of business interests likely to be pro-Beijing. Beijing's broken promise to grant universal suffrage to Hong Kong sparked 2014's Occupy protests.
So far, two candidates have confirmed their intention to run in the race—Woo Kwok-hing, a retired judge, and Regina Ip, a pro-Beijing lawmaker and former security official who is deeply disliked by Hong Kong's pro-democracy camp. Speculation is also swirling that John Tsang, who recently submitted his resignation as financial secretary, could throw his hat in the ring, as well as Carrie Lam, the city's No. 2 official.
3. South Korea—a never-ending political scandal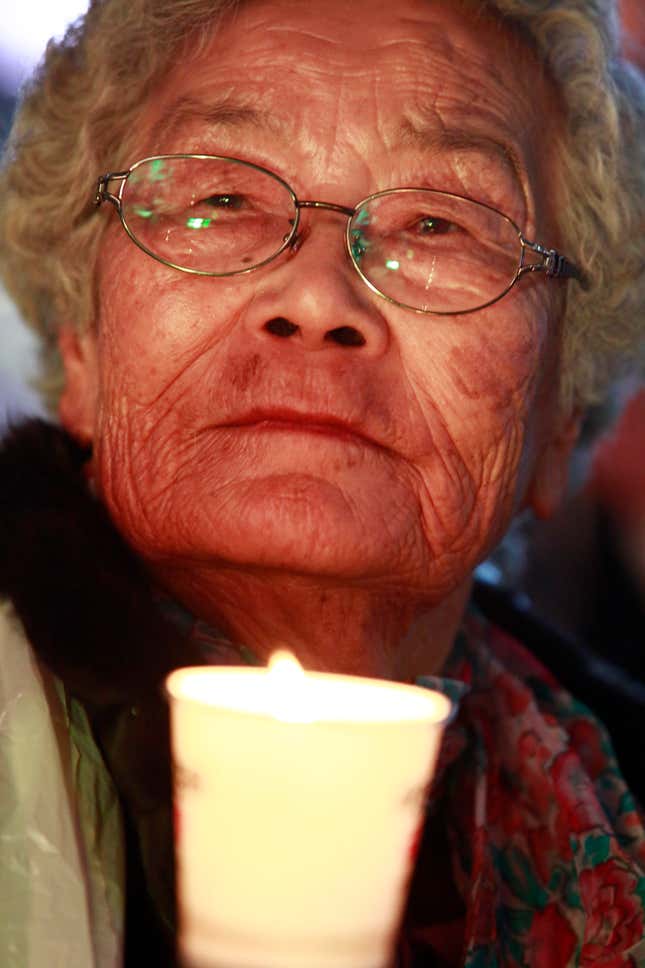 Even for a country with a long history of authoritarian rule and corruption, 2016 was a truly remarkable year for South Korean politics. President Park Geun-hye, the daughter of former military strongman Park Chung-hee, is currently under investigation for her role in an influence-peddling and corruption scandal. Parties involved include a shady confidante with a quasi-religious hold over Park, as well as almost every major name in Korea's corporate world.
South Korea's parliament voted decisively last month to impeach the president, after weeks of massive protests in Seoul and other cities, but the decision still needs to be confirmed by the constitutional court. Park is suspended from her presidential duties in the meantime.
If her impeachment is confirmed, South Korea will hold a presidential election. Potential candidates include former United Nations secretary-general Ban Ki-moon, and the leader of South Korea's opposition, Moon Jae-in. Moon was chief of staff in former president Roh Moo-hyun's progressive government—if Moon is elected, it would mark a stark shift away from the deeply conservative administrations of Park and her predecessor Lee Myung-bak, both of whom favored taking a tough line against North Korea. Critics say that civil liberties and free speech have been curtailed in South Korea under presidents Lee and Park.
South Koreans have been reading the tea leaves for hints of whether Ban will run, though he's given no indication he will. Polls currently put him behind Moon.
4. Thailand—whither civilian rule?
Thailand has been ruled by a military junta since a coup in 2014, with retired officer Prayuth Chan-ocha at its helm. The junta, which calls itself the National Council for Peace and Order, has promised that the country will return to civilian rule according to a roadmap, and that elections will take place in 2017.
But it's a democratic election with caveats—Thais voted in a referendum last summer to approve a new constitution drafted by the military that would still allow it to wield considerable political power, critics say. That's because the country's entire senate will be appointed, and the new election rules make a weak coalition government likely.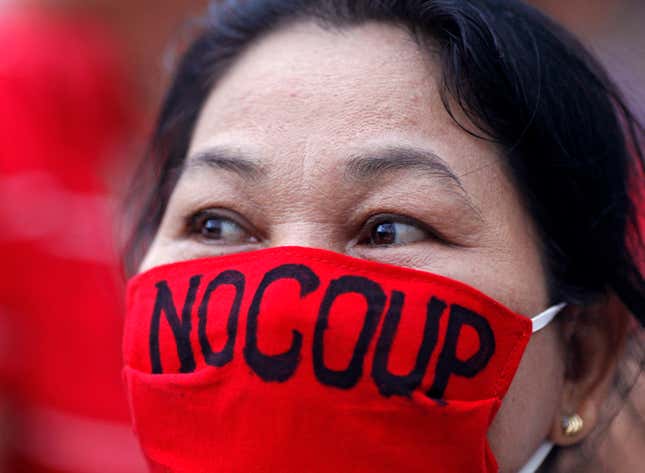 There are fears that the death of Thailand's revered King Bhumibol Adulyadej last year might delay elections, as the country must prepare for his cremation and for the coronation of his successor, King Maha Vajiralongkorn. Some activists have expressed doubts that the military will stick to its word to restore civilian rule.
When the military seized power in 2014 from prime minister Yingluck Shinawatra, sister of the exiled former prime minister Thaksin Shinawatra, it did so in the name of restoring order in Thailand after months of turmoil in the streets. Supporters of Thaksin and Yingluck, known as the Red Shirts, are putting pressure on the military to keep its promise.
5. Malaysia—clean government, please
Malaysia is due to hold a general election by mid-2018. But with prime minister Najib Razak and sovereign-wealth fund 1MDB at the heart of a corruption scandal stretching across the globe (paywall), many wonder if the embattled leader will call for an early election this year to shore up support. The nation celebrates its 60th year of independence from the British this year, which could give a boost to Najib amid a wave of patriotic pride.
Najib faces strong opposition particularly from Malaysia's ethnic Chinese minority, who have expressed their outrage over corruption allegations by participating in a series of large-scale street rallies organized by protest group Bersih (the name means "clean" in Malay). The most recent one was in November.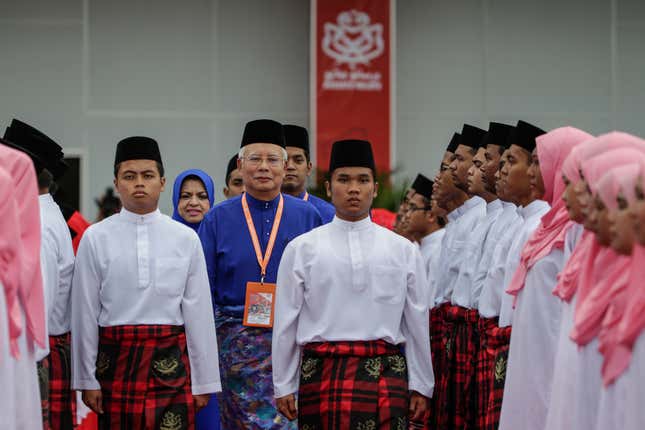 Malaysia's opposition has even signed up former prime minister and strongman Mahathir Mohamad as a vocal backer. Mahathir has accused Najib of stoking racial divisions by stressing a message of Malay superiority and Islamic values to the Malay majority.
"He wants the election to be between Malays against Chinese or Chinese against Malays," Mahathir told Agence France-Presse in a recent interview. "Wherever I go, people actually curse Najib."