Eighty years ago, Ernest Hemingway invented the perfect cocktail for the times.
"Death in the Gulf Stream," as he called it, was Hemingway's salve for 1937—a dark year marked by an economic recession in the US, Joseph Stalin's wrenching Purge Trials, a new war between China and Japan, and the Spanish Civil War which he covered as a journalist for the North American Newspaper Alliance.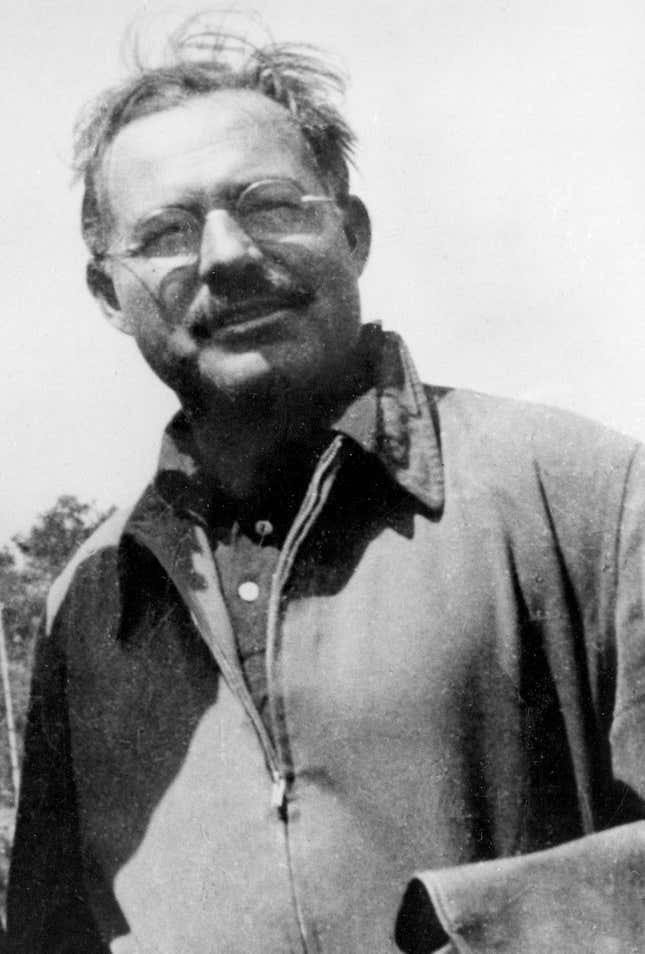 That year, the then-38-year old Farewell to Arms writer was emerging from a creative slump. He published To Have and Have Not, a novel about a desperate fishing-boat captain forced to engage in contraband operations between Key West, Florida, and Cuba in order to make ends meet. Hemingway devised what he called a "reviving and refreshing" gin based highball that "cools the blood and inspires renewed interest in food, companions and life."
Hemingway describes it as a cocktail to be enjoyed from 11:00am on.
Take a tall thin water tumbler and fill it with finely cracked ice.
Lace this broken debris with 4 good purple splashes of Angostura, add the juice and crushed peel of 1 green lime, and fill glass almost full with Holland gin…

No sugar, no fancying. It's strong, it's bitter—but so is English ale strong and bitter, in many cases.

We don't add sugar to ale, and we don't need sugar in a "Death in the Gulf Stream"—or at least not more than 1 tsp. Its tartness and its bitterness are its chief charm.
Hemingway's recipe was documented in Charles Baker's 1946 compendium, The Gentleman's Companion, An Exotic Cookery and Drinking Book. It's also included in a book of cocktail recipes compiled by Colin Field, the head bartender of the Ritz Hotel Paris, who created a themed bar in honor of the Nobel Prize winning writer.