Americans are breaking new ground as sartorial slackers.
The explosion of athleisure, which turned yoga pants and sweatpants into everyday clothing, has pushed the boundaries of how casual clothes could get, but we will go a step further in 2017, according to research firm NPD Group. In a recent blog post, chief industry analyst Marshal Cohen pegged pajamas becoming a normal part of weekend wardrobes as one of his top expectations for the year ahead.
This use of pajamas as regular clothes is already common on college campuses on Saturdays and Sundays, but Cohen says the behavior is becoming mainstream. "It has all the indications of a trend emerging," he explains, pointing to sales patterns, surveys of consumers, and his own observations.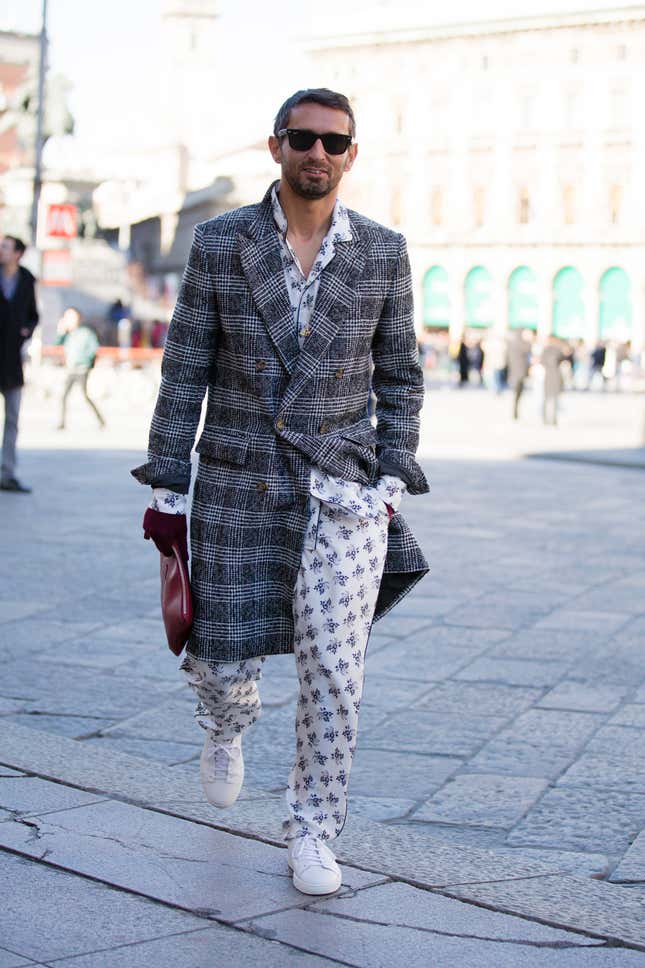 Younger generations are repurposing clothes according to their own more casual tastes, and the fashion-forward want to push boundaries and experiment. Because clothing has already become so informal, going one step further with pajamas has crept into the bounds of acceptability.
The trend has been visible for a few years among the more fashion conscious, particularly those within the fashion industry—to the distress of Washington Post fashion critic Robin Givhan. Recently she wrote (paywall) a story titled, "The fashion industry really wants you to wear pajamas on the street. Don't do it!" about how consumers haven't adopted the sleepy new mode of dress—yet—even though high-end labels such as Gucci, Lanvin, and Dolce & Gabbana, which hosted a celeb-filled pajama party last year, have been pushing fancy pajamas for non-sleep use. "You're supposed to wear this look to a holiday party," she writes. "Or celebratory dinner. Or to the mall."
These luxury pajamas, often in high-end fabrics, are a different breed than a cotton fleece Victoria's Secret shirt. They often demand more formality in the rest of a look: think millionaire nonchalance rather than slovenly disregard. (A rakish attitude doesn't hurt.) They can be quite costly. Dolce & Gabbana sells a $1,075 men's pajama shirt in silk twill. Gucci offers one for $1,210 in embroidered wool.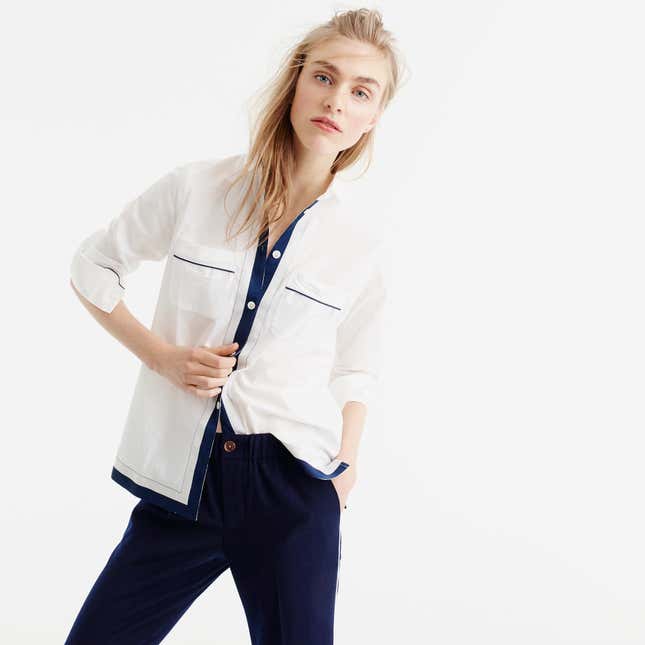 But if Cohen is right, mainstream consumers will increasingly find their own versions. In fact, among pajamas' attractions for many shoppers, he believes, is that they're generally inexpensive, making them a low-risk, fun way to play with clothing. J.Crew, for instance, is currently a selling a women's cotton pajama shirt for $60 on its website that's styled with blue trousers. It also has a "pajama-inspired" top in silk for $180, paired with jeans.
A full head-to-toe pajama outfit is still a challenge to wear in public. But there's no denying that shoppers are prioritizing comfort, and rules are less rigid than they used to be. "We've gotten so casual that we're going to be wearing our bathrobes out on the street," Cohen says, half joking—but only half.