The men's suit used to have a clear place in the world. Men wore it to work, to dinner, and to cocktails. But times have changed. Corporate dress codes are loosening up. Regard for formality is dwindling. Can the suit remain relevant?
Designers at the recent men's shows in Europe were eager to answer, in the most striking instances, with a major overhaul of the suit's proportions. They resurrected big 1980s-style shoulders, or kept jackets trim and let some breathing room into the trousers. The goal seemed to be to reclaim the suit from stodgy convention and present it as something the most fashion-forward men might wear, but probably never for a job interview.
The designs that stood out most came from luxury brand Balenciaga, which examined "the subject of corporate dressing" in a decidedly un-corporate collection, and from designer Dries Van Noten—both among retailers' favorites this season (paywall). Each started with fairly conservative tailoring—double-breasted, roomy jackets—and made it extreme through large, boxy shoulders that narrowed to a pair of drainpipe trousers. This exaggerated shape, which broke from the slim-fitting silhouette that's conventional today, was last fashionable a few decades ago, and hardly since.
It may sound odd to call this look radical, but it's now more outside the bounds of what many guys would feel comfortable wearing. Much like the high-waisted "Astaire" trousers—named for the eponymous Fred—that Rick Owens introduced a few years ago, the style is so out-of-date that it's ripe for reinvention by those such as Van Noten and Demna Gvasalia, the Balenciaga creative director who rose to prominence through his trashy underground label Vetements, and who has led the way in playing with this silhouette.
At Dior Homme, creative director Kris Van Assche was thinking about how to reinvigorate the suit too. "People are talking a lot about how young men don't like wearing tailoring now," he told Vogue. "But maybe they're not giving them the right tailoring. I wanted to concentrate on that."
His solution was embellished, sharp-cut jackets, paired with slim or carrot-cut trousers. The proportions were more expected, but "you actually could imagine the smart dad falling for his former self in these jackets, if not his teenage son," Vogue concluded.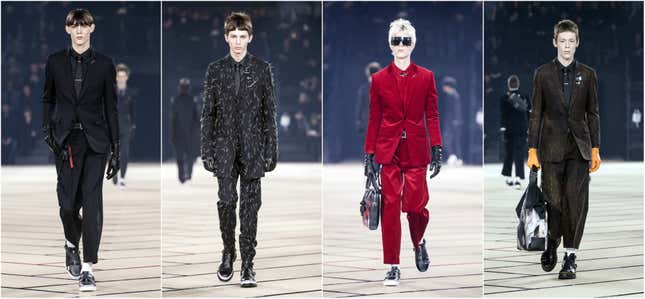 Alessandro Sartori, as if in direct appeal to that teenager, cast among his models the person behind internet-meme generator @fuckjerry for his debut at Ermenegildo Zegna. Even so, getting a teenager into a suit these days seems like a long shot.
Efforts to rethink the suit may become more necessary as current suit wearers retire and the next generation takes their jobs, with no need for a closet of  tailored clothing. Currently, the market is still growing, according to the latest data from research firm Euromonitor, but not as fast as once was. It has left experimental labels and traditional ones alike thinking of where the suit goes from here.