The word "couture" gets thrown around quite a bit in fashion. (See Juicy Couture and its velour jumpsuits.) But its meaning is quite specific, particularly in the case of haute couture, which has its own governing body in France. Generally, couture refers to dressmaking done almost entirely by hand of the highest quality, made-to-order for private clients—very wealthy private clients. A true couture dress can cost hundreds of thousands of dollars.
As extravagant and unnecessary as that may seem, couture is the pinnacle of craft in fashion, and those astronomical price tags derive from the fact that each dress can take hundreds or thousands of hours of skilled work to create.
In his latest collection, John Galliano, creative director of Maison Margiela, combined that old-world art with references to the new digital personas we construct on social media, including the filters we can use to literally change or distort how we look on image-sharing apps, in his couture show for the house on Jan. 25.
One extraordinary dress—a lattice of intricate beige crochet over bright red tulle—required a combined 2,000 hours of work by the house's atelier to complete, a Margiela spokesperson said in an email. That equates to 250 eight-hour days, nearly the number of weekdays in a whole year.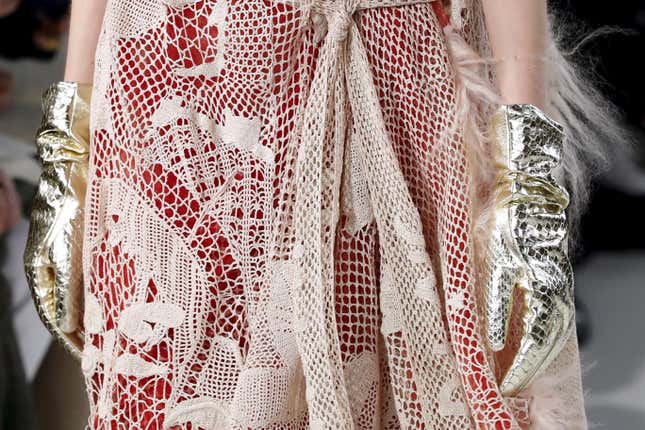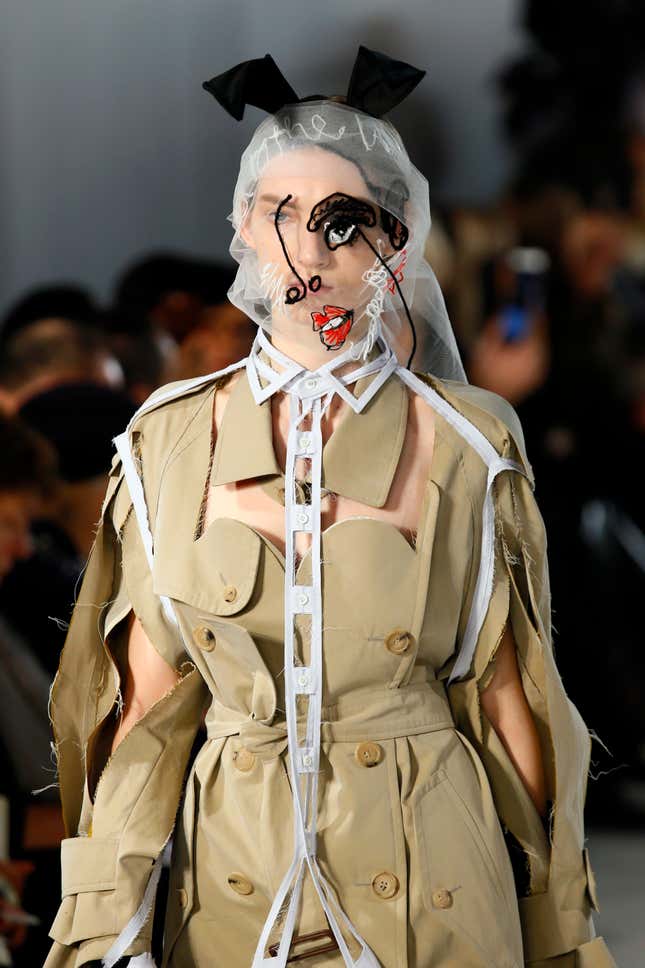 The show notes talked about "how reality is veiled in filters and conveyed through symbols," and the collection played on layers, adding or peeling them away to suggest the way we obscure our real identities in artifice. Several of the models wore literal references to social-media face filters, done in makeup or tulle veils with faces on them.
The crochet dress incorporated the face motif—visible at the level of the model's thigh—that ran through the collection, as well as text and intricate geometric patterns. To make it, Margiela's artisans carefully hand-knitted the crochet overlay from fine cotton yarn, then affixed it in the designs seen on the dress's bodice and skirt. Styled with a deconstructed hat, gold gloves, and Margiela's signature split-toed tabi boots, the look was strange and beautiful, and among the highlights of what was arguably Galliano's strongest collection for Maison Margiela to date.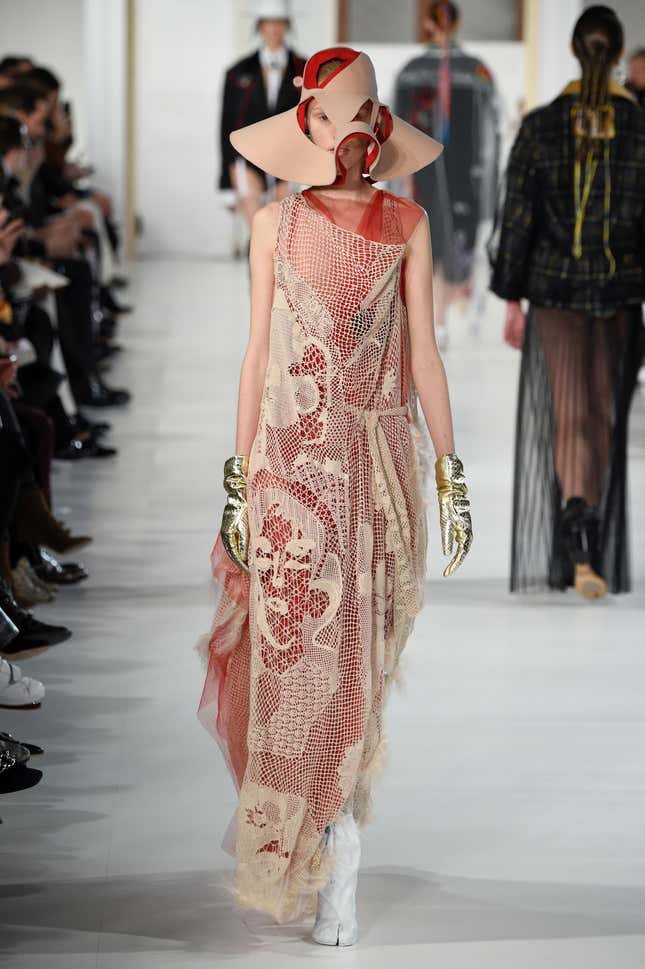 There are layers to Galliano himself that the public may never fully penetrate. The designer's public image still bears the stain of the drunken, anti-Semitic rant that got him fired from Dior in 2011. He has since called it the "worst thing" he's said in his life and claimed he didn't mean it.
What is clear is that he has a superb talent for conceiving dramatic, otherworldly images and making them real in fabric, which he resumed doing at Maison Margiela after joining the house in 2014. The new collection mixed in reworked jackets, bridal gowns, and other elaborately hand-crafted pieces, such as a coat featuring an expertly rendered face made of tulle, created by fabric artist Benjamin Shine.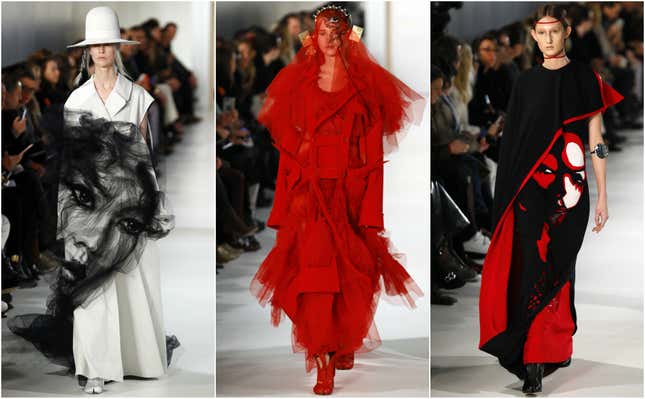 All together it was haunting, gorgeous, and a display of exquisite craftsmanship, made possible by all the hands working beyond the eyes of the public.