This post has been corrected.
It hasn't been easy to turn the tide against fishermen who kill sharks for their fins, a delicacy coveted in Hong Kong, mainland China and other parts of Asia. That's partly because it's lucrative—the global trade in shark parts was worth $630 million last year.
So says a recent study on the burgeoning business of "shark ecotourism" (pdf), which could actually help preserve the world's dwindling shark population.
By examining 70 dedicated tourism outfits that allow visitors to observe sharks (from boats and in cages), the researchers calculated that the business generates $314 million a year, not to mention 10,000 jobs globally. On average, revenues for the shark watching sites surveyed have grown at a 27% clip over the last two decades. And the industry could double to nearly $800 million within 20 years. Here's a geographic breakdown: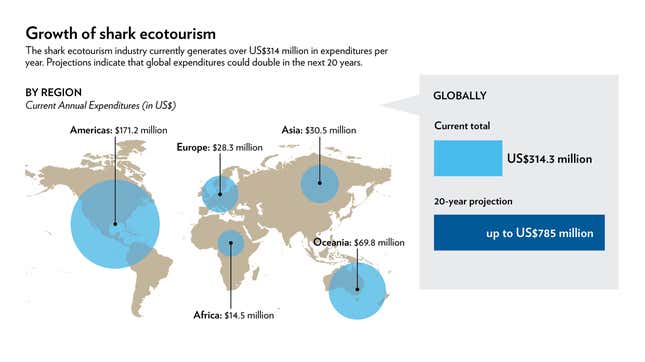 The shark ecotourism industry views sharks as a renewable resource: one shark can be seen by thousands of visitors.
Fishermen, on the other hand, see sharks as non-renewable, which is why they've decimated the shark population in the last 30-50 years. Here's a geographic breakdown of the shark fishing business: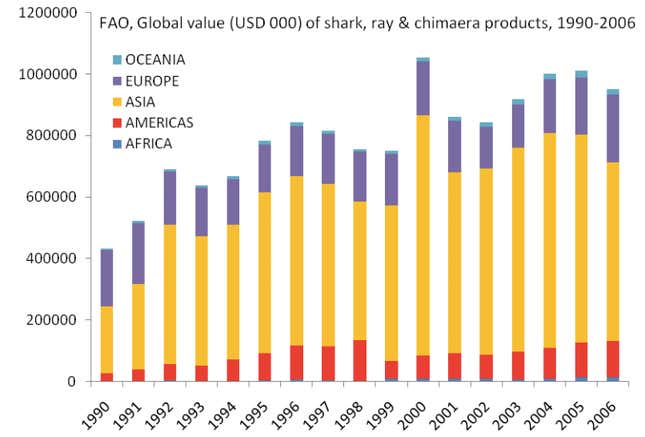 The number of shark catches has been gradually declining in the last decade, largely because of overfishing. But as demand from China and other Asian countries has grown with rising incomes, the shark processing business has profited handily (mostly because there is limited capacity for processing sharks; most of the work takes place in Hong Kong). Here's a look at rising demand in Asia: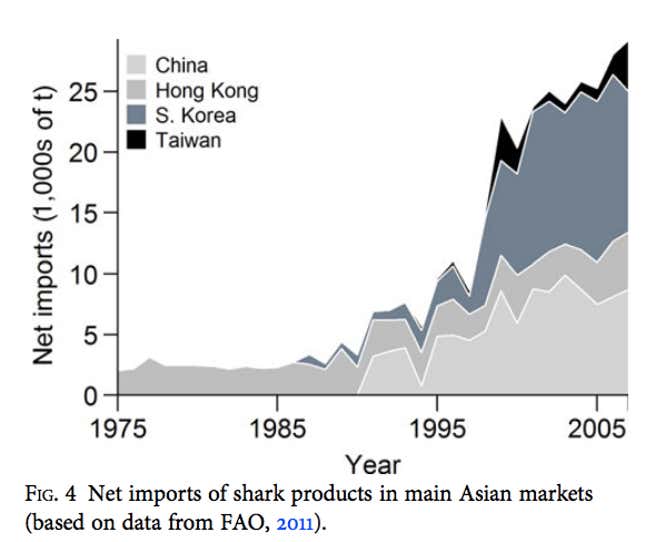 Recent data suggest Hong Kong imports fell sharply in 2012. That's important because Hong Kong imports 50% of the world's fins (paywall) and then re-exports most of them to banquet halls around the world.
Part of that decline has to do with recent education campaigns. Regulation has been less successful, though, partly because in many countries fisherman depend on high fin prices to make ends meet. For instance, the EU only just closed a loophole in its shark finning ban that helped make it one of the biggest exporters of shark fins to Asia. As you can see, Spain is among the biggest shark catchers: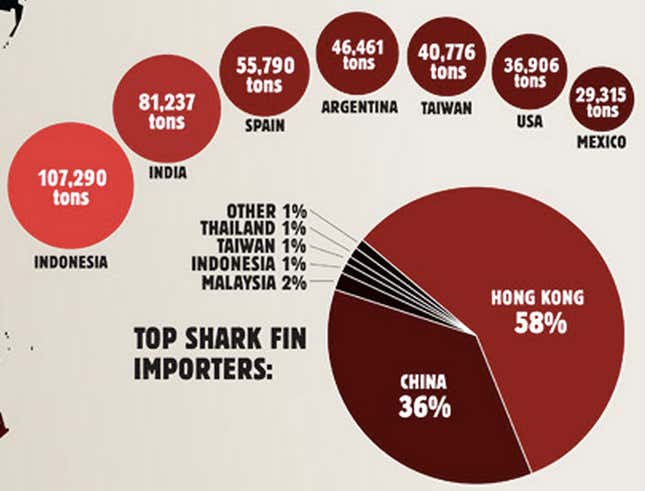 Not coincidentally, Spain is also one of biggest suppliers of shark fins: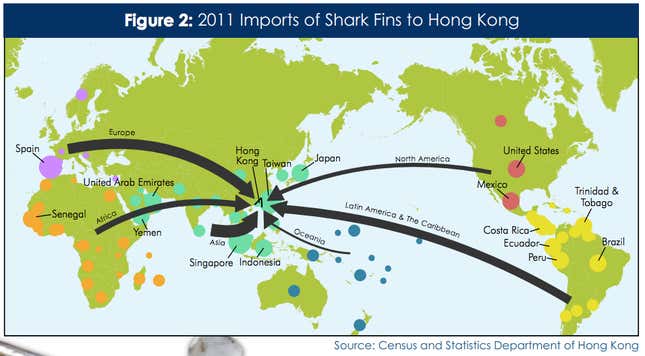 Ecotourism alone won't end shark finning. (After all, fishermen don't magically turn into tour guides.) Even banning shark fishing and promoting sanctuaries has limited impact. Just look at South Africa's struggle to preserve its rhinoceros population in national reserves, despite heavy regulation. Ultimately, demand for fins will determine the fate of sharks.
Correction: May 31, 2013 5:08pm (EST): The headline of this post has been corrected to reflect that the report projects $314 million in spending on shark ecotourism. It originally said $340 million.