"Will you be checking in your falcon or will she fly in the cabin with you?" is a question that's unfamiliar to most air travelers.
On occasion the birds even have to stick it out coach. At least that was the case presented by a Reddit user, whose photo of dozens of birds of prey—all of whom are no doubt very, very expensive—on a plane went viral this week. Each of the birds has its own seat.
Redditor "lensoo," whose name is Ahmet Yasar, told Quartz the photo was sent to him by an Airbus pilot friend, who said a Saudi prince brought 80 of the birds on a flight with him to Jeddah, but he declined to say from where.
Falconry, the ancient sport of hunting with birds of prey, is popular enough in the Middle East that airlines have drawn up guidelines for bringing the birds on board, the BBC reported.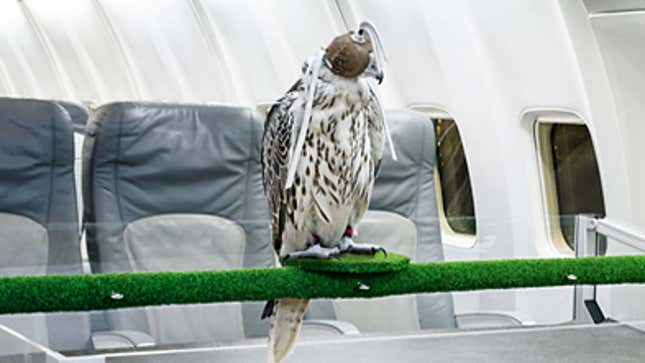 Passengers can bring up to six falcons in the passenger cabin of Qatar Airways, which offers a fee schedule on its website. (It costs a mere 1,620 Qatari riyals, or $445, to ship a falcon from Doha to the Americas.)
Falcons are among the only animals permitted in the cabin on some Emirates routes to and from Dubai—but are prohibited on most other flights.  Etihad allows falcons in the cabin and as checked luggage. Lufthansa, meanwhile, has its own patented bird stand for VIP passengers who wish to bring their falcons on board, called, naturally, the Falcon Master.
No word yet on if a falcon has ever been on the same flight as a therapy animal.