This may not be the way to settle a lawsuit with the new US president.
José Andrés, the celebrity chef sued by US president Donald Trump after refusing to open a restaurant in his new Washington DC hotel, today called for people—foodies, in particular—to stand up against some of the changes he expects to hit food and immigration policy under the new administration.
Speaking at the 2017 Food Tank Summit in Washington DC, Andrés said today that he thinks funding for hunger programs could be sliced in half and that immigration policy changes could result in the deportation of thousands of farmworkers who pick crops. "That is going to make America hungry. Where are we going to be knocking on the doors to make sure that doesn't happen?" Andrés said. "Food is politics."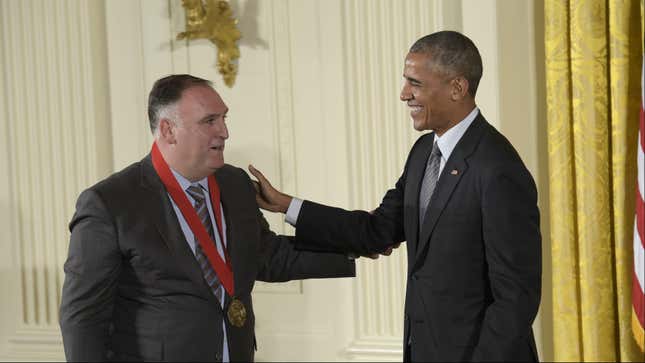 Andrés' profile as a celebrity chef rose during the presidency of Barack Obama, whose administration made food policy a priority. Originally from Barcelona, Spain, Andrés became a naturalized US citizen in 2013 and now owns more than a dozen mainly Spanish restaurants in Washington DC, Miami, Las Vegas, and Los Angeles. Last year, Obama awarded him a National Humanities medal for introducing "new and vibrant ingredients to our Nation, whether through his innovative techniques in the kitchen, his work on clean cooking technology and access to education, or the inspiration he provides to new Americans."
The chef backed out of his obligation to run Trump's restaurant after Trump's disparaging comments about Mexicans; the then-candidate promptly sued Andrés for breach of contract, seeking $10 million in damages. Andrés countersued and has since called upon the president to drop the lawsuit.
Andrés' call to action today comes at an interesting time for global consumers of American food and the US agricultural industry. Trump has promised to alter trade policy and deport millions of illegal immigrants from the US, a population farmers rely upon for growing and picking their crops. In coming months, congressional lawmakers are also expected to re-examine the Farm Bill, a massive spending bill that gets tinkered with every five years or so. The bill covers nearly $8 billion in commodity crop protections, the food stamp program, and school meals, among other things. In all, the legislation covers about $1 trillion in spending over a 10 year period.
But figuring out what the White House and congressional Republicans will seek to change in the Farm Bill remains murky.
"This is an unusual and somewhat chaotic time in Washington," said lawmaker Chellie Pingree, a Democrat from Maine who has sat on the House Agriculture Committee. "It could be the foggiest crystal ball I've ever looked into."
Former deputy secretary of agriculture Kathleen Merrigan echoed Pingree's thoughts, casting an  ominous note about how she expects conservative groups will try and gut the government's organic food program. "There are forces of darkness who are coming together and sharpening their knives on organic," Merrigan said, concerned the new administration will not fully support the US organic program, which develops national standards for organic agricultural products.
To be sure, the Trump administration has much to prove to people in the agricultural community, even as many its voices in rural America came out in droves to support him during the 2016 election. More than 90% of corn-producing counties in the US  cast their votes for Trump, and yet his position on corn ethanol subsidies, trade relationships, and other commodity programs largely remain a mystery.