It's been more than two years since Facebook introduced "safety check," a tool that lets users mark themselves as "safe" after a natural disaster or other crisis. For its next act of corporate do-goodery, the social network is building that feature out with real-world logistical support.
Facebook today launched "community help," a subset of safety check that will help users find, receive, and offer help in the event of a crisis. Help, in this case, has a distinctly practical meaning: food, water, transportation, housing.
"We know Facebook can be doing more to help empower and connect these communities during a crisis," Preethi Chethan, a safety check product designer, wrote in a blog post.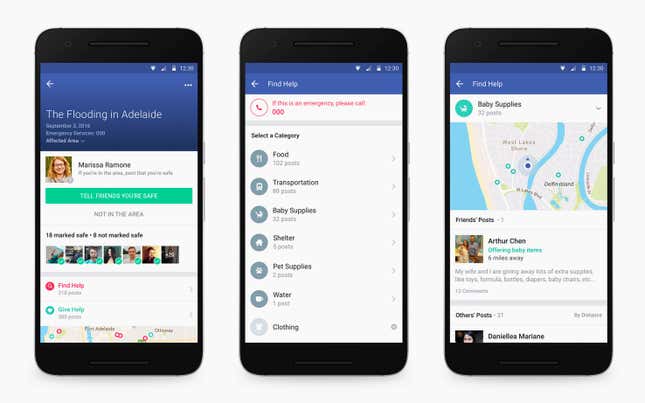 With nearly 2 billion users worldwide, many of whom have friend groups oriented around their immediate communities, Facebook is uniquely positioned to be of use during a crisis. Part of the idea for community help came from the company observing that people were already using Facebook for ad hoc organizing after a disaster. Volunteers would gather in Facebook groups, communicate through posts and messages, and compile spreadsheets that attempted to match inbound requests for aid with people who were willing to offer it.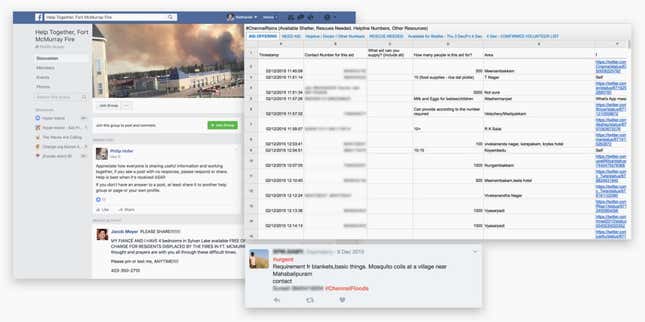 Facebook says its new feature will streamline these processes. Posts made in community help are searchable, which Facebook says will "create many more successful matches" between help-seekers and help-providers. They're also location-sensitive, allowing users to see all the responses within their immediate area. Each post in community help will come with a "message" button to contact the writer, or be open to comments that automatically send the writer a notification. Community help is launching first for natural disasters and accidents in the US, Canada, Australia, New Zealand, India, and Saudi Arabia.
Because community help is a subset of safety check, it will only activate if Facebook's check-in feature has turned on. This happens when global crisis reporting agencies alert Facebook to an incident, and a critical mass of people on Facebook begin talking about that incident. Facebook used to turn on safety check manually, but made it more user dependent this past November. The company had previously been criticized for activating the feature during attacks on Paris but not suicide bombings in Beirut or, later, an attack in Côte d'Ivoire.
Facebook is the latest tech company to turn its large, diffuse user base into crisis responders. Uber has used its network of riders and drivers to offer free or subsidized rides to people in urgent need of transportation. Airbnb has "urgent accommodations," a tool it uses to coordinate volunteer hosts with people displaced by natural disasters. Earlier this week, Airbnb said it hopes to provide free short-term housing to 100,000 people in need over the next five years.