This year marks the 24th anniversary of the Tiananman Square massacre, or "counter-revolutionary riot," as it is referred to by the Communist Party. Unknown hundreds died as protesters demanding liberalization were met with extreme force, and each year Chinese activists try to dodge police and censors to commemorate the event.
Chinese politics may be harder for its citizens to discuss online, but everyone loves a meme. Here's Hong Kong harbor's gigantic yellow inflatable duck installation used in a parody of the famous Tiananmen "Tank Man" photograph: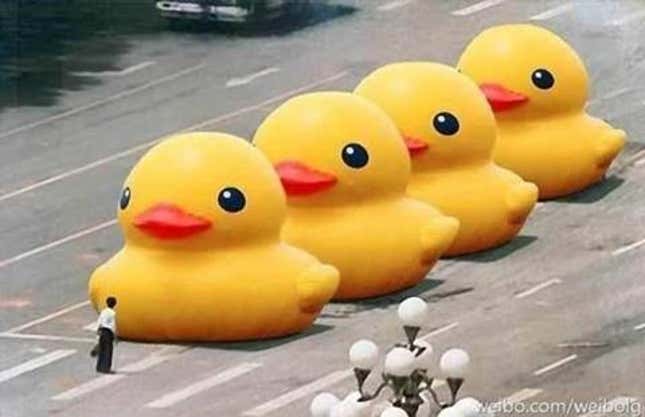 As part of a slideshow about children's toys released in celebration of Children's Day on June 1, the Chinese website NetEase.com added an unexpected Lego model into the mix (pictured below), according to Buzzfeed: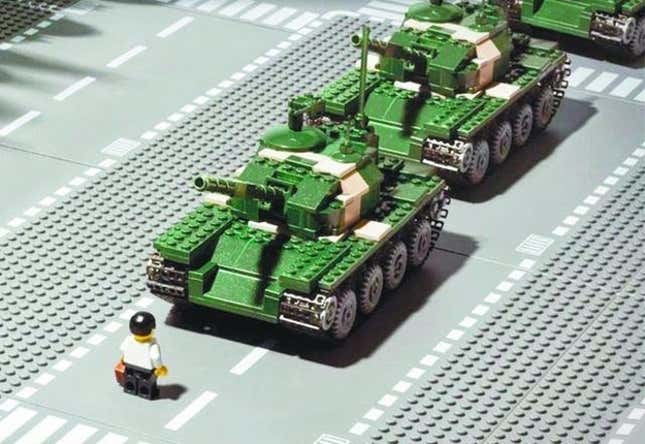 The creative blogger and cartoonist Hexie Farm had an alternative interpretation.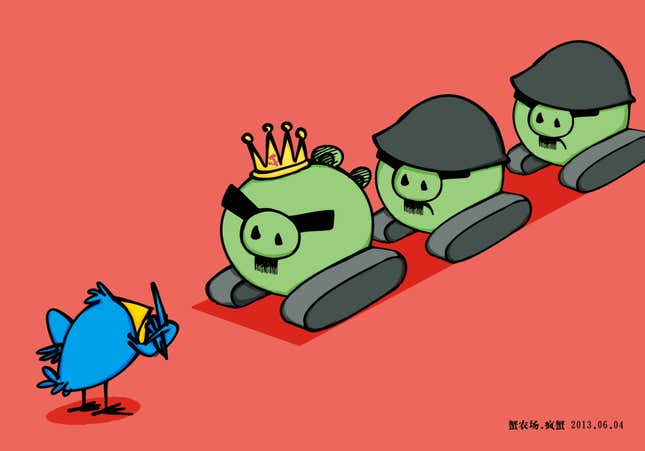 This interpretation appeared on Weibo today, according to the South China Morning Post.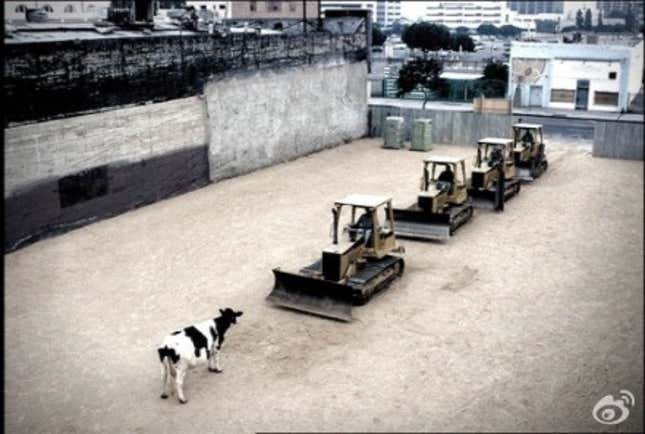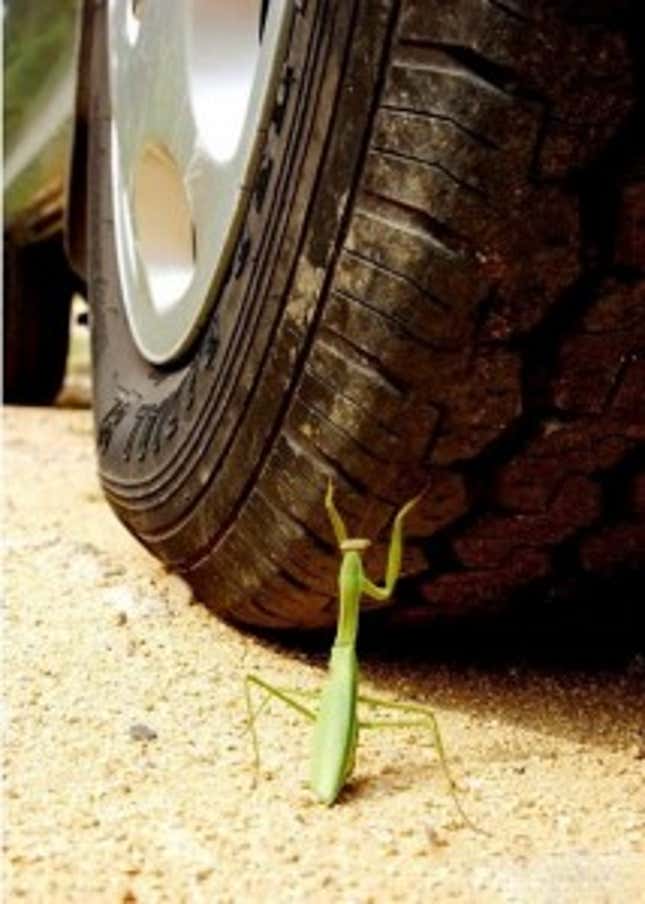 China Digital Times also found this evocative picture which is making the rounds on Sina Weibo, along with a quote: "Don't you know about the praying mantis that waved its arms angrily in front of an approaching carriage," warned the philosopher Zhuangzi, "unaware that they were incapable of stopping it?"
A paper model of a tank reminiscent of those used at Tiananmen Square stood vigil outside the University of Science and Technology building in Hong Kong, before it was pushed to a busy shopping mall for greater exposure.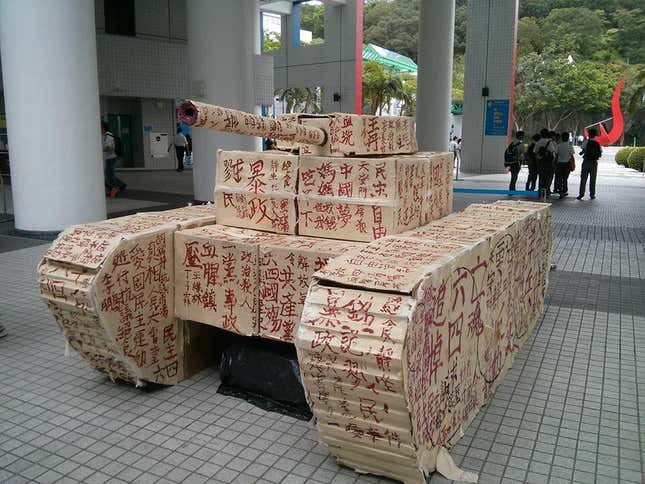 On China's popular microblogging service Sina Weibo, authorities have banned a huge list of blocked search terms that might be potentially used to voice dissent or pay homage to the June 4 demonstrators. In past years online users have been able to refer to "May 35" instead of "June 4," but that's no longer allowed either.
Censors, which are experimenting with increasingly sophisticated online methods, have refused to allow any references to today, yesterday or tomorrow. And also—see above—"big yellow duck."
The Beijing-based activist Hu Jia has appealed for people to wear black on June 4 or light a candle at home to remember those who died in the 1989 crackdown. "Thanks to the role of Weibo, there are now more people than any other time in the past 24 years that have come to know and think about the incident," he said, according to the Associated Press.
The censor's response? Banning any candle emoticons. The state-run Global Times also picked today to run an editorial, "Web regulation in public's best interest."
Still, despite their newly constrained vocabulary, many prominent Weibo users are still trying to speak up.
"Don't worry about forgetfulness," wrote film director Jia Zhangke, "at least the Sina [Weibo] censors remember.
"Due to the reason commonly known, I will not be on Weibo for a whole day starting from now," wrote economist Ma Guangyuan. "Reflecting on the day from many years ago."
The cat and mouse games aren't merely taking place online. In the real world, Hong Kong and Macau, both self-governing regions of China, are planning to hold vigils in memory of Tiananmen's dead that are expected to attract over 100,000 people, many who are making the trip from mainland China. So strong is the anti-Beijing spirit that the Hong Kong organizers are under fire for choosing a slogan—"Loving the country, loving the people: Hong Kong spirit"—deemed too patriotic.
Activist groups such as the Tiananmen Mothers have denounced China's new leadership for failing to implement political reform, saying that President Xi Jinping was taking China "back towards Maoist orthodoxy." The US government renewed its criticism of China's handling of the Tiananmen protests calling for China to protect human rights and "end harassment of those who participated in the protests," creating tension between the countries in advance of Xi's visit this week.
In mainland China known activists are under house arrest—although a 73-year-old Tiananmen protester was released last week after 24 years of detention. In attempt to catch potential protests early, university officials and party members have been put on 24-hour standby and Chairman Mao's mausoleum has been closed "for construction."