Netflix says originals are key to its future. This year alone, the streaming-video giant plans to spend $6 billion to create 1,000 hours of original programming. This makes sense because Netflix originals like Narcos and Luke Cage, which are produced or streamed exclusively by the platform, have driven sign-ups, the company has said.
But are originals driving Netflix's stock price? Researchers at Parrot Analytics took a closer look to find out. Last year, Netflix shares rose 12.6% to $123.80, from the first trading day of the year through the last, outperforming the Nasdaq Composite, which rose 9.8% during the same period.
Parrot Analytics, which measures demand for TV content around the world, examined how US demand for Netflix originals correlated to the company's share price in 2016. To understand demand, Parrot created a single metric called "demand expressions" of Netflix originals that takes into account video streams, social-media activity, photo sharing, blogging, commenting on fan-and critic-rating platforms, and downloading and streaming via peer-to-peer protocols and file-sharing sites. The firm weighted these factors so that watching a show through a BitTorrent video stream, for example, would be worth more than a "like" on Facebook. The metric also factored in positive or negative sentiment toward the programming.
Here's what they found (Quartz noted the release dates for some of Netflix's most popular shows of 2016):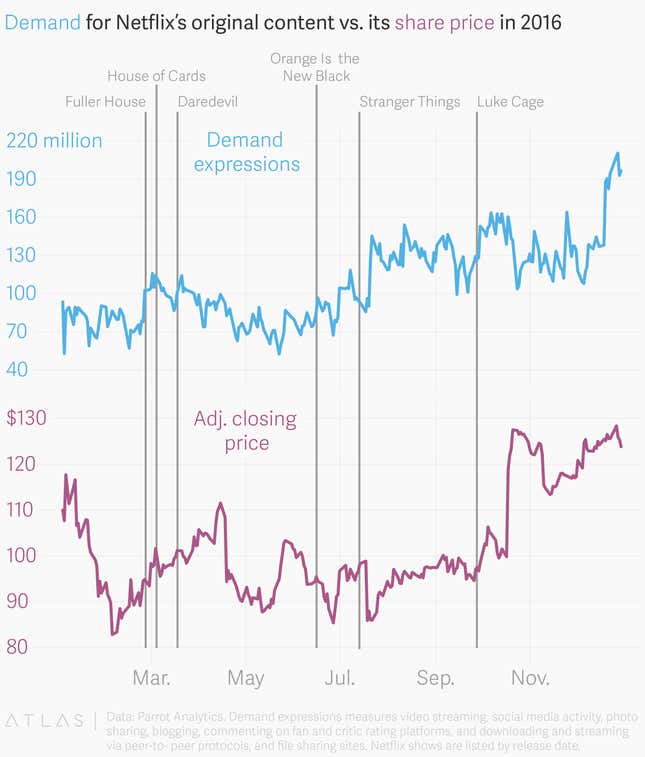 As we can see, spikes in demand tended to coincide with similar lifts in the stock, which were sometimes tied to or trailed new show launches, such as the first season of Stranger Things. We can surmise then that Netflix needs to keep releasing hit shows to keep the stock's momentum going. Short-term investors might even be able to get a tidy return if they can predict which new releases are likely to move the stock.
The demand-stock correlation might be even stronger a few months after the release of a new show than during its initial days, the researchers said, because it takes time for new Netflix shows to catch on.
Parrot's researchers found that there was a 0.51 correlation between US demand for Netflix's original content and the company's share price. That's on a scale of 0 to 1; 0 meaning the two are entirely unrelated—and the relationship is random—and 1 meaning they move in lock-step with one another. A correlation of 1 would be statistically improbable, said Wared Seger, CEO of Parrot Analytics, and would indicate that US demand for Netflix originals was the sole driver of the stock price last year.
A correlation of 0.51 shows demand is a "really strong factor" in the company's stock performance, said Seger.
"It makes sense," he added. "The more popular their original content is, given their strong original-content investment strategy, the more successful of a platform they are."
There were, of course, plenty of other factors driving Netflix's stock performance. The most significant peaks and valleys coincided with earnings releases. For example, the 2% drop in the stock that occurred in mid-July, shortly after the release of Stranger Things, was tied to Netflix's second-quarter results, which showed that subscriber growth had slowed because news of a rate hike had driven some members from the platform.
This is Parrot's first study correlating demand for Netflix to its share price. The firm is planning additional research to analyze demand for the overall streaming service, including its licensed and global content, as well the lag time between program releases and stock movements.