Many Chinese men are learning that they simply can't afford a wife.
"It's the 18th year that Yang Ruiqing has been trying to find a wife," says the narration in a news segment by Shanghai-based news agency Kankan. Since it aired on Valentine's Day, the video has gained more than 5 million views (video in Chinese) online. The 40-year-old, who lives in Ning county, one of China's poorest villages (link in Chinese) in the northwestern Gansu province, is one among millions of China's "leftover men" competing, often with money, for a wife.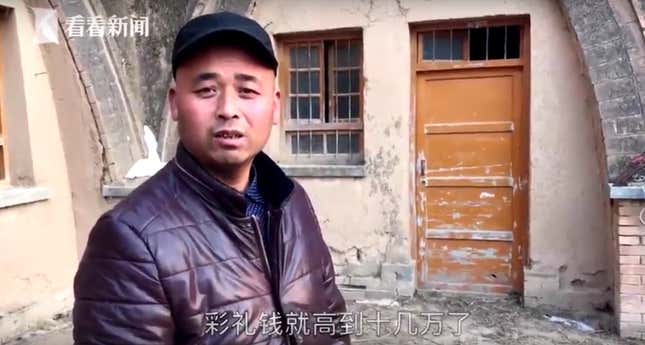 China has one of the starkest gender imbalances in the world, a result of a cultural preference for boys and the country's decades-long one-child policy. In 2016, the country had 30 million more men (link in Chinese) than women. Men living in rural areas have been especially hard hit, and in recent years, many have gone to Vietnam in search of a spouse, leading to the trafficking of young Vietnamese women.
For men like Yang, a migrant who works outside his hometown to earn higher wages, saving enough for a bride is a struggle. In China, it remains customary for men to pay dowries to brides, but with a short supply of available women, the prices can be staggering.
Yang, who lives in an earth-made cave house, said he saved up 150,000 yuan ($22,000) over the years. That was a typical dowry around where he lived, but the amount some women have asked for far exceeded his life savings. One woman, a single mother with two children, had asked for 200,000 yuan ($29,000) recently. Local matchmaker Li Hiajun explained that women want their dowries to match other offers they hear about. "If you see children from other families 'sold' at such a high price, you would think your family should aim for that too," he said.
On Weibo, China's Twitter-esque social network, many shared similar frustrations. "This is my family's case as my brother paid $22,000 dowry plus a 100,000 yuan ($15,000) car!" commented user Fei Cheng on Weibo. "And I have also been looking for a match through matchmaking for years but to no avail."
Another user also from Gansu province lamented that he might never marry. "I think I will never be able to pay that dowry and won't be able to marry since I've seen cases that asked for as high as 390,000 yuan ($57,000)," said Jeremy Su.