Kennedy Space Center, Florida
It's been nearly six years since a rocket lifted off from NASA's Launch Pad 39-A, when the final Space Shuttle mission took flight. For a moment it seemed like the pipes, tanks, and towers of the launch complex built for the US at the dawn of the space age—Apollo 11 lifted off here in 1969—were more likely to stand as a monument to past greatness than to send a new generation into space.
But this Saturday (Feb. 18), at 10:01am local time, a privately-owned SpaceX Falcon 9 rocket is scheduled to launch from the same site, carrying a load of supplies to the International Space Station, a milestone NASA says marks the beginning of a new phase of American operations in space.
"Tomorrow's launch is a hybrid launch," SpaceX president Gwynne Shotwell told reporters gathered at the launch pad on Friday (Feb. 17). "We've got a government customer, under a commercial launch authority, commercially-developed launch vehicle, incredible amounts of science…it's a blend. Falcon 9 started out as a public-private partnership with NASA and I feel like all of these launches continue to be along that vein, especially now with the use of 39-A."
US president Donald Trump's administration is now weighing the future direction of NASA, with his top advisors pushing him to embrace the outsourcing of American space operations to private companies. But groundwork for that policy shift was actually laid here on Florida's space coast when president Barack Obama cancelled an over-budget plan known as Constellation to replace the space shuttle with a new rocket and spacecraft.
"It was a bleak time," Tom Engler, a NASA executive at Kennedy Space Center (KSC), which depended on the Constellation program for its existence. As NASA split its budget between seeding commercial ventures and building NASA's next-generation deep space rocket and spacecraft, the Space Launch System and Orion, KSC officials decided the best move was to pivot towards a "multi-use" spaceport. They recruited commercial firms and universities to use the facilities in lieu of maintaining complicated ground support machinery in the salty air, or tearing it down altogether.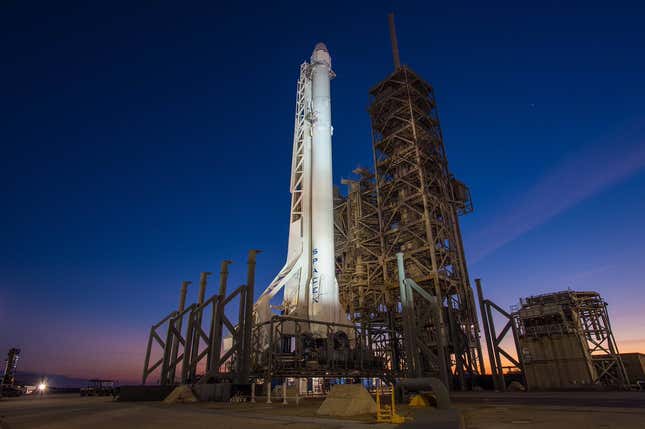 Now, KSC has half a dozen partners at work on the base. Elon Musk's SpaceX has launched NASA and commercial missions from Space Launch Pad 40, and will now inaugurate its shared use of the historic 39-A. Boeing is building its next-generation spacecraft nearby, in the bays where the Space Shuttle was one refurbished between missions. Blue Origin, Jeff Bezo's space company, has new facility there, and Sierra Nevada Space Systems is also at work on the site.
Those partnerships have allowed the US space agency to keep its footprint here without losing capacity. It's also learned some new tricks, according to KSC director Robert Cabana, a former astronaut who himself took off on four missions here.
Emphasizing the freedom NASA's commercial partners have to work in their own KSC areas, Cabana says that during the Space Shuttle era, launch sites were governed by some 2,200 safety requirements. He asked his team to strip down the rules, eliminating best practices, and came up with just 500 core safety requirements for NASA launches. But at commercial launch sites, there are only 55 safety requirements. "Requirements are costly," Cabana says.
This underscores perhaps the single biggest difference between NASA and its commercial partners: risk tolerance. NASA likes to have next to none, and pays for it, while the companies tend to embrace calculated risk as a way to iterate and learn while still developing their products. Sometimes that's all too apparent: Pad 40 is still undergoing reconstruction after a Falcon 9 caught fire during fueling in Sept. 2015.
This clash of philosophies is playing out as Boeing and SpaceX work to have their rocket and spacecraft designs certified for human flight by NASA. Both companies are aiming to fly astronauts next year, though government auditors are skeptical of their schedule and have asked NASA to prepare a backup plan—hiring Russian rockets—to reach the ISS if the two companies fail.
Yet there are signs NASA itself is preparing to embrace risk in the age of Trump. Faced with the administration's desire to do something spectacular on the cheap and the competitive pressure from SpaceX and ULA, the Boeing-Lockheed Martin joint rocket venture, which both aim to debut new heavy-lift rockets ahead of the Space Launch System, the agency recently announced that it will undertake a study to consider flying humans on a lunar orbit mission during the first flight using the Space Launch System rocket and and Orion, now planned for 2018.
Flying humans using two new vehicles (the Space Launch System rocket and the Orion spacecraft) together for the first time would be a remarkable decision for NASA, which normally insists on carefully testing every aspect of its missions. Planning a manned flight in under two years is also unprecedented for NASA. KSC officials acknowledged they would need to significantly modify ground machinery, from a gantry for astronauts to enter the spacecraft to the pre-flight fueling systems, they had designed for an unmanned flight.
Even without the new president's pressures, a reconsideration of risk has been on-going at NASA since SpaceX and Boeing effectively leapfrogged the space agency in coming up with a new transportation system to low-earth orbit. William Gerstenmaier, NASA's top human spaceflight executive, recently gave a notable speech about the agency's efforts to embrace risk and communicate it more clearly with the public if a new era of manned space exploration is to begin.
To make his point, he cited a sentence from the investigation into the destruction of the Space Shuttle Columbia in 2003: "While risk can often be reduced or controlled, there comes a point where the removal of all risk is either impossible or so impractical that it completely undermines the nature of what NASA was created to do, and that is to pioneer the future."