First it was the taxi-hailing wars. Then it was the on-demand service wars. Now, China's internet industry is watching another money-burning battle unfold between rival startups. 
Within the past year venture capital firms have poured hundreds of millions of dollars into rival companies, all competing to become China's "Uber for bikes." Their premise is simple: Pedestrians looking for a lift can open their smartphones, unlock a bike parked nearby, hop on for a ride, and pay a fee once they arrive at their destination.
It's difficult to overstate how popular these services have become. On almost every street corner in China's major cities, bikes of different shapes, sizes, and colors are lined up next to one another.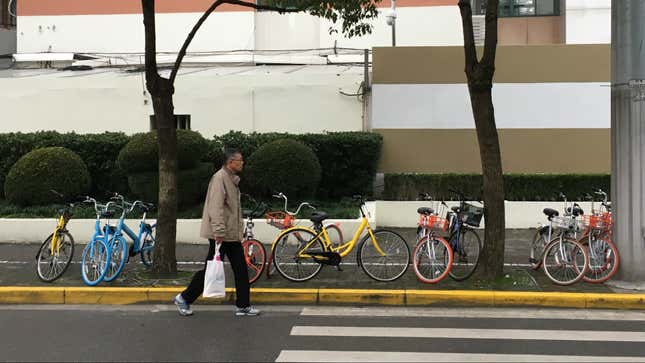 But widespread customer negligence and razor-thin margins could make it hard for these businesses to stay afloat. The very factors that make China's bike-share services so convenient—low prices and ease-of-use, namely—are the same factors that could spell their death.
"What they've got is a very interesting technology, but a basic business model that makes no sense," says Paul Gillis, who teaches accounting at Peking University in Beijing.
Brakes off
Bike-sharing is not new, but Chinese startups have reinvented the concept to make it even more efficient.
Most bike-sharing schemes, like those in New York or Taipei, require bikes to be parked into designated docks when not in use. There's often no way to know where these locations are, so riders have to plan out their routes in advance. Or there might be a clunky app, perhaps from the same government agency that funded the program.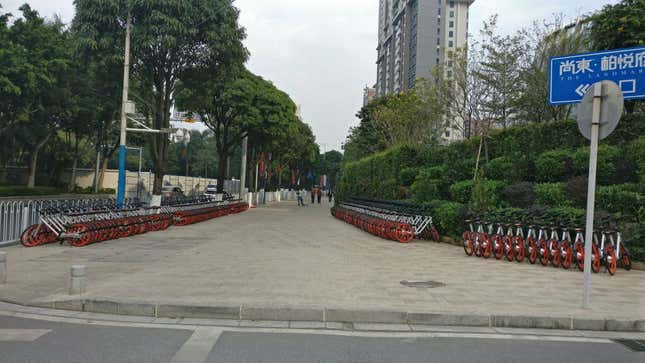 China's bike-sharing startups, on the other hand, allow their vehicles to be placed anywhere in the city. Best-in-class engineers have developed GPS-based apps that allow people to find nearby bikes, and charge based on how much time riders spend on them.
Bullish venture capitalists funded rapid expansion, ensuring companies have plenty of cash to buy bikes and put them on the streets. Prices are dirt-cheap. After paying a small deposit through WeChat or Alipay, two Chinese online payment services, 30 minutes on a bike will cost between 0.5 and 1 yuan ($0.07 and $0.14), depending on the brand.
As a result, many Chinese have taken up bike-sharing as a replacement for the subway, or even walking. Judy Zhao, a 25-year-old marketing executive, tells Quartz that she takes the bus every day to work, but as soon as she gets off at 5:30pm, she hops on a Mobike to cycle back home.
"It's about 20 minutes to ride [from my office to home], so I only need to pay 0.5 yuan (about $0.07)," she tells Quartz. "It's cheaper than public transportation." 
Numerous companies have climbed onto the bike-sharing bandwagon, but two startups lead the pack in terms of venture capital funding: Mobike and Ofo.
Mobike, which was founded in late 2015 by a former Uber China employee, first grew popular in Shanghai and is now in 23 cities across China. Investors have funded it at lightning speed: It secured two venture capital rounds this year alone that jointly totaled about $300 million. Its backers include Singapore sovereign wealth fund Temasek, along with Foxconn, the manufacturing giant best known for making the iPhone.
Chief rival Ofo was founded in late 2014. It grew popular on college campuses in Beijing before raising $130 million last October from nine investors including Xiaomi and Didi Chuxing, the ride-hailing giant that acquired Uber's China division. On March 1, it announced it closed an additional round totalling $450 million (link in Chinese).
Inspired by Ofo and Mobike's swift uptake in early 2016, rival companies followed suit and a mini-bubble surfaced. About 30 bike-sharing companies (link in Chinese) exist in China right now, with many founded in 2016. Five of those companies went on to raise double-digit funding by year's end, according to Chinese tech database IT Juzi.
Mobike spokesman Xue Huang says that several factors have helped make China ripe for a bike-sharing boom. For one thing, most of the world's bikes are made in China, which means they can go directly from the factory warehouse to the streets. Roads in China's major cities tend to be flat and wide, and populations are dense. Most important, unlike in other parts of the world, riding bikes around in China never really went out of fashion. Until only recently, it was the predominant mode of urban transportation.
"China used to be a kingdom of bicycles. When I was young in the '90s, there were bikes everywhere," says Huang. "And given the population is already well-trained [to ride them], they're just looking for something more convenient."
Riding on the honor system
While Mobike, Ofo, and their many rivals are easy to use, they're equally easy to abuse. The companies basically rest on the "honor system," and consumer negligence poses a serious threat to their long-term viability.
The "park anywhere" policy is a blessing and a curse. On the one hand it increases the likelihood that bikes will be found in one's immediate vicinity. But it also allows riders to park their bikes in remote locations with no nearby foot-traffic. As a result, bikes parked along freeways are now a common sight in China.
Property managers, meanwhile have started to complain about bikes taking up space besides private buildings, or blocking pedestrians on the sidewalk. News reports of bike-share vehicles piling up in dumpsters, ditches, rivers, and even trees (link in Chinese) make regular appearances on Chinese social media.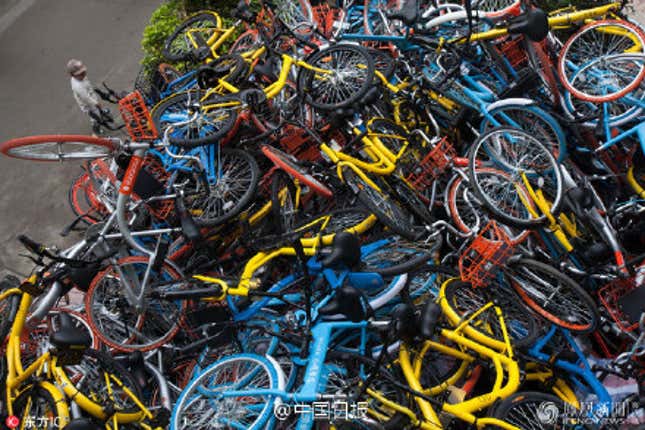 To manage this problem, Mobike and other companies rely on volunteer users to spot and report discarded bikes. But they have also hired in-house teams specifically for rounding up these dispersed bikes, and taking them to high-traffic hubs or repair centers. That costs money. Uber and Didi don't have to deal with this problem, since those companies generally don't own the cars connected to their apps.
Then there's the problem of theft and vandalism. Mobike vehicles lock and unlock when a rider scans the QR code attached to a bike. But many people—perhaps employees at competing companies—will deface these QR codes, rendering the bikes unusable.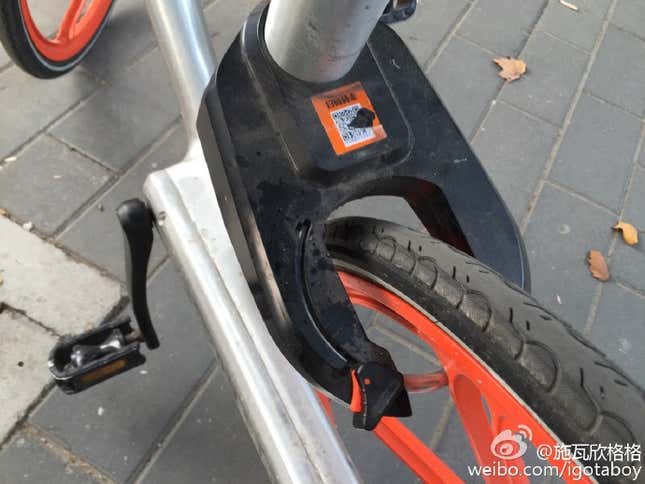 Ofo bikes, meanwhile, unlock when a user scans the bike plate, receives a four-digit password via smartphone, and then inputs the code into an old-fashioned mechanical lock. But these mechanical locks have permanent passwords. Users can simply memorize the password of a particular bike, unlock the mechanical lock, and re-secure it using their own personal lock. This lets users effectively steal the bike after first use, and ride it without being bound to the app's timer. Recently, two nurses in Beijing spent five days in jail after they were caught using this trick on Ofo's bikes—though most such riders probably go about unnoticed.
Potholes ahead
All of these factors merely compound the stress placed on an already shaky business model. Mobike and its rivals won't reveal how much their bikes cost to produce, but an old estimate (which Mobike says has since decreased) places the cost of a standard Mobike at 3,000 yuan (about $437). Professor Gillis says that fares alone will hardly recoup these costs in a timely manner—let alone cover labor and R&D expenses.
"They rent for one yuan every half hour, and they expect that they might be rented four times a day for a half hour, which amounts to four yuan per day," he tells Quartz. "If you take four yuan per day and you take that into the 3,000 yuan, you've got a long time before you've recovered the cost of a bike."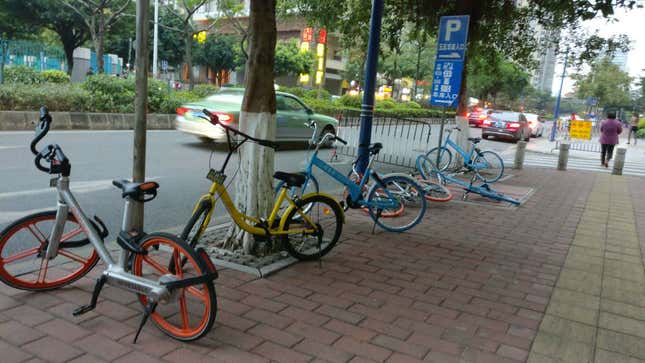 Profit-challenged Chinese internet companies have a habit of living long lives once they get big, especially if a larger internet company like Alibaba or Tencent acquires them. Mobike and Ofo have a lot going for them. Like Uber and Didi, they collect lots of data about traffic. More important, they align well with the central government's commitment to reducing pollution nationwide, as well as its ambition to promote itself as a global innovator in technology.
The government won't necessarily stay a friend for long. It's already begun to turn its back on Didi Chuxing, for instance, by issuing new restrictions on driver eligibility, cutting the supply and making it harder for customers to hail a ride. If Mobike and its rivals can find a suitor quickly, they can perhaps live on comfortably as a loss leader for a deep-pocketed parent company. But if not, or if the government decides their popularity is chipping away at buses and subways, many of the bikes lining China's street corners might soon end up in the junkyard—or wherever.
This post has been updated to account for Ofo's latest funding round, which it announced on the day of publication.