The Azure Window, a limestone arch on Gozo island in Malta, crumbled into the Mediterranean Sea after heavy storms this morning (March 8). It was not only a national landmark but beloved worldwide, the setting for dramatic scenes in film and TV, most recently in Game of Thrones.
"There was a big raging sea beneath the window. Suddenly, the arch collapsed into the sea with a loud whoomph, throwing up a huge spray. By the time the spray had faded, the stack had gone too," Ronald Chessell, a resident of Xagħra, a village on Gozo, told the Times of Malta.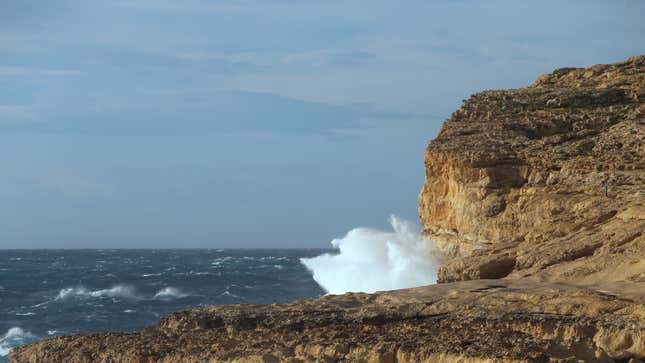 The fragile formation, naturally created over millions of years, was 92 ft tall and showing signs of decay, due to both natural erosion and human use. Parts of the arch fell into the sea between 2000 and 2016, but environmental studies indicated scientific intervention could not save the Azure Window, also known as the Dwejra Window. Malta's environment minister Jose Herrera told reporters at a press conference that the loss could not have been prevented.
The national tourism authority tweeted sorrowfully, as did Malta's Prime Minister, Joseph Muscat.
Tourist interest in the Azure Window, long considered a landmark of the Mediterranean, rose after it was used as the setting for the wedding of Daenerys and Khal Drogo on Game of Thrones.
But this was not Malta's only arch, nor the only location on Gozo featured on the HBO blockbuster. So though Dwejra Window is gone, Malta's tourism minister told local reporters he's confident that visitors will keep coming.
The blank space that remains where the arch once stood is like a natural zen koan, asking a perplexing question. If a frame falls into the sea and isn't first captured on film, did it ever exist?