In January 1987, a student from the prestigious Seoul National University died under police custody for suspected pro-communist activities. The incident sparked months of protests in South Korea, which was under military rule at the time. Later that year, the country held its first direct presidential elections in almost three decades.
Three decades on, the months-long street demonstrations which finally culminated in the impeachment of disgraced former president Park Geun-hye last Friday suggest that democracy is intact and healthy in Korea—even an object of envy for Americans resisting the Donald Trump administration.
Kim Sun-chul, an assistant professor specializing in Korea's democratization at Emory University, said that the protests leading to Park's ouster were a "thing of beauty," but also noted the sheer scale of "the destruction of democracy" under Park's rule, which began in 2012, as well as that of her predecessor, Lee Myung-bak, who came to office in 2008. The progressive Hankyoreh newspaper accused Park of "turning the clock of democratization back to the 1970s."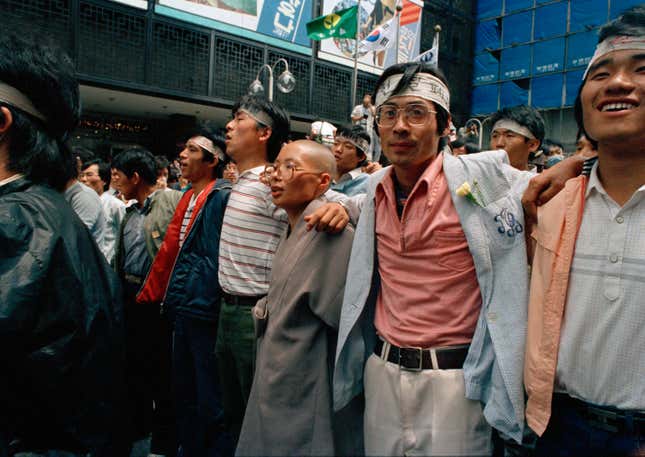 Going backwards
Under Park, Korea slipped in US-based advocacy group Freedom House's annual rankings, with political rights showing a marked deterioration. In 2014, the NGO gave Korea 2 out of 7 for political rights, down from 1, the best ranking, the previous year. Korea's overall freedom rating slid to 2 from 1.5, which it remains at in the group's latest report. The Economist Intelligence Unit also downgraded Korea in its Democracy Index in 2013, with its ranking slipping further for the remainder of Park's presidency.
"The progressive left in the past eight years has been growing more and more concerned since the Lee government," said Hwang Kyung-moon, a professor of history at the University of Southern California. "The subsequent election of a former dictator's daughter threw the left into a much greater state of alarm because of the way [Park] behaved and latched on to these [undemocratic] practices."
The list of accusations against Park is long, and dates back to the 2012 presidential campaign. In 2014, Freedom House explained that it downgraded Korea because of "high-profile scandals involving corruption and abuse of authority, including alleged meddling in political affairs by the National Intelligence Service," referring to a 2013 incident that saw Korean prosecutors investigate the spy agency over using Twitter to meddle in Park's favor in the previous year's presidential elections.
Police powers also expanded greatly under Park, symbolized by the death of a rice farmer and activist, Baek Nam-gi, last year after a 10-month coma. The farmer was hit by a police water-cannon in a protest in 2015. The United Nations Special Rapporteur on the rights to freedom of peaceful assembly and of association called for an investigation into the death, and recommended that the government review its policing policies so that water cannons and bus barricades "are not applied indiscriminately or against peaceful protestors."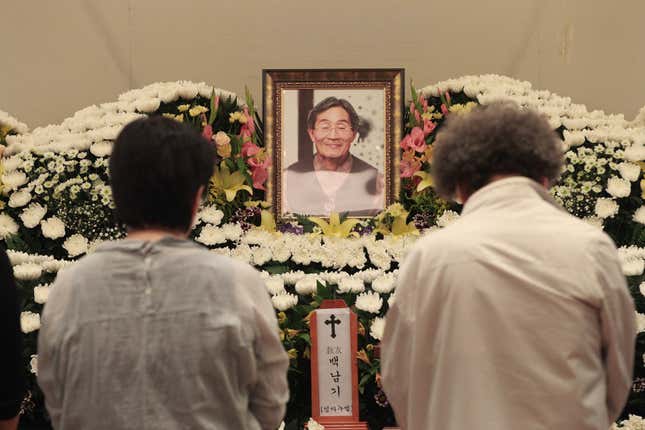 Freedom of expression also took a hit. Park's government increasingly used defamation laws (paywall) against critics, rights groups said, continuing on from her predecessor. In 2015, a Korean-American woman was deported from Korea after she expressed positive comments on North Korea, an act that is punishable under security laws. In January, Korean media reported that the culture ministry had blacklisted almost 10,000 Korean artists who were critical of Park's administration, a list allegedly including directors Kim Ki-duk and Park Chan-wook—a move many saw as straight out of the playbook (paywall) of Park's father, the dictator Park Chung-hee. The ministry has admitted there was such an effort and apologized.
"Under Lee (Park's predecessor), we thought that human rights were going backward," said Catherine Kim, the director of Amnesty International's Seoul office. "As the Park government came to power, it became even worse."
A break with the past
Korea is almost certain to swing back to a more progressive president after Park—the first since Roh Moo-hyun, a former activist and human rights lawyer, who survived impeachment and later committed suicide. The favorite to replace Park is Moon Jae-in, a former activist, pro bono rights lawyer, and member of the special forces who has expressed the desire for better ties with North Korea, and who has cast doubt on the THAAD anti-missile system that has roiled relations between Seoul and Beijing.
Emory's Kim, for one, anticipates an expansion in civil rights under a new president.
"The institutions are there, it's a question of who's going to run them," said Kim. "The head of the human rights commission had no experience of human rights. The Ministry of Gender Equality and Family had almost nothing to do with feminism and little to do with women's issues."
Catherine Kim, the Amnesty director in Seoul, said that it had been difficult for civil society groups to find a point of contact with Park's administration. "There was not one opportunity to have a dialogue with the government," said Kim, adding that the least that NGOs expect of the new president is that there is "an open door" to talk to such groups.
But far and away the top of the priority list for the incoming president is fixing Korea's moribund economy and unemployment. Deeply intertwined with that is the reform of the cozy ties between the state and massive chaebol conglomerates, a relationship that really blossomed during the reign of Park Chung-hee and has continued.
The scandal that engulfed Park's presidency in recent months has also seen prosecutors investigate the country's largest conglomerate, Samsung, over donations it made. The group's heir apparent Lee Jae-yong is now on trial for bribery and embezzlement, charges he denies. Among the calls during the street protests for Park to be impeached were also loud demands (paywall) for the power of these conglomerates to be curtailed.
"From 1961 until today, Korean 'conservatism' has been Park Chung-hee-ism—the state-chaebol capitalism that was very successful during Park's time, but which is less suited to Korea now," said Daniel Tudor, who has written books on Korean politics. "I think it is a wonderful opportunity to draw a line under the Park Chung-hee era, which was good for its time, but is now out of date."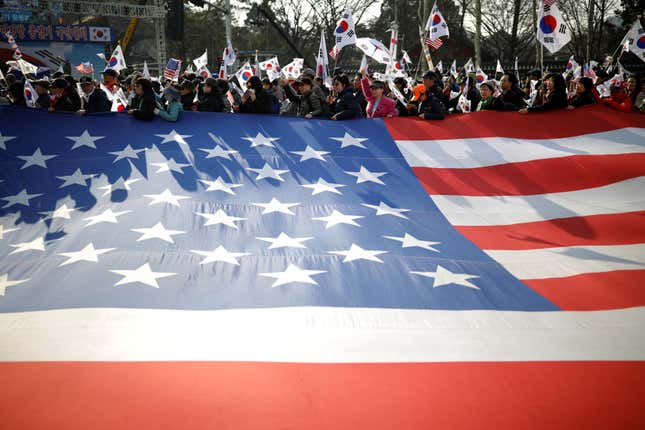 Still, conservative forces remain a force to be reckoned with in Korea, and have been galvanized by the ousting of their beloved, hawkish Park Geun-hye at a time when North Korea is ratcheting up its threats against the South and when the US alliance might be affected if Park's successor adopts a softer stance toward Pyongyang. During the anti-Park protests, supporters of the former president—usually older Koreans nostalgic for the reign of her father—staged organized and passionate counter-protests, particularly after her impeachment was finalized. Three protesters died in the scuffles, and one Park supporter reportedly stabbed himself while he cried out his support for Park Geun-hye.
"The numbers that turned out in the conservative protests were very impressive," said Emory's Kim. "It wasn't that all of them were for [Park], but many of them were against the opposition taking power because that would be the same as pro-North factions taking power…They will fight back."