Germany's aggressive shift away from fossil fuels and nuclear power, the so-called Energiewende ("Energy Transition"), has pushed the country's two largest utility companies deep into the red. How deep? RWE and EON have reported combined losses of €28 billion ($30 billion) over the past two years.
This week, both utility giants published their latest annual reports. Yesterday, RWE confirmed a €5.7 billion loss in 2016 that it flagged a few weeks ago. Today, EON revealed a whopping €16 billion loss for the year, the largest in its history. Steep writedowns in the value of coal- and gas-fired power plants, along with the costs of cleaning up nuclear waste, were largely to blame for the shortfalls.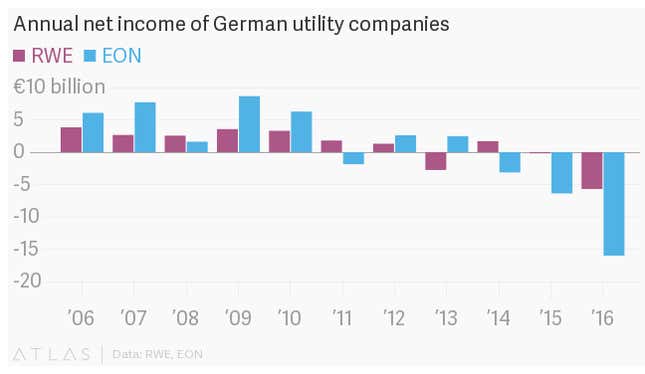 Essen-based EON said it would cut 1,300 jobs, mainly in Germany, generating €400 million in savings by 2018. CEO Johannes Teyssen called 2016 a "transitional year" (to say the least), adding that it "cleared EON's way into a new energy world."
Like RWE, EON recently split its renewables arm from its languishing fossil-fuel business. In 2016, EON's coal and gas plants were responsible for some €11 billion in writedowns, on top of around €10 billion that it owes the government as part of an agreement to dismantle nuclear power plants (and safely store the spent fuel) as the country phases out atomic energy by 2022.
A drop in wholesale power prices, driven by the growth in (subsidized) renewable energy, is also squeezing the big power producers. The worst of the restructuring and writedowns may be behind them, but it will never return to business as usual for the firms that built their fortunes on coal, gas, and nukes.