Women were the center of attention over the weekend on Rai Uno, the main channel of Italy's taxpayer-financed public television. A Mar. 18 talk show dedicated a whole segment to "the charm of Eastern European women," speculating why Italian men might prefer Eastern European women.
In the studio, a few guests joined the hostess, who introduced the debate saying "we want to discuss the phenomenon of Eastern [European] women and the charm they exercise on men." The guests included Italian actor Fabio Testi, who recounted a story of a friend whose Russian girlfriend took him to a brothel for his birthday. "How can you not fall in love with a woman like that?" he asked (link in Italian). The segment, a regular feature called Paliamone Sabato (Let's talk about it on Saturday), went on to reveal a list of supposed traits of Eastern European women, titled "Reasons for choosing a girlfriend from the east."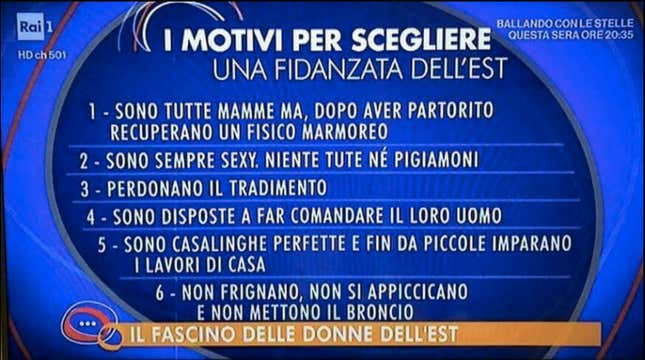 The list is an embarrassing collection of misogynistic stereotypes. It reads:
They are all moms, but, after giving birth they get back their sculpted figures
They are always sexy. No sweatpants nor big pajamas
They forgive cheating
They are willing to let their man rule
They are perfect housewives and they learn house chores from a young age
They don't whine, don't get clingy, and don't sulk
Outrage erupted in the Italian public. The president of the House of Representatives, Laura Boldrini, condemned the show, saying that it portrayed women "as domestic animals, of which are to be appreciated docility, agreeability, submission." Rai's president, Monica Maggioni, described the show as "a surreal representation of Italy in 2017: that this type of representation is made by a public service is a foolish, unacceptable mistake," pledging to look into how such material made it on air. Today (Mar. 20), Rai announced that Parliamone Sabato would no longer be part of the larger show, called La Vita in Diretta (Life live).
Although egregious even by Italian standards, the broadcast confirms Italy as no country for women of any age or nationality. The Mediterranean nation ranks 111th of 145 in economic parity across gender, according to the World Economic Forum, and comes in dead last among Western European countries for women's equality (in a tie with Greece.)