The acclaimed short story writer and journalist George Saunders' first novel, Lincoln in the Bardo, has been out for just five weeks, but the bestseller is already headed for the silver screen. Hollywood's favorite polymath power couple, the actors, screenwriters, and producers Megan Mullally and Nick Offerman, have acquired the movie rights to the book, for an adaptation they will produce with Saunders, as Deadline reported.
"I can't imagine two more brilliant, wide-open, joyful collaborators," Saunders told Deadline. "This is going to be big fun. My hope is that we can find a way to make the experience of getting this movie made as wild and enjoyable and unpredictable as the experience of writing it — I am so happy to have such fearless companions on the trip."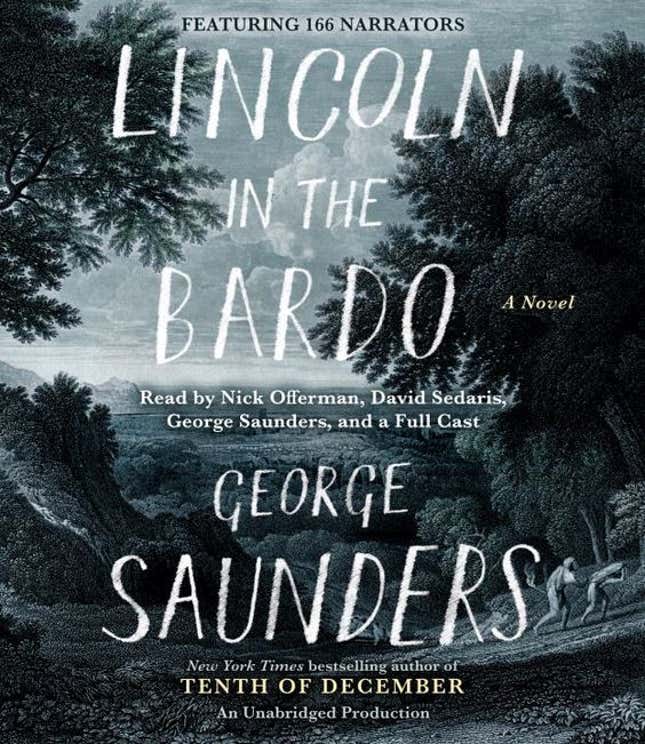 Some might say this trip began with the audiobook of Lincoln in the Bardo, which tells the story of Abraham Lincoln's deceased son, stuck in the netherworld of a cemetery with a great many ghosts. In the audio version, each spirit gets a different voice. Offerman and Mullally were two of the first actors on board, and helped to wrangle an incredibly star-studded cast of 166 readers including Susan Sarandon, Julianne Moore, Don Cheadle, Jeff Tweedy, Miranda July, Lena Dunham, Bill Hader, Ben Stiller, and Keegan-Michael Key. (Saunders, his parents, and his former geology teacher are also among the readers.) The book is written in script form, so in a sense, one could call the audio book a very public—and successful—table reading for the movie.
Saunders is a writer's writer, deeply beloved in literary circles—"Few people cut as hard or deep as Saunders does," said the novelist Junot Diaz. His colleague at Syracuse University, the poet and memoirist Mary Karr (who also voices a character in the audio book), has called him "the best short-story writer in English alive."
He has expressed, however, a wish to reach a wider audience. "I want to be more expansive," Saunders told The New York Times Magazine in 2013, upon publication of his fourth book of stories, Tenth of December. "If there are 10 readers out there, let's assume I'm never going to reach two of them. They'll never be interested. And let's say I've already got three of them, maybe four. If there's something in my work that's making numbers five, six and seven turn off to it, I'd like to figure out what that is. I can't change who I am and what I do, but maybe there's a way to reach those good and dedicated readers that the first few books might not have appealed to. I'd like to make a basket big enough that it included them."
It seems safe to say that Saunders has begun to make that bigger basket.