Chinese officials haven't officially commented on the Edward Snowden case and the US's PRISM spying program, but inside China, state media are making the most of it.
China's foreign ministry has been careful to say only that the government has "noticed the related media reports." Analysts speculate that China, which has long suffered US accusations of Chinese hacking and censorship is silently condoning the rest of the world's outrage about US hypocrisy.
Chinese media, on the other hand, are piping up. As Beijing-based writer Bill Bishop says, it's Christmas in June and Edward Snowden is Santa Claus. On June 13, the Global Times, a state-run tabloid, wrote in an editorial: "Before Snowden is silenced, Washington owes China an explanation of whether the US as an internet superpower abused its power over our vital interests." Xinhua, in an article at the top of its website, wrote "World opinion is largely sympathetic and supportive of Snowden." The China Daily ran this cartoon: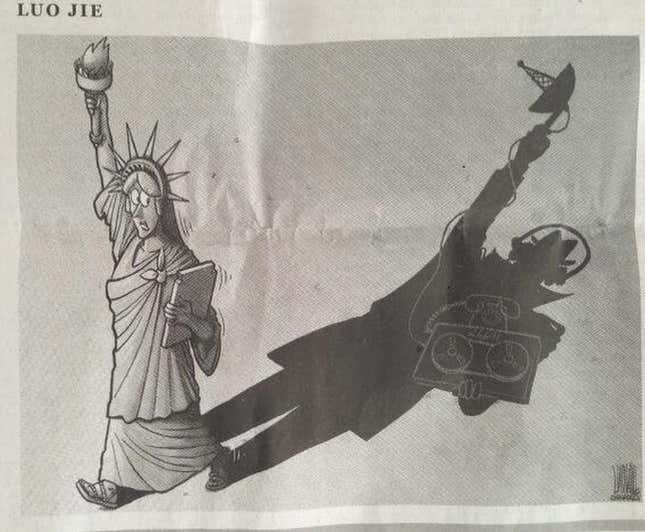 The official silence is not surprising. China prides itself on a policy of not interfering with other countries' affairs—treatment Beijing would like in return. (China has, however, issued a report on the state of human rights in the US.) But state media often serve as proxies for official opinion. The People's Daily, which owns the Global Times, is after all the official mouthpiece of the party.
Or after seeing the debate sweep across Chinese internet forums, authorities may have felt the need to influence the discussion. As of today, over 200,000 comments related to Snowden had been posted on China's Sina Weibo microblog platform—with some bloggers calling for a whistleblower of their own. Others criticized the US as "shameless."
"The Snowden case is very convenient for China, and it has certainly reset the conversation, but the change is mainly in public opinion," said Eneken Tikk-Ringas, of the security think tank International Institute for Strategic Studies. In this situation, the Chinese public—not the US—is Beijing's main concern.