A 1983 picture map of Silicon Valley may be a goofy throwback, but it reveals how much the US tech landscape was once changed—to everybody's surprise—by an outsider called Microsoft.
Originally the work of artist Maryanne Regal Hoburg, the map below is now housed at the Computer History Museum in Mountain View. It was designed as a branding souvenir for Eaton, and isn't geographically precise, but it does roughly indicate where tech companies and landmarks were once located: Cities include Mountain View, San Jose, Santa Clara, Sunnyvale, and Cupertino in Santa Clara county, and Fremont, in Alameda county.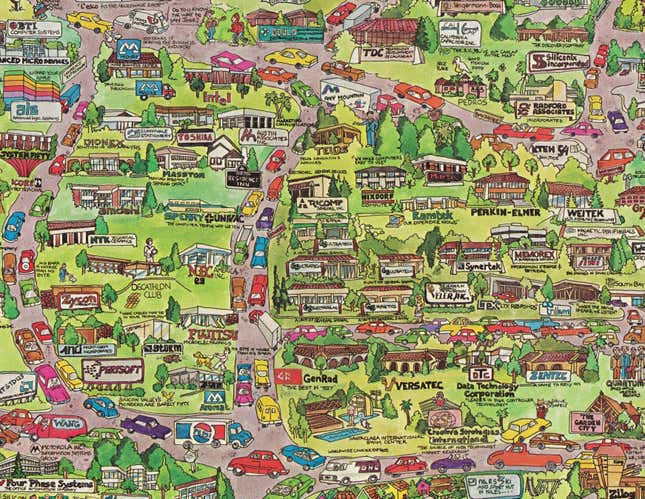 Among hardware manufacturers of microprocessors and semiconductors, the big names we can recognize today include IBM, HP, Apple, Intel, and perhaps chip manufacturer Zilog, and Atari, one of the frontrunners of the gaming industry. The map also includes some cultural icons, such as Stanford University and Foothill College, and attractions like the Great America park.
Some of the best-known tech brands today only joined the Valley in recent years and never made it on the map. Here's where they would be today:
Google
Google was founded in 1998 in Menlo Park, but it has since found its home in Mountain View. Today, it would be marked on the top left of the map, roughly where Sytek, Activision and PFS used to be.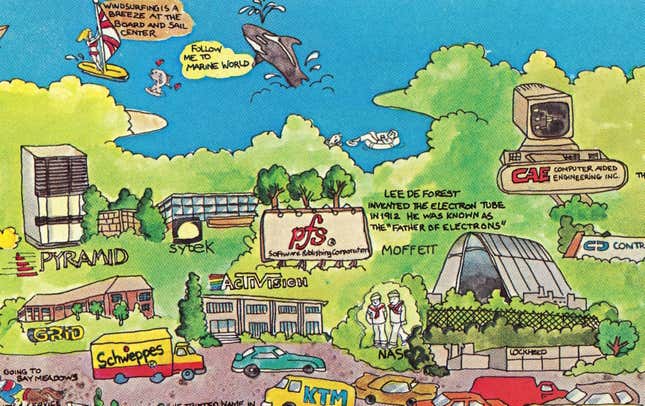 Apple
On the 1983 map, Apple is marked with its old color-striped logo, right on top of the "Cupertino" label. The company is still there, but is now expanding its headquarters as Apple Park and would certainly occupy much more space than it once did.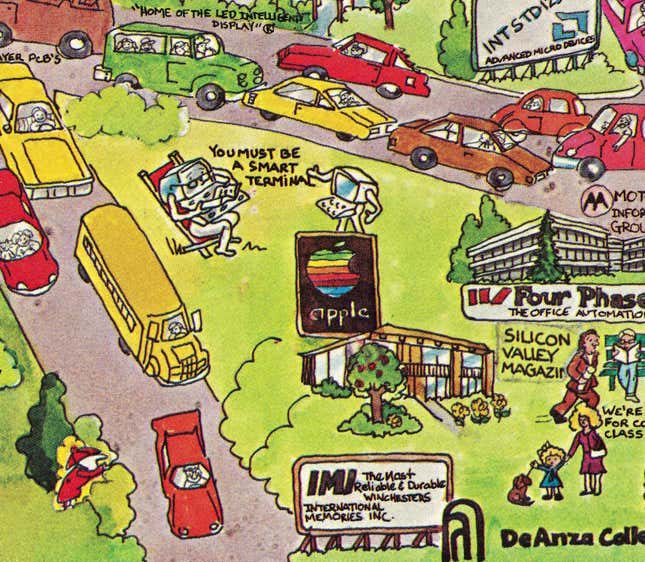 Tesla
Founded in 2003, the Tesla Factory currently occupies the far northeast, in Fremont, which used to be home of the General Motors plant.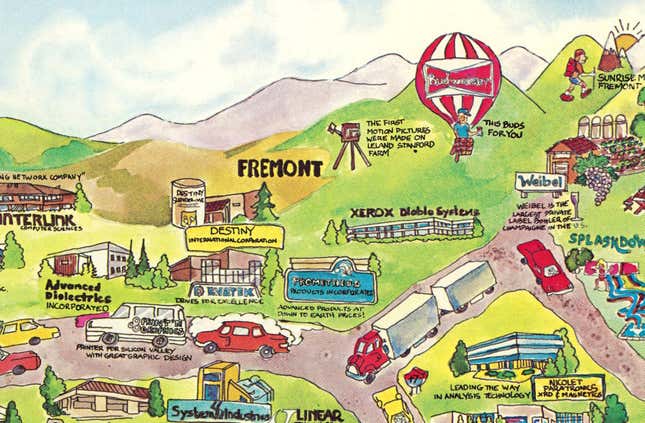 Facebook
Facebook, too, is missing from the map. Created in 2004, the social media network is now housed in Menlo Park, which barely makes it onto the west side of the map.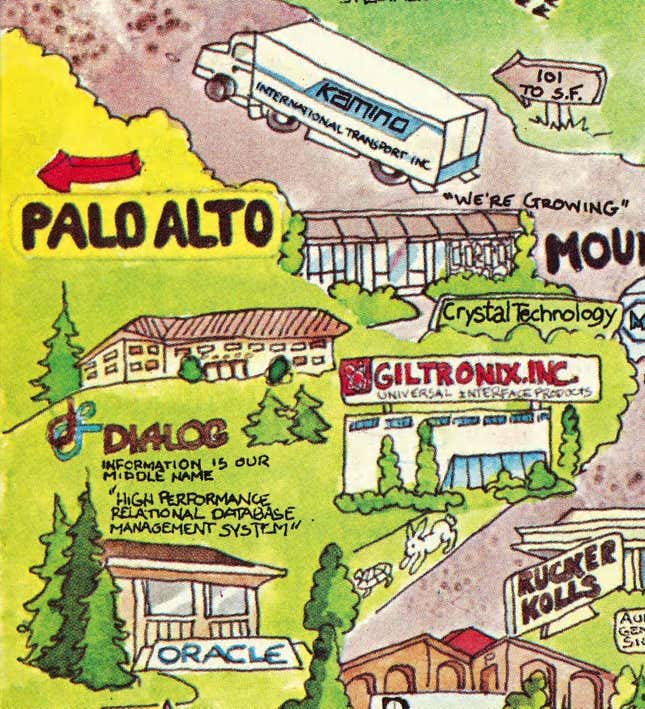 But what may be most astonishing is that many companies on this map can no longer be found at all.
"Actually there's an entire industry that's gone," says Chris Garcia, curator of the Computer History Museum and a Santa Clara native. "Before the IBM PC concept took off, everyone—and I mean everyone—was banking on CP/M being the dominant force, and it didn't happen," he says, referring to companies that produced hardware for CP/M, an operating system for microcomputers at the time.
Then a Silicon Valley outsider appeared. Founded not in California, but in Washington state, in 1975, a company called Microsoft sold its operating system MS-DOS to IBM in 1980. IBM used MS-DOS in its personal computers, which became the standard for home computers. And although CP/M is still considered to have marked the "beginning of the personal computer revolution," leading manufacturers like Cromemco and Sperry Univac that depended on the system disappeared within a few years time, says Garcia, "largely because the PC just took off so hard, which is weird because the PC has no direct connection to Silicon Valley." Other microcomputer producers like Onyx Systems, RAIR, and System Plus Inc, also phased out.
Microsoft's main campus is in Redmond, east of Seattle. But in 2001, perhaps in a nod to all the companies it buried, it opened a relatively small Silicon Valley location near Google.
Correction: An earlier version of this story stated Fremont was a city in Santa Clara county. It is in Alameda County. It also stated Menlo Park as part of Palo Alto. They are neighboring cities.