While department stores are seeing a steady decline, living in a seemingly endless season of deep discounting, the makeup industry is in the midst of a boom. Spending on beauty and personal care is growing more quickly globally than spending on apparel and footwear, according to data from the market research firm Euromonitor International.
As US department stores increasingly close down, the era of the in-store beauty counter may be coming to an end, but standalone beauty retailers are apparently getting a boost from the rise of the selfie. Shoppers are emulating the looks they see on platforms such as Instagram or Pinterest.
"Social media is shaping consumer behavior," Shelley Haus, vice president of brand marketing at Ulta Beauty told WWD. "Scrolling through Instagram, the pictures and videos bring things to life in a way that's superabsorbable. [Consumers] go to Instagram for beauty inspiration and to learn how to wear this or do that. They relate in a really visual way, and they are getting a sense of urgency."
Themed makeup, like the recent trend of dreamy "unicorn"-style colors, also become popular via social media, and makeup companies are carefully monitoring and quickly responding to those trends. "Everyone on our team is obsessed with social media," the senior vice president of marketing at Wet N' Wild cosmetics Evelyn Wang told Jezebel. "We see ourselves as a fast fashion brand, so whenever we see a trend our goal is to jump on it as soon as possible."
In 2016, Europe saw more beauty and health store openings than any other type of retailer, Bloomberg reported, with Kiko Milano, and  L'Oreal SA's NYX and Urban Decay lines leading this growth.
Beauty retail is also expanding in the US: Ulta Beauty plans to open 100 new stores this year; E.L.F. Beauty went from being an online-only retailer in 2004 to opening brick-and-mortar stores in 2013 (and launched its IPO in September 2016); and LVMH's Sephora opened its largest store yet last week.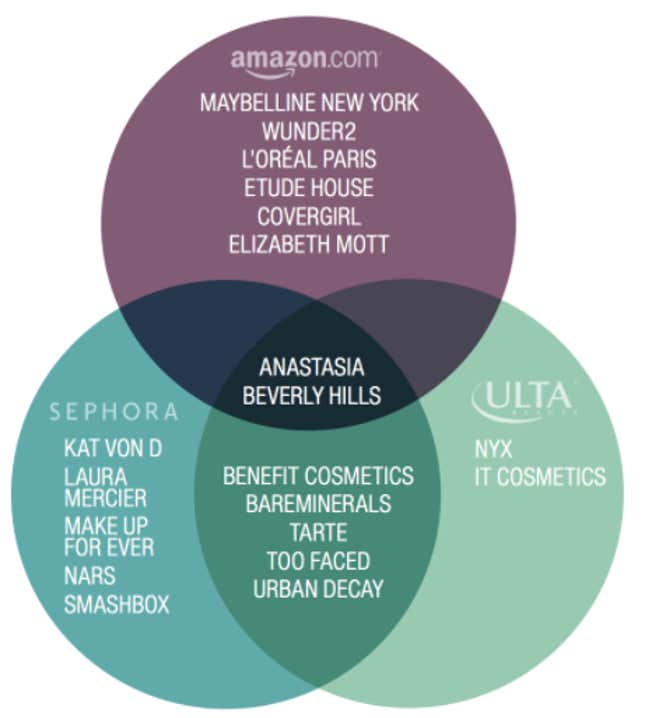 As e-commerce threatens clothing and department stores that haven't managed to adapt quickly, makeup stores have so far managed to keep drawing customers to their brick-and-mortar outlets.
For now, Ulta Beauty and Sephora have managed to keep the e-commerce giant Amazon at bay by maintaining brand exclusivity: The relatively high-end makeup companies that distribute their products through Ulta and Sephora have little product overlap with Amazon, according to the analytics firm L2.