US district court judge William Alsup had stern words for Uber and Waymo this week: Chill with the redactions.
Waymo, the self-driving car unit spun off by Google parent Alphabet last year, sued Uber in late February. The suit alleges that Uber and Otto—a self-driving trucking startup founded by former Waymo employees, which Uber acquired last summer–conspired to steal trade secrets and proprietary driverless technologies from Waymo. Not that you would know from their filings.

Certain documents submitted by Waymo and Uber over the past month have been heavily redacted, or restricted in their access. That excerpt above is from a motion to compel arbitration that Uber's and Otto's lawyers filed on March 27. (Uber is hoping to push the case to arbitration, while Waymo is seeking an injunction that could bring Uber's driverless car program to a screeching halt.)
Let's see what else we can learn from Uber's motion.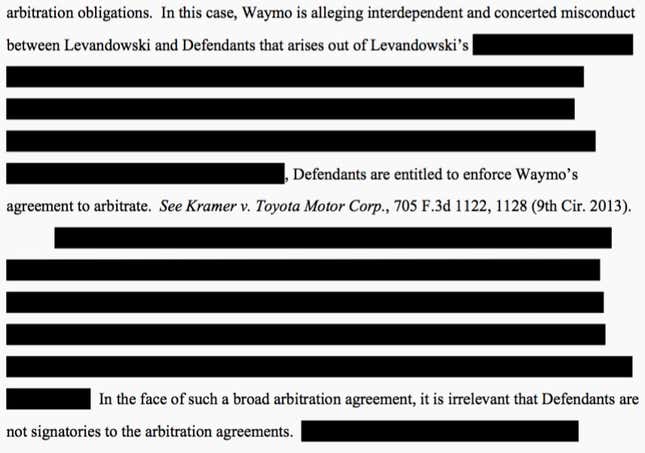 Good, good. Otto founder and current head of Uber self-driving technologies Anthony Levandowski did something that caused Waymo to allege misconduct. What is anyone's guess.

Plainly.
In a three-paragraph order titled "RE EXCESSIVE REDACTIONS," Alsup took Uber to task for its liberal black-lining. "Our federal courts belong to the public, and the public and the press have a legitimate interest in looking over our shoulders to see the work in progress in our courts," he wrote. "The essence of our work concerns evaluating competing arguments. Parties should not hide those arguments under seal out of a desire to shroud business dealings in secrecy."
Secrecy? What secrecy?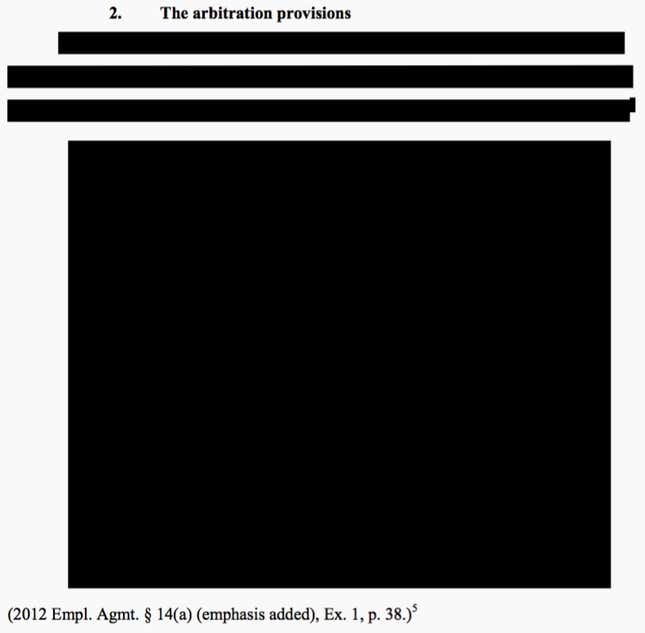 Alsup has ordered Uber and Waymo to "confer and agree on a wholly public version of the motion that is completely unredacted, or show good cause for maintaining privacy over any specific portions" by March 29 at 5pm local time. (Update: Uber said in a filing later on March 28 that it had "applied the redactions based on Google's insistence" and felt the entire document "can be filed unredacted." But there is a separate private matter. "The Court will understand," Uber said.)
"This theme runs throughout the brief history of this case," he concluded. "Please do not claim privacy over anything less than true trade secrets or other material clearly deserving to be under seal."