Donald Trump's administration has so far largely steered clear of the debates about racism, safe spaces, and free speech that are raging at US universities.
But across the pond, Britain's minister for higher education Jo Johnson is flat-out demanding that UK schools protect controversial speakers and discourage a culture of censorship. It is schools' "legal duty" to secure free speech for all "members, students, employees, and visiting speakers," Johnson wrote to universities, in a letter seen by The Times newspaper (paywall). Johnson—brother of British foreign secretary Boris—also said the government would seek to draft legislation to make this mandatory.
His sentiment echoes that of prime minister Theresa May, who criticized the idea of "safe spaces" last year. "I think everybody is finding this concept of safe spaces quite extraordinary, frankly," May said. "We want to see that innovation of thought taking place in our universities."
Unfortunately for US schools, without such clear-cut government instruction as that, there's no universal guidebook or procedure for dealing with so-called student intolerance. That's why Middlebury College, which saw violent protests erupt when controversial author Charles Murray came to speak, has spent weeks being scrutinized. Academics bicker amongst themselves about schools' purpose: some insist universities have an institutional responsibility to welcome and encourage all viewpoints, however provocative, while others make the argument that "free speech is not an academic value" or that selectivity is key to intellectualism.
Figuring out how to proceed with disruptive student protests over campus speakers, and how to minimize their financial effects, is largely up to US schools themselves—and they probably should have seen this coming.
While New York Times attributes (paywall) the recent slew of speaker-centered protests to US students' "heightened awareness of racial, ethnic, religious and diversity issues after the election of Donald J. Trump," a lack of acceptance for opposing viewpoints on college campuses has actually been brewing for quite some time. John Sides, an associate political science professor at George Washington University, recently charted a 40-year decline in college students' tolerance with data from a national general survey and previous research from political scientist Dennis Chong. His study notes that, beginning in the 1980s, as colleges' liberal cultures increased, so did the refusal of their students to listen to people they perceived as outsiders.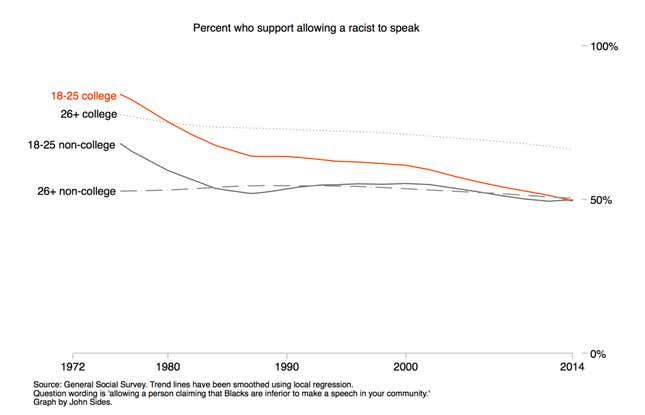 Not every member of even the most liberal campus community shares the majority perspective, of course. "We shouldn't ignore that colleges and universities are not monoliths," Sides told Quartz. "There are people on campuses who objected to hate speech codes. There are people at Middlebury—including faculty and administrators —that supported Murray's right to speak."
They're just rarely being heard. No small irony rings through the fact that the last half-century has seen college students go from protesting hate speech in the 1960s Free Speech Movement to, however unconsciously, now propagating it themselves by shouting down controversial individuals who come to campus.