Short on time and savvy with social media, young professionals have been some of the first to adopt Tinder, a dating app launched in October. The app, available on iPhones and iPads, lets you decide—based on a few details and a couple of pictures—whether a person within a certain radius of you is "dateable."
It works that out by comparing your lists of friends and interests on Facebook to match you with likely prospects. Then it shows you their pictures. The beauty of the app is its game-like speed: swipe left (no thanks) or right (mmm, cute)—or click the X or heart button—and move on to the next one. If both you and another person separately approve one another, the app lets you chat together.
It may sound like the ultimate in objectification, but young people see it as a practical way to get rid of the drama and possibility of rejection. "There's really no rejection," says Justin Mateen, the app's co-founder. "You don't have to do anything. It's really instant gratification. And you don't have to sell yourself, which removes some of the stigma of dating sites." The average user is a 27-year-old iPhone owner in a big city, according to Tinder. The company plans an Android launch within the next 30 days.
Anecdotal evidence suggests that it's particularly popular with people who spend long hours at work and have the least time for meeting people the old-fashioned way. "With crazy schedules it was a fast way to meet someone," says one private equity analyst. "The two people I've been on Tinder dates with are pretty impressive people career-wise." A junior associate at a major Wall Street firm admitted that his friends are obsessed with it. Another said that using Tinder and OkCupid had developed into a "hobby." This author even watched four of her male and female friends—twenty-somethings in finance and advertising—spend over an hour swiping away on the app at a bar last month. (Riveting.)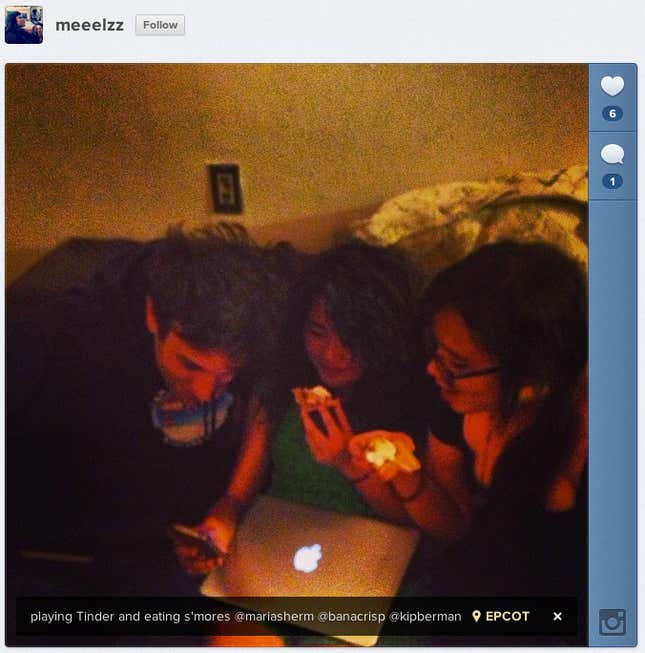 The adoption has been massive and global, according to the company. Tinder says it has made 60 million matches since October, its users have rated each other 5.7 billion times, and it has prompted 20 engagements. In some countries, Tinder users already number more than 1% of the country's entire population. The more seasoned OkCupid—a property owned by social media conglomerate IAC, which was also an early investor in Tinder—asked Tinder for help on its own swiping "Hot or not" function, OkCupid Local. Since that app launched two weeks ago, its users have voted on each other 20 million times.
But Tinder plans to use its platform to expand beyond dating. "We don't consider ourselves a dating app per se," says Mateen. "We want to include everyone. The need to meet new people is universal…We don't believe it's right to restrict a relationship and categorize it. We feel like keeping it broad and people can figure out the intentions of others by chatting." He said future versions of the app will be focused on including people who aren't looking for a romantic relationship, and could include mobile purchases in some form.
Of course, Tinder's future plans and monetary ambitions probably matter little to Tinder's current users. The really burning question is: How many of them are devotees of Game of Thrones?