Until recently, the US Government Accountability Office's website described oil and gas drilling on federal lands as posing an "inherent risk" to human health and the environment. Now, that language has been replaced  with wording about the economic benefits of oil and gas activity.
The edits—made between midday on Feb 15 and midday Feb 16, 2017—were spotted by the Environmental Data & Governance Initiative (EDGI), a group of programmers and researchers who are tracking changes to federal websites since president Donald Trump took office. They are the latest in a litany of similar modifications, many of which have involved public-health or climate-change science.
The edited page is part the Government Accountability Office's "High Risk List," updated every two years with federal agencies or programs the GAO believes are vulnerable to "fraud, waste, abuse, and mismanagement, or are most in need of transformation." Oil and gas resources on federal lands were part of that list under the Obama administration—and remain on it, but without mention of the environmental and public health risks that originally drove their placement there.
The GAO says the change in language was not to de-emphasize the health and environmental risks of oil and gas drilling, which the GAO described in a 2012 report, but rather to point to a more recent set of reports that emphasize weaknesses in the government's oversight of the industry—like, for example, the inability to ensure that companies that use federal land have paid royalties completely.
"We still stand by that [2012] report. We emphasize different things at different times," said Mark Gaffigan, the director of the Natural Resources and Environment team at GAO.
GAO staff who spoke with Quartz said they wished to make clear that, unlike the EPA and other agencies, GAO is not part of the Trump administration. "We don't work for the White House, we're in the legislative branch," Gaffigan said.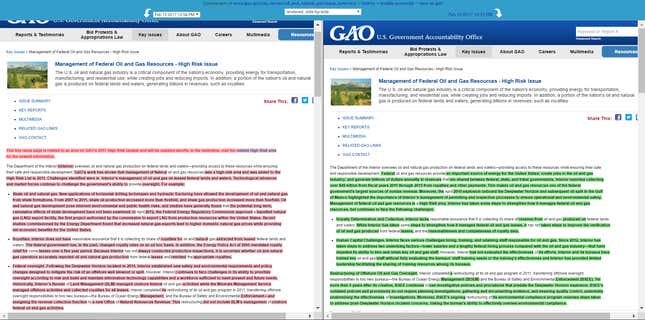 Among the changes is the deletion of a line in the opening paragraph that references how rapidly changing drilling technologies that allow drillers to access previously inaccessible oil and gas reserves "challenge the government's ability to provide oversight."

That line has been deleted, and is replaced by a paragraph describing the economic benefits of drilling: "Federal oil and gas resources provide an important source of energy for the United States; create jobs in the oil and gas industry; and generate billions of dollars annually. Interior reported collecting over $49 billion from fiscal years 2011 through 2015 from royalties and other payments."

Also deleted is a paragraph about the inherent risks to public health:
"Oil and natural gas development pose inherent environmental and public health risks, and studies have generally found that the potential long-term, cumulative effects of shale development have not been examined."

The new page replaces that paragraph with one about trouble retaining federal oil and gas staff:

EDGI, the group that spotted the changes, grew out of the data rescue movement that has arisen since Trump's election. It's a volunteer effort by computer scientists and librarians to scrape and store the troves of climate change and environmental data stored on federal websites, for fear they will be removed under the Trump administration. The data rescue events, held at dozens of universities across the country since a few weeks prior to Trump's inauguration, also uploaded copies of federal websites to the Internet Archive's Wayback Machine—a resource EDGI is using now to track deleted or edited language.
And edits to federal websites have steadily shown up on their radar: One removed mentions of "science" from the mission statement of an office in charge of crafting water quality standards, while another axed mentions of a federal rule about fracking from the Department of Interior's website. Climate change information has also been removed from the websites of the US Environmental Protection Agency and the US State Department since inauguration.
This post has been updated with comment from GAO staff.