For the United States, it's in the middle of a Quebecois forest. Hong Kong's is near Wuhan, in the heart of China. France's is in France. The average destination of a nation's international flights reveals its migratory bias, nearby tourist attractions, and the countries with which it does business.
Quartz calculated the average international destination and point of origin for every country in the OpenFlights database with at least five outbound routes. The result is a picture of how each country contributes to the balance of global air travel.
South America
The distance between Brazil's average origin and average destination is longer than any other nation in the world. With routes to Qatar, UAE, Los Angeles, and London, among others, the average destination of a flight departing Brazil is 2,917 miles away.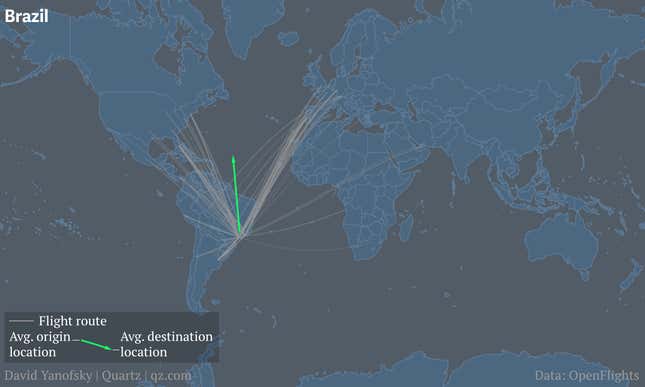 The landlocked countries of Bolivia and Paraguay have significantly more balanced international flights than their coastal neighbors. The distances between their average origins and average destinations, for both countries, are less than 200 miles.
Caribbean
All but one Caribbean country or territory's average destination is north of its average origin. Ten of the 18 have an average destination to their west, toward the United States. Cuba is an anomaly in the group, with its average destination 1,827 miles away–the sixth farthest in the world, because the US bars travel to and from the country.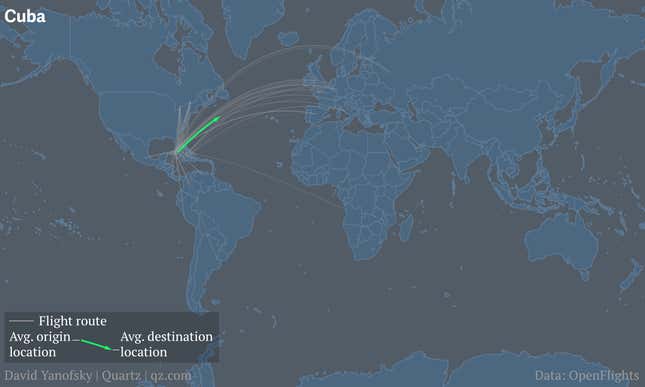 Africa
Cape Verde and South Africa's average destination are the farthest from their origin points in Africa. They are the fourth and fifth longest in the world, respectively. Each are farther than 2000 miles away.
Most Flights from Cape Verde have destinations in Europe. The nation only has one route to continental Africa, according to the OpenFlights data.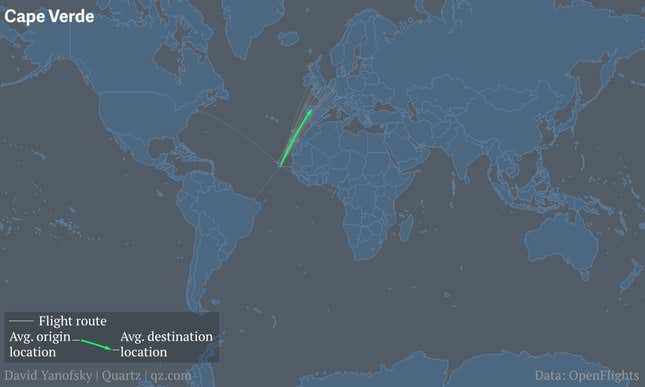 South Africa has more routes to continental Africa as well as routes to Asia and the Americas.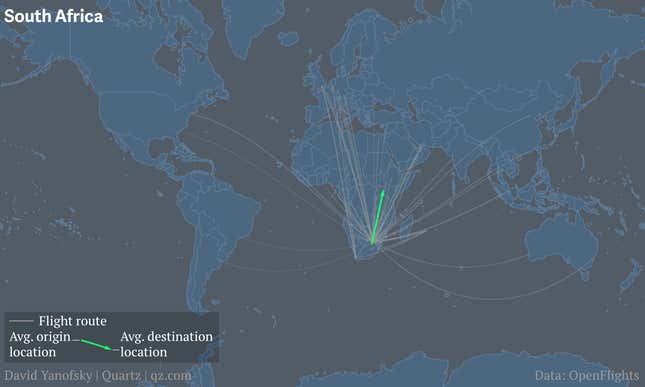 Asia
While the average destination points of western asian countries fall towards Europe and Moscow, the average destination points of East Asian nations are pulled toward China. But China, like France, has an even balance of routes in all directions. Its average destination is inside of its borders, just 226 miles away from the average origin.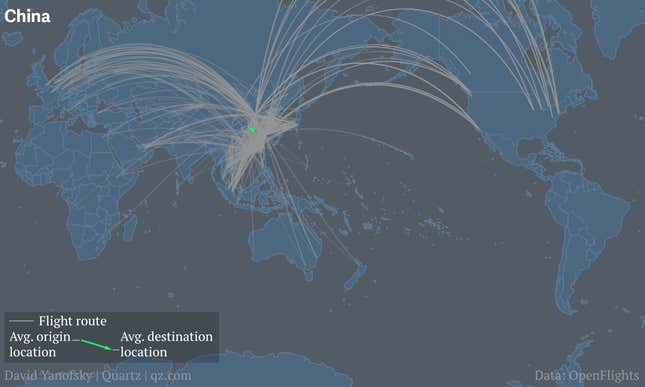 Eleven percent of routes from China terminate in Hong Kong, 13% in Japan, and 8% in the United States.
Europe
Every European country has a average destination inside of Europe, reflecting the frequency of travel within the continent. The vectors of most African countries also point toward Europe.
France's average destination is inside its own borders, reflecting an even balance of routes in all directions.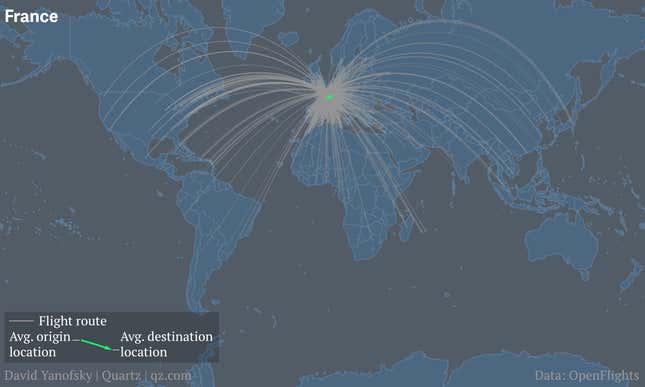 Ukraine displays the same phenomenon.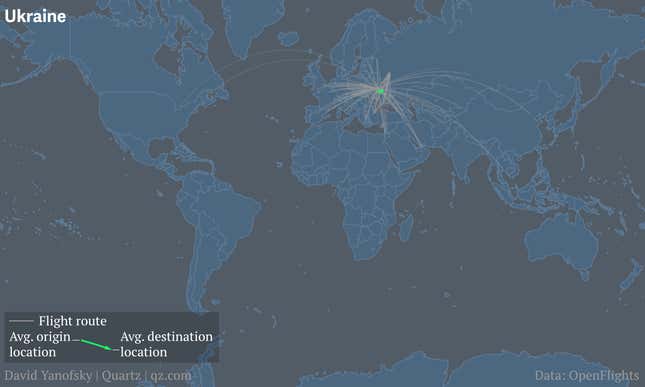 North America
Mexico's average destination is in the United States, the US's is in Canada, and Canada's is in Canada.
Mexico's average destination is remarkably close to the US's average origin. They are only 66 miles apart. Seventy-two percent of Mexico's outbound flights are bound for the US.