Who is behind a popular Twitter account that has been critical of the Trump administration? The US government has been trying to find out.
A special agent from the US Department of Homeland Security's Customs and Border Protection unit sent a summons to Twitter on March 13, demanding information about the @ALT_USCIS account. (CIS stands for Citizenship and Immigration Services.) DHS was seeking all records including "user names, account login, phone numbers, mailing addresses, and I.P. addresses," according to court papers filed by Twitter in San Francisco.
Twitter has refused to release the information and is suing the government instead, alleging that it is "unlawfully abusing a limited-purpose investigatory tool to unmask the real identity" of Twitter users. The suit was uploaded to DocumentCloud by the Intercept.
"The rights of free speech afforded Twitter's users and Twitter itself under the First Amendment of the US constitution include a right to disseminate such anonymous or pseudonymous political speech," the lawsuit says.
The lawsuit argues that the government can't ask for the information it sought without first "demonstrating that some civil or criminal offense has been committed…and that demand for the information is not motivated by a desire to suppress free speech."
Like many of the "ALT" or "ROGUE" accounts that sprung up in the days following Donald Trump's inauguration, @ALT_USCIS has criticized the administration and pointed out ongoing problems in the specific department it references, conveying a mix of desperation and humor. The account's base of followers grew quickly, particularly after the failed "Muslim Ban" and a crackdown on immigrants, and now has about 43,000 followers.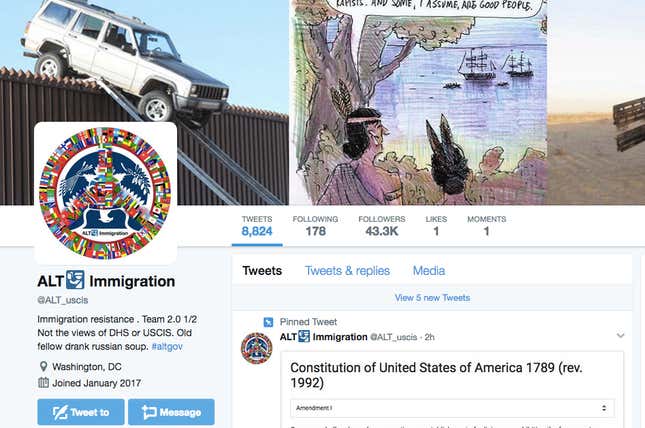 A spokesman for US Customs and Border Protection said he could not speak about pending litigation, or provide any information on whether the administration was trying to unmask other anonymous Twitter users who have set up "ALT" accounts. The individual behind the ALT_USCIS account is being defended personally by the American Civil Liberties Union.