All eyes are on Donald Trump and Chinese president Xi Jinping as they meet for the first time at the US president's Mar-a-Lago golf club in Florida. But, the venue represents exactly what Xi has been trying to crack down on in China—over-the-top, showy extravagance.
Tonight China's seasoned, disciplined leader and the US's ex-playboy president will join their first ladies for a state dinner in an opulent gold-accented dining hall. Set with dishes with golden floral patterns, embroidered tablecloths, and candelabras, the dining room is reminiscent of French King Louis XIV's Palace of Versailles, and echos Trump's penthouse apartment in the New York Trump Tower.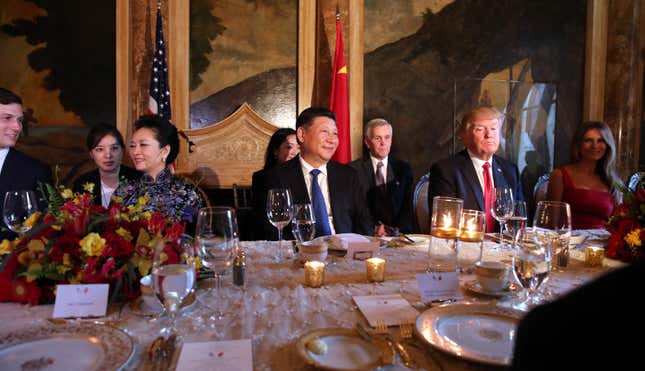 Trump's design preferences might feel somewhat familiar to the Chinese president, because of the "tuhaos" he has cracked down on.
In Chinese, "tuhao" refers to the newly wealthy, and means a taste for the garish—someone who is shameless in showing off their (often corruption derived) wealth, with little sophistication and education. Tuhao style is epitomized by Apple's gold iPhone, which is designed especially for Chinese consumers who can afford the pricey product, reports China Daily, the state English paper. The quintessential tuhao is a Rolex-clad Chinese guy wielding a gold iPhone 7 while dining at the Venetian Hotel in Macau.
Since taking office, president Xi has led high-profile campaigns against waste and corruption by Chinese officials. His government issued a set of guidelines to cut back on government extravaganzas, which forbid red carpets, cheering crowds, and expensive banquets funded by the public (as well as golf until recently). That's because Chinese officials were notorious for siphoning off money from state deals to enrich themselves.
Dining amid the opulence of Mar-a-Lago might be Trump's idea of a fancy dinner, but for Xi it could just seem over the top.