China's crackdown on corrupt high-level government officials has finally spread to every province in the country.
Lu Xiwen, the deputy Communist Party chief of Beijing, is under investigation for "serious disciplinary violations," a euphemism for corruption, the Party's Central Commission for Discipline and Inspection said Wednesday (Nov. 11) on its website (link in Chinese). The announcement came one day after the watchdog said it was probing Ai Baojun, the vice mayor of Shanghai, under the same charges.
With Lu's takedown, at least one powerful official (and sometimes many more than one) has fallen from grace in each of China's 31 provincial-level divisions since President Xi Jinping initiated his anti-corruption campaign after taking control at the end of 2012. Xi's campaign has been called a mix of corruption crackdown and political purge, but even his critics can't deny that it is everywhere.
It is difficult to explain who the exact political counterpart would be to Party officials like Lu in many western countries. But, think of it this way—the nation-wide roundup of these top provincial officials is a bit like either a governor or congressman being investigated for corruption from every single one of the US's fifty states over the past two and a half years. Or an MP from every county in the United Kingdom.

Since Xi came to power, at least 80 (link in Chinese) officials at provincial or higher levels have stepped down after being charged with corruption. Of these, 59 are from provincial-level governments, according to Chinese media reports including an article (link in Chinese) from the state-backed People's Daily. The remaining ones are from central government bureaus or the military. Here's where the 59 come from: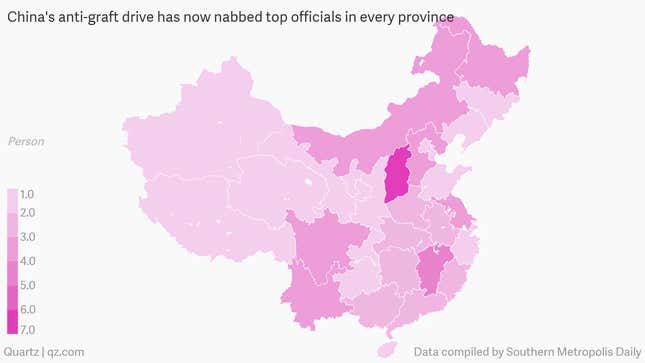 North China's Shanxi province, where the stuttering coal industry is dragging down the economy, is the most corrupt province, at least when measured by the number of top officials investigated. Seven officials in the top provincial leadership have been caught up in the corruption probe. That's part of a broader local crackdown—Shanxi punished a total of 15,450 officials in 2014, leading to a shortage of officials. China's Vice-Premier Ma Kai told Shanxi's lawmakers in March that corruption in the area "seems like a cancer."
Xi has vowed to "strike tigers and flies at the same time," a metaphor for both high-ranking corrupt officials and those at the local levels. He has been true to his word, going after his predecessor's top aide Ling Jihua, denouncing former army deputy commander Xu Caihou even after he died of cancer while awaiting trial, and broke an unwritten rule to sentence ex-security czar Zhou Yongkang to a lifetime in jail.