The forced, violent removal of a passenger who refused to give up his seat on an overbooked United Airlines flight, as documented in a viral video, has shocked people all over the world. But were United's actions racially motivated?
That's what millions of Chinese suspect. The hashtag "United Airlines forces passenger off plane" has, at the last count, attracted over 130 million views on Weibo, China's rough equivalent of Twitter.
There is no evidence that the passenger, whose identity has not yet been made public, is a Chinese national, or even ethnically Chinese. Perceptions about his race stem from his appearance (and perhaps his accent), as well as one onlooker's account that the passenger described himself as Chinese at the scene.
There is also no concrete evidence that United's actions were motivated by race. United has not explained how it selects passengers for mandatory bumps. Some speculate that airlines choose passengers that have paid low fares.
Still, the passenger's presumed ethnicity is a salient part of much of the online commentary in China surrounding the incident.
Joe Wong, a stand-up comedian who has performed in English and Chinese, in and outside China, called on his Chinese followers to let United "hear their voices." In another comment, he wrote: "I want to give a thumbs up to this passenger who was beaten. Many Chinese people feel they have been subjected to prejudice but are too embarrassed to speak out. As a result, Western mainstream media and the public don't treat Asian prejudice as a serious issue."
The comment received over 22,000 likes on Weibo (link in Chinese). He posted a similar statement on Twitter.
In other parts of the internet, Chinese commenters argued over the nuances of the passenger's perceived identity. Was he a "huaqiao," a term typically used to refer to a Chinese immigrant overseas? Or a "huayi," a term used to describe someone of Chinese ethnicity who is well assimilated into a foreign country, often the children of immigrants?
Some commenters, assuming the passenger was a huayi (who are often perceived to be wealthy), took vindictive pleasure in his apprehension. "Huayi, they enjoy special treatment in other people's countries, and then when something bad happens they call on China to help, yeah?" wrote one commenter in a post that gathered over 400 likes. Another commenter questioned whether such distinctions even matter.
"Even if his passport is American, the blood that flows through his bones is as Chinese as my own. Since he said he's Chinese, that means he supports his motherland, and is not an opponent of China. Daughters of China must unite together," wrote the commenter.
Other Chinese internet users directed outrage at United directly. Angry comments in Chinese script hit the airline's Instagram page, even though the social network remains blocked in China. Trolling campaigns by aggrieved Chinese internet users, who circumvent China's Great Firewall in order to storm foreign social-media pages, occur semi-regularly.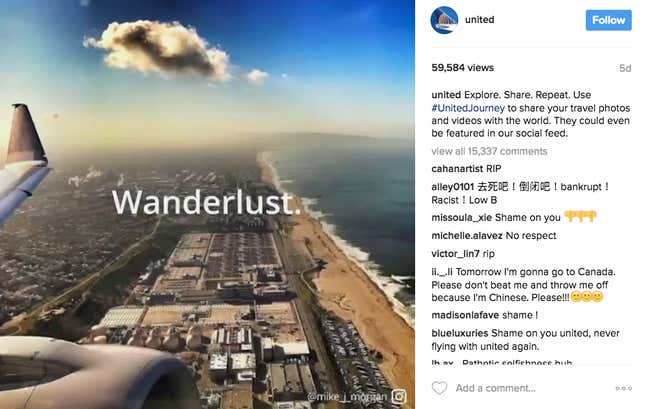 Zishi Zhang, an 18-year old university student residing in the UK, started a petition on Whitehouse.gov demanding the US federal government  "launch an investigation" into the incident. The petition, which bears the slogan #ChineseLivesMatters (sic), has attracted over 10,000 signatures—about 10% of its goal.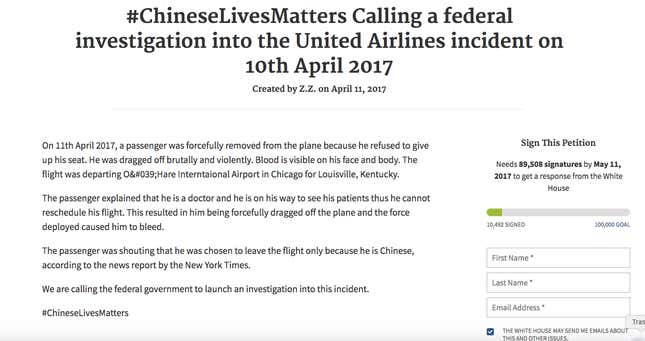 It's not yet clear if online anger towards United will lead to meaningful business repercussions for the carrier. The airline has direct flights between the US and five Chinese cities—Beijing, Shanghai, Xi'an, Chengdu, and Hangzhou. It also serves dozens more cities through a partnership with Air China. If the company is bracing for an impact on its bottom line, it will likely come not from one country, but two.
Echo Huang contributed to reporting.