In China tomorrow (March 24) Apple will launch the crimson-hued iPhone 7 and 7plus devices in partnership with (RED), an AIDS-relief charity it has promoted and supported for over a decade.
The marketing campaign, which started earlier this week, has already hit road bumps in China, in a way that illustrates how the country's politics can inadvertently mangle a foreign company's good intentions.
In most of its marketing materials for the special-edition phone, Apple clearly states that a portion of the device's sales will help fund (RED)'s relief efforts in sub-Saharan Africa. Apple's Chinese-language site, however, makes no mention of the charity or its cause—the company simply touts a special, red version of its latest mobile device.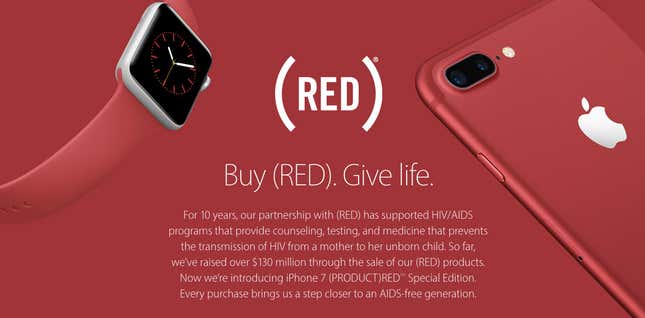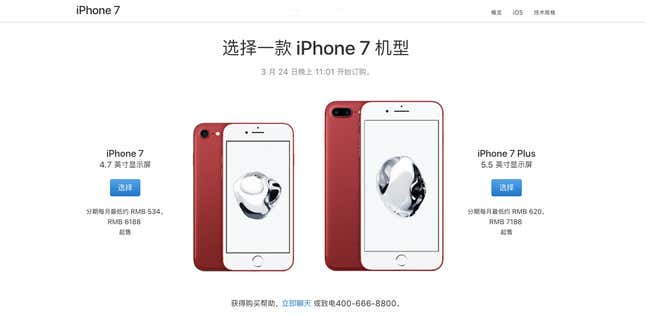 Why did Apple scrub mentions of (RED) from its China site?
One possible explanation is that discussion of AIDS remains largely taboo in China. That's in part due to stigmas that are historic in nature: Government negligence caused a surge in AIDS across rural China in the 1990s—still a sore spot in the Communist Party's history—and the illness continues to be thought of as a "gay disease" in a country where homosexuality isn't widely accepted (though that's changing).
Yet China is also experiencing an AIDS crisis right now. Cases of HIV increased by over 400% among several age groups from 2010 to 2015, including youth aged between 15 to 24. The situation prompted one university to provide HIV testing kits in snack vending machines across campus.
A precarious position
But there might be another reason for the difference in marketing. Overseas charities like (RED) occupy a precarious position in China. A law enacted in January requires all foreign NGOs operating in the country to find government sponsors, register with the police, and submit yearly reports on their financing, plus jump through other hurdles. The regulations, which remain frustratingly vague, have sparked fear among nonprofits in China. Some worry that the government might use the rules as a pretext to kick them out of the country.
Shawn Shieh, a Hong Kong-based expert on Chinese civil society, says it's possible Apple's partnership with (Red) could be seen by authorities in China as incompatible with parts of the law.
He tells Quartz that as long as Apple, a for-profit company, is helping an overseas nonprofit with fund-raising (in the form of handing over sales proceeds), that could potentially run against Article 9 of the law, which states:
Where an overseas NGO has not registered an established representative office, nor submitted documents for the record stating that it intends to carry out temporary activities, it shall not carry out or covertly engage in any activities, nor shall it entrust or finance, or covertly entrust or finance, any organization or individuals to carry out activities in the mainland of China on its behalf.
"Even if (RED) were to register or submit documents for temporary activities, it's not clear whether it could do what it's doing with Apple, which could be interpreted as 'fund-raising,'" says Shieh.
An Apple spokesperson confirmed to Quartz that the company would indeed donate proceeds from the red iPhone's China sales to (RED), but did not explain why references to the charity had been omitted from Chinese marketing materials. Nor did she comment on a query related to the NGO law and Apple's partnership with the nonprofit. (RED) did not respond to Quartz's emailed questions.
Seeing red
On Chinese social media, most commenters didn't dwell on China's AIDS problem, or its NGO laws. But they remained critical of the campaign, albeit for reasons completely peripheral to those central ones. Some, for example, cynically assumed that the phone was a ploy to win over Chinese consumers with the country's national color, in order to combat slowing sales. Many media outlets dubbed the phone "Chinese red," or more mockingly, "Auntie red," referring to a euphemism for menstruation.
Others, after spotting the discrepancy in Apple's advertising, drew their attention toward its charity partner. Chinese tech blogger Chen Du pointed out (link in Chinese) that (RED)'s Instagram page features a post from nine months ago showing a picture of the Dalai Lama, a reviled figure according to Communist Party orthodoxy. This prompted a surge of pro-party commenters to spam (RED)'s Instagram page with comments in English and Chinese, condemning the Dalai Lama as a separatist.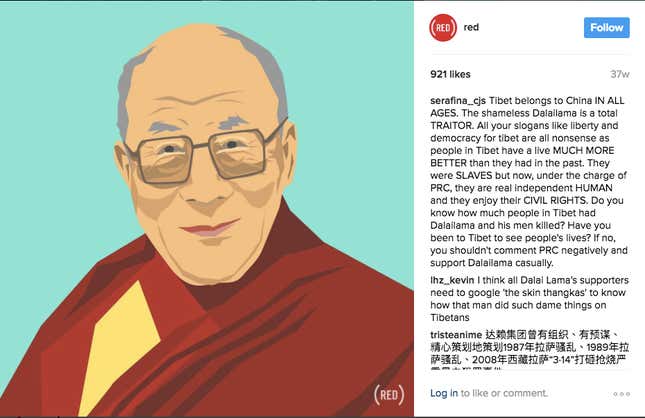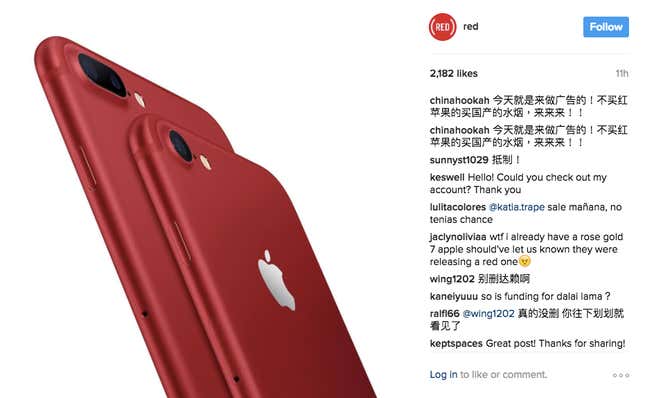 Such trolling campaigns occur intermittently in China. Last year nationalist Chinese commenters spammed the Instagram page of Australian swimmer Mack Horton after he accused a Chinese Olympic swimmer of using steroids. They also targeted the Facebook page of Taiwan president Tsai Ing-wen around the time of her election. Somewhat ironically, these commenters must use a VPN or another piece of software in order to post comments on these services, as they remain blocked by China's Great Firewall.
Will any of this affect Apple's long-term prospects in China? In most countries, PR mishaps such as these tend to blow over quickly. But in China they can have serious consequences, especially for a high-profile American tech company like Apple. The government hopes to wean consumers and business away from foreign technology and toward domestic alternatives. Running up against vague laws governing NGOs, or nodding in support of a blasphemous figure like the Dalai Lama, provides authorities with the perfect excuse to punish Apple with trade ordinances, state-media smear pieces, or other measures.
Throughout the past year or so the government has suggested that it doesn't welcome the hardware company's presence in China. It shut down the the iTunes movie store and iBooks store, and also made an unusually public affair over a battery drain issue plaguing iPhone 6 devices worldwide.
This week Tim Cook appeared in China to meet with government officials and mingle with Chinese startups, in one of his many charm offensives in the country. These now-regular trips might seem overly self-ingratiating. But when even a harmless charity scheme gets needlessly politicized, uncomplicated messaging is in order.