Some of the most famous names in the nonprofit world may be forced to quit China this year.
A new law targeted at foreign NGOs, effective as of Jan. 1, requires such groups to submit themselves to greater government control if they want to continue working in China. They must find government sponsors, register with the police, and submit annual reports on their financing, among other requirements. Any violations could result in punishment ranging from asset confiscation to deportation.
The crackdown on foreign NGOs is one of the many fronts in Chinese president Xi Jinping's ongoing war against "foreign forces," which Beijing claims are destabilizing the country and undermining China's national interests. At best, foreign NGOs will try to navigate the red tape, adapt, and survive. At worst, groups working in such causes as criminal justice and HIV prevention may simply have to abandon China altogether, whether voluntarily or forcibly.
The new foreign NGO law is being implemented at a time "when there is arguably a rise in xenophobic attitudes on the part of the government, and increasing paranoia about the role of civil society that is not directly controlled by the Communist Party," said William Nee, a China researcher with Amnesty International.
Released in its approved form in April, the "Law on Management of Domestic Activities of Overseas Non-governmental Organizations" is part of a string of legislation focusing on state security and enacted in recent years. Nonprofits working in sensitive fields such as human rights and the rule of law are the most likely targets, NGO workers and researchers say.
The new law also prohibits unregistered foreign groups from funding their local counterparts. That could effectively cut off the lifeline for many Chinese NGOs that can't get support from domestic sources.
Confusion reigns
Chinese officials estimate that over 7,000 foreign NGOs—ranging from charities to foundations to chambers of commerce—operate in the country. Previously there was no uniform law to regulate them all. While some well-known organizations like the Bill & Melinda Gates Foundation are registered with the Ministry of Civil Affairs under old regulations, the majority are registered as businesses, or without registration at all.
The new law seeks to put an end to this gray area by requiring all foreign groups to have a government sponsor and register with their local public security bureaus. But its implementation has been disorganized and chaotic. Though the law was made known two years ago when a preliminary draft was issued publicly, the exact regulations were not published until late November 2016, leaving many NGOs scrambling to comply with the rules by Jan. 1. For example, a guideline for registration (link in Chinese) that includes all the paperwork needed was not released until Nov. 28, and the list of sponsors (link in Chinese) was not released by the public-security ministry until Dec. 20.
That confusion has already resulted in at least one foreign NGO retreating. The American Bar Association (ABA), which runs programs providing legal training and promoting the rule of law in China, has closed its office in Beijing and will have no staffers on the mainland pending its registration. It is registering its new East Asia regional office in Hong Kong.
The ABA is firmly in the Chinese government's crosshairs. In July, it announced that it would give its inaugural International Human Rights Award to detained Chinese lawyer Wang Yu. In a videotaped confession believed by activists to be forced, Wang, who has since been freed from a 12-month detention, denounced the award, saying it was "just another way for [foreign forces] to use me to attack and smear the Chinese government."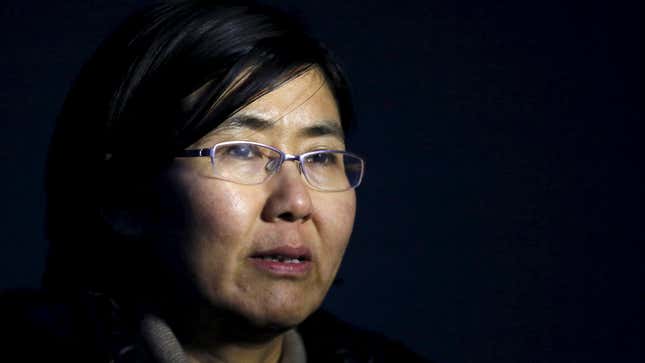 The ABA's decision to withdraw from China was taken considering "there is still uncertainty surrounding which types of activities will be approved, and it's also unclear whether or not there will be a grace period for organizations already in the country to pursue registration without penalty," said Elizabeth Andersen, director of the ABA's Rule of Law Initiative based in Washington DC. Chinese officials have said (link in Chinese) that there would be no "grace period" for the enforcement.
In the ABA's case, it could pursue sponsorship by the justice ministry, which oversees NGO activities in "legal services," or with the civil affairs ministry, which oversees activities in "social aid," among others.
"There has not been sufficient time to contact any potential sponsor agency since the list was published. We anticipate doing so early in January and will hope to hear back promptly," Andersen said.
While some think the foot-dragging by the government is a deliberate attempt to frustrate foreign NGOs, others believe it was merely symptomatic of bureaucratic incompetence, or even domestic turf wars.
The short notice of the sponsor list was only because the public-security ministry had to coordinate among government entities, "which means there is inevitably going to be pushing and shoving among them," said Karla Simon, a scholar at the New York University School of Law and author of Civil Society in China. "I do not think we should worry so much about registrations."
An employee at a foreign NGO based in Beijing, who asked not to be named, said that her NGO is not yet clear on who they should have as an official sponsor, as their activities fall into different areas covered by multiple government entities. They are now in contact with every possible sponsor to see which is more likely to welcome them on board, she said. In the immediate term, they will have to find registered local partners such as universities or research institutes to continue their activities in China, she said.
Until the registration is approved, her organization will be more careful not to "confront the state interest," though that's something it's avoided since starting operations in China, she added.
NGOs based in Hong Kong and Taiwan are also defined as overseas groups under the new law. China Labour Bulletin, a Hong Kong-based workers' rights group that operates in mainland China through partner organizations and volunteers, said it won't scale down its presence on the mainland despite the new law. The group has found "technical methods" that are "absolutely not illegal" for continuing funding its mainland partners, said its founder Han Dongfang, who is exiled from mainland China, though he did not elaborate on these means.
Han, however, conceded that from now on the group has to be "more low-key," so as to lower the risk of being targeted by police.
A "manufactured xenophobia"
When China's top lawmaking body, the National People's Congress (NPC), released its latest five-year plan (link in Chinese) in October 2013, it didn't speak of any intention to legislate on state security. But the matter soon became a key issue for the Communist Party after the establishment of a secretive agency the following year.
The party's National Security Commission (NSC) was established in January 2014 with Xi as its head. The commission's other members were never revealed, and it only held one publicly reported meeting, in April 2014. In it, Xi decided to build a new "national security system" with the NSC at its core.
Since then, the NPC has passed a series of laws focusing on state security, including ones involving counter-espionage, national security, counter-terrorism, foreign NGOs, and cybersecurity (the latter coming into effect in June 2017).
During the same period, Xi's crackdown on dissidents, activists, lawyers, and civil society has grown harsher. Prominent examples included a weeks-long detention of five female activists campaigning against sexual harassment in April 2015, a nationwide detention of over 100 human rights lawyers including Wang Yu in July 2015, and the arrest and deportation of Swedish NGO worker Peter Dahlin last January.
Meanwhile, propaganda departments initiated campaigns against "foreign forces" through various channels. For example, ahead of China's first National Security Day on April 15, officials distributed propaganda material including a comic warning Chinese women not to date foreigners, and cartoons that explained new security laws with the help of Western pop culture figures such as Batman and Mr. Bean.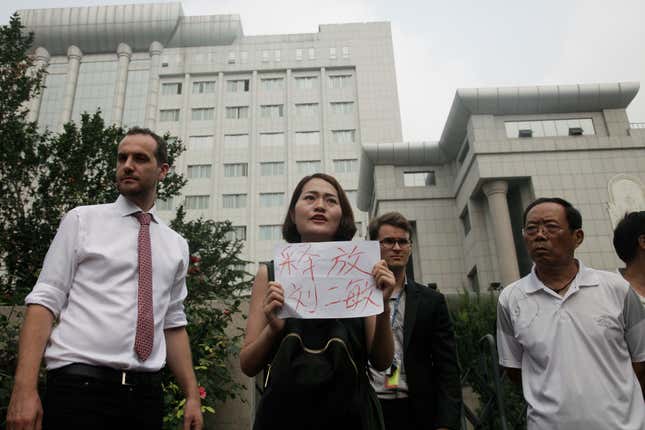 The climax perhaps came in August ahead of a closely watched trial of four human rights lawyers. Official and semi-official accounts on Weibo, China's version of Twitter, promoted a series of videos blaming foreign forces for inciting a pro-democracy "color revolution" in China. One of the videos, promoted by the party's youth league, said the ABA had a strange "sexual fetish" (link in Chinese) because it gave an award to an empty chair in the absence of Wang Yu.
Just before the new law was set to go into effect, Chinese authorities also arrested several well-known human rights lawyers and activists including Jiang Tianyong, Huang Qi and Liu Feiyue, all well-connected to the international community.
"It is more of a manufactured xenophobia that has to be enforced through numerous Communist Party policies and directives against a society that is increasingly learning more about the outside world and foreign ideas," Amnesty's Nee said.
Staying alive
Politically sensitive NGOs like human rights groups are, to some extent, accustomed to being targeted. That's less true of other organizations that work closely with foreign groups and now find themselves on shaky ground.
A Guangzhou-based environmental NGO worker, who asked not to be named, said that her organization has been preparing for the new law since its first draft was released two years ago. Since then, it's been gradually curtailing its overseas funding. One of its major donors, the Rockefeller Foundation, has begun transferring money to it via Chinese foundations in an attempt to work around the new regulations.
She estimates her NGO will receive 10% less funding in 2017 as it might be unable to take money from other existing foreign donors, including Oxfam and the Global Greengrants Fund, that are still seeking workarounds. The group is now registered as a business while operating as an NGO, but the group's lawyer says that this gray area will no longer be tolerated under the new law.
"We are thinking about quitting once and for all," she said. The group will perhaps turn itself into a for-profit entity, and break even by selling environmental-monitoring products while continuing its advocacy—a common strategy for many Chinese NGOs, she said.
A director of a Chinese LGBT rights group based in Guangzhou said he would cease activities for several months to "observe the environment."
He added that there's no precedent of an LGBT rights group registering with the civil affairs ministry under the regulations that already existed for domestic NGOs. That made it impossible for his organization to receive money from Chinese foundations. Individual donors make up around 40% of the funding.
More than half of the group's funding comes from European countries' embassies in China, he said. He fears these sources, too, will be cut off, even though the new foreign NGO law doesn't apply to them. Other NGOs that are receiving money from the US embassy in China have in recent months been harassed by local authorities and pressured to reject the funding without giving specific reasons, he said.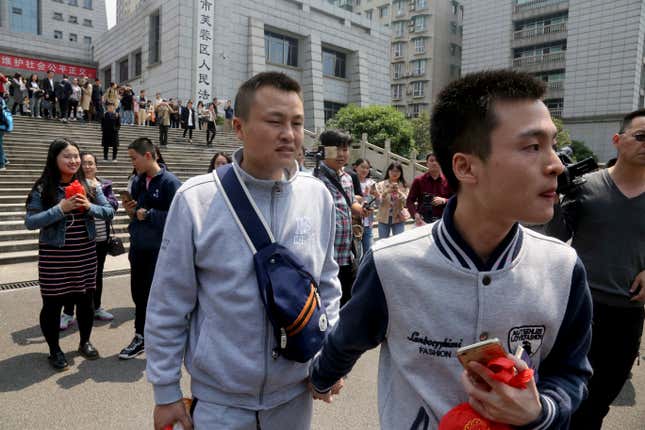 Many NGO workers who haven't been operating in politically sensitive areas "are not mentally prepared at all," said a Hong Kong-based NGO researcher who's from mainland China and didn't want to be named for fear of government retaliation. "They would never have imagined that they would become the government's enemies."
It's a reminder that working in China's civil society is like walking a tightrope. A seemingly innocuous cause could incur the wrath of officials if it undermines some arbitrary definition of "state security" or "national interest."
"The point is, of course, how do we distinguish between an NGO that intends only to help with the environment and one that wants to start a movement?" said NYU's Simon.
What is the endgame?
China's crackdown on civil society has a precedent in Russia. In July 2012, Russian president Vladimir Putin signed a law restricting the operations of NGOs labeled by the government as "foreign agents" and considered to be engaging in "political activity." Four years after it came into force, 27 of the 148 organizations listed as "foreign agents," including those providing legal representation or environmental monitoring, were forced to shut down, according to a November 2016 report from Amnesty International.
It is too soon to estimate the impact of the Chinese law, Amnesty's Nee noted, but there is a fear in the NGO community that it could lead to many less politically sensitive NGOs and international sources of funding to abandon operations in China, or invest in projects elsewhere.
The trend has already been happening. Donors think they "could get a lot more 'value for their money' in other contexts where costs are cheaper and the government is less hostile," Nee said. "In this context, some may perceive that the law will require further bureaucratic hassle and overhead costs on staff and administration, which NGOs usually find difficult to find funding for."
Some NGO workers are less pessimistic about the future, as they believe NGOs play too important a role in China for the government to curtail their activities.
NGOs are "a key pillar that prevent the current system from collapsing" and help provide the "stability" that the government so craves, said Han of CLB. He believes the new legislation could be overhauled. Until then, foreign NGOs just have to "live longer than the law."