Hong Kong news outlets are fast becoming popular channels for Chinese activists' "confessions."
Upon her release following 12 months of detention, Wang Yu, a prominent Chinese human rights lawyer, sat down with Hong Kong's Oriental Daily News in a videotaped interview on Monday (Aug. 1), even before reaching out to her lawyers and friends. Wang, who was arrested in a nationwide crackdown on human rights lawyers and activists in July 2015 after defending feminists and minorities in China, said in the video she was used by foreign forces to defame Beijing.
"I am a Chinese and I only accept the Chinese government's leadership," she said.
It was a familiar, albeit depressing sight for Wang's supporters and other human rights activists in China. Beijing systematically uses forced confessions and other tactics to discredit the party's critics. But Wang's video marks another chilling turn for Hong Kong, which is promised freedom of the press under the Basic Law that governs it. The city's media appear to be just as systemically becoming a mouthpiece for Beijing, critics of the video say.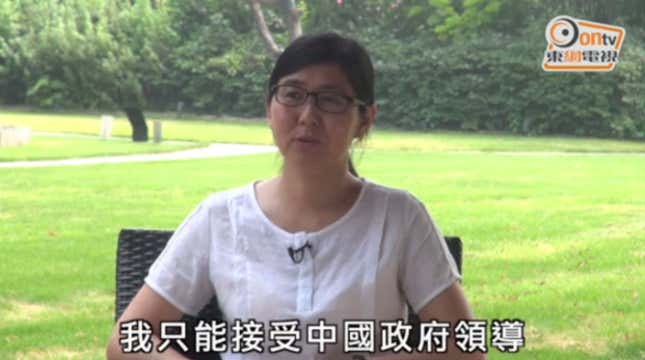 Targeting China's rights lawyers
Wang's statement, believed by rights activists to be forced, comes ahead of a four-day trial that began Tuesday (Aug. 2) of her four colleagues at Beijing Fengrui Law Firm, who were arrested in July last year. One of them, Zhai Yanmin, was handed a suspended three-year prison sentence, with the charge of "subverting state power," official news agency Xinhua reported (link in Chinese) this morning.
Beijing Fengrui Law Firm specialized in human rights cases. Headed by lawyer Zhou Shifeng, Fengrui represented many high-profile Chinese dissidents including artist Ai Weiwei and legal activist Chen Guangchen. In the meantime, the law firm also hired activists to organize public protests outside court houses, and sought public attention about those cases on social media platforms. Shortly after last year's crackdown, People's Daily, the Communist Party's leading mouthpiece, denounced the law firm, saying it has "organized, planned, and hyped more than 40 sensitive cases since July 2012, seriously disturbing social order."
In the video, Wang admitted Fengrui had participated in legal training sessions from foreign groups to "attack the Chinese government" and "instill Western universal values." On her teenage son's failed attempt to flee abroad, she said she was angry about him being taken hostage by foreign forces to defame Beijing.
Wang also said that she would not "admit, recognize or accept" an international lawyers' award she recently won for her advocacy, echoing Beijing's official stance on a recent international court ruling on disputed claims in the South China Sea between China and the Philippines.
A narrator on the video added that Wang denounced Fengrui director Zhou as an "unqualified lawyer," though Wang is not filmed saying this. Very few in the activist community believe any of these are her own words.
Hong Kong's news outlets mimic state media
The interview was conducted in a Tianjin restaurant after Wang's recent release on bail on subversion charges, Oriental Daily News said, despite the fact that Wang's lawyers and friends are still unable to reach her, rights activists say. Similar interviews at the same location were also published by mainland publication The Paper and Hong Kong-based TV station Phoenix. Oriental Daily didn't ask Wang why she would contact them before her friends, or what her time in detention was like.
Chinese state media outlets serving Beijing's smear campaigns is nothing new. But now Hong Kong appears to be an extension of state media as well.
Last month, the South China Morning Post ran an "exclusive" interview with another Fengrui associate, Zhao Wei. Upon her release, after being detained for a year, Zhao told the SCMP by phone that she regretted her activism, even as her husband and lawyer were not able to contact her. The English-language Hong Kong newspaper, which was recently acquired by Chinese internet company Alibaba's founder Jack Ma, refused to explain how it obtained the interview. It also didn't question Zhao about why she would call the paper first, before her husband.
In February, four of five of Hong Kong's disappeared booksellers—who some believe were kidnapped by Chinese agents—appeared on Phoenix TV to confess to selling banned books in mainland China. One of them, Lam Wing-kee, later said upon his return to Hong Kong from the mainland that he was forced to make the confession. In March, another bookseller, Lee Bo, gave an interview to The Paper, Phoenix TV and a pro-Beijing Hong Kong news outlet, Sing Tao Daily, to denounce claims that he was abducted by mainland officials in Hong Kong. Previously Sing Tao also ran several "exclusive" reports on Lee's disappearance.
"I truly feel I'm Chinese, my roots are still in China," one of the booksellers, Gui Minhai, who is a naturalized Swedish citizen, said in a televised confession on national broadcaster CCTV in January,  in comments that sound similar to Wang's.
Hong Kong's conflicted papers
"Oriental Daily News, Sing Tao, and sadly the SCMP are owned by businessmen who need China and are willing to do China's bidding," said Mark Simon, commercial director of Next Media, which publishes Apple Daily,  a pro-democracy newspaper in Hong Kong. "They are in the bag when needed, and Beijing really doesn't have to threaten each time, just ask for a favor from friend who is looking for a favor."
Some say Beijing is using Hong Kong press to gain credibility for its confessions, although the effect has been quite the opposite. "It exposes the government's attempts to masquerade political persecution as legitimate legal proceedings," said Maya Wang, Asia researcher at Human Rights Watch in Hong Kong.
Oriental Daily News said in a statement to Quartz that any question about how they obtained the interview with Wang is "baffling" and challenges basic journalistic ethics with regards to protecting sources. "Was it possible for the US media who covered Watergate to reveal their sources?… It makes people wonder what the real intention is behind your questions," said the statement.
Sing Tao Daily and Phoenix TV did not immediately respond to Quartz's requests for comments.
Ahead of Tuesday's trial of the Fengrui lawyers, the Chinese government invited a total of 20 journalists from 12 domestic and five overseas news outlets to cover the hearings, Xinhua said (link in Chinese). The SCMP called it a "rare move" and said the publication itself and three other Hong Kong-based news outlets are among the invitees.
This trial too, is now viewed a a political litmus test for Hong Kong's news media. "The authorities are carefully picking and choosing which outlets to use, while stonewalling others," said William Nee, a China researcher at Amnesty International in Hong Kong.
This article was updated with Oriental Daily News' comments.