Chinese cities are slowly starting to clamp down on the bike-sharing startups spreading across the country. Apple's Tim Cook, however, is lending them his diplomatic endorsement.
Cook paid a visit to the offices of Beijing-based Ofo this morning (Mar. 21), on the heels of his attendance yesterday at a closed-door event with Chinese government officials as part of a three-day conference. Cook's appearances mark yet another China charm offensive for the Apple CEO in a vital market where the hardware giant's sales have been slowing and where it has been on the receiving end of unwelcome attention.
Internal photos circulated widely on Chinese social media show Cook surrounded by admiring Chinese Ofo employees as he hops on one of the company's signature yellow bikes. Cook later shared some of the images on his personal Weibo page (link in Chinese, registration required).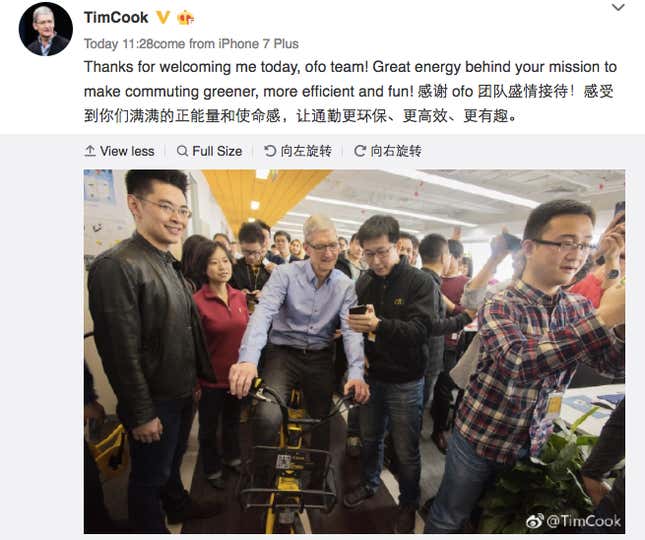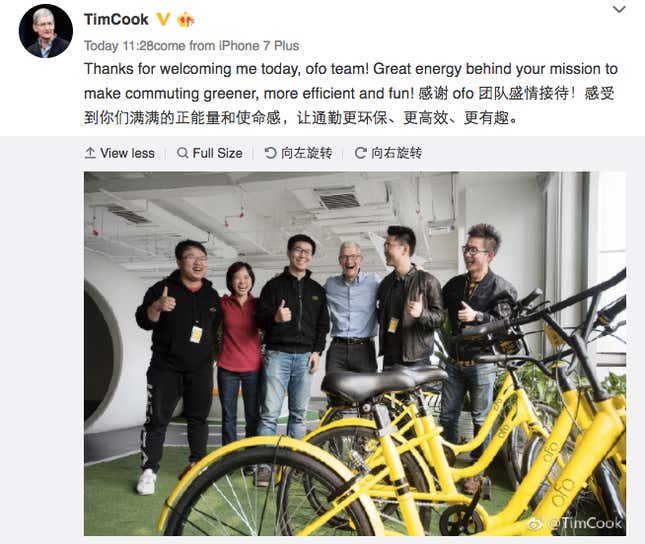 Ofo and dozens of other bike-sharing startups have taken China by storm. Investors have poured hundreds of millions of dollars into dozens of companies that let users rent vehicles for about 0.5 yuan per half hour through smartphone-enabled payments. Analysts, however, have expressed skepticism about the long-term viability of their business models.
In September 2016 Ofo received an investment from Didi Chuxing, China's answer to Uber. Didi itself received a $1 billion investment from Apple in May 2016, marking an unprecedented bet on a Chinese startup for the Cupertino, Calif., firm. At the time, many speculated that Apple's investment stemmed from a desire to curry favor with China's government. Apple did not reply immediately to Quartz's request for comment about the Ofo appearance.
Cook is in China for his tenth public visit to the country as CEO since 2012. In addition to stopping by Ofo, he also announced the company plans to build two new R&D centers in China (in addition to previously announced centers for Shenzhen and Beijing), and on Monday attended a closed-door event to give introductory remarks for Xu Lin, China's internet czar.
Mugging for the cameras is but one way that CEOs have attempted to earn the good graces of Chinese authorities, who have regularly thrown hurdles at foreign businesses looking to enter the country. In the case of Apple, now's a pressing time for such photo ops. Sales from greater China (which includes Taiwan and Hong Kong) declined 11% from the year prior in the final quarter of 2015, marking the fourth-such consecutive fall. Meanwhile, President Trump's repeated calls for companies like Apple to manufacture in the US and not China, along with the Chinese government's long-term agenda to reduce the country's reliance on foreign technology, threaten to turn Apple into a punching bag for government policymakers in both countries.
Already, signs have emerged within the past year that Beijing no longer welcomes the company. It has removed the iTunes movie store and iBooks store from China, and the company has also faced unusually public scrutiny from a government-affiliated consumer watchdog group regarding a battery drain problem plaguing iPhone 6 and 6s devices worldwide.