When it comes to winning the China market, some businessmen are turning to the camera.
CEOs of American tech companies are increasingly publicizing their trips to China, showing off photos of themselves mingling with officials and appreciating Chinese culture. The visits come as internet companies struggle to forge or maintain inroads into the country—though it's not clear if posing for the camera will help alleviate business woes.
Tim Cook is the most recent US tech executive to embark on a camera-ready tour of China. Yesterday the CEO arrived in China to pose with Zhang Gaoli (paywall), vice premier of China and one of the most powerful officials in the country. In addition to announcing an upcoming research and development center in China, Cook posed with Guo Pei, a Chinese fashion designer who uses an iPad Pro, and also with a fitness group in Beijing that uses Apple Watches.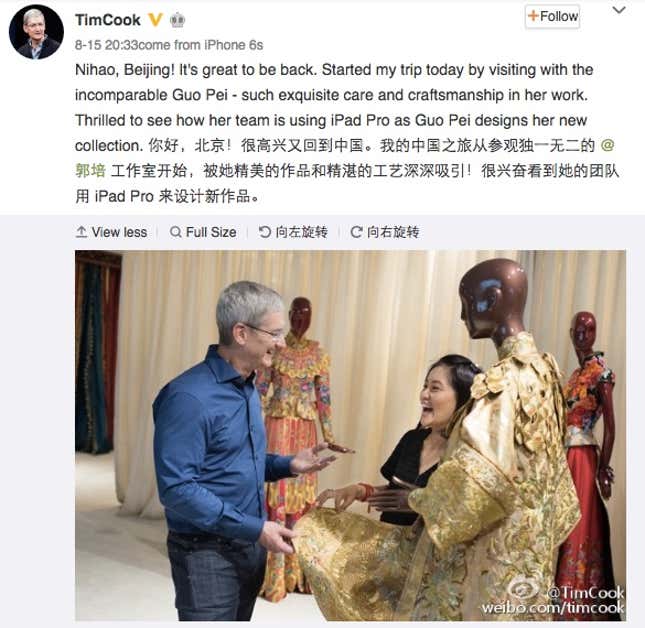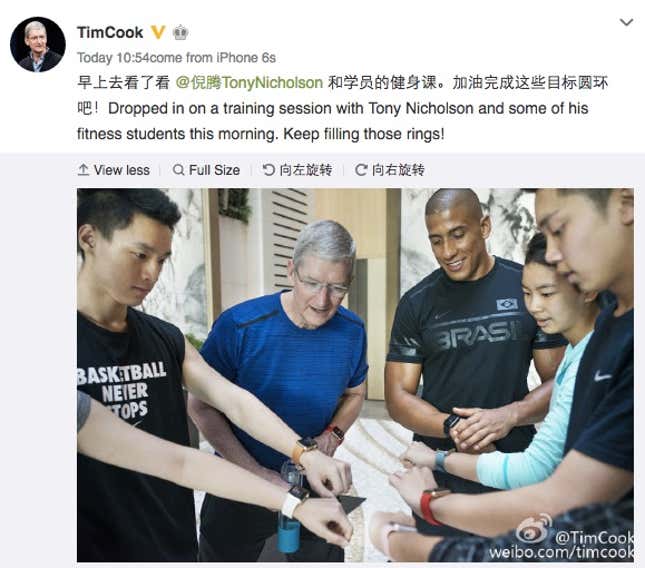 Cook has made a total of nine trips to China, according to the China Daily. But whereas publicity surrounding past trips primarily celebrated new openings of Apple stores, his recent visits have featured more camera-ready moments with a distinct Chinese twist. In May, he appeared with JJ Lin, a Singaporean-Chinese musician, as well as Jean Liu, president of Didi Chuxing—the Chinese Uber rival that Apple had just invested in.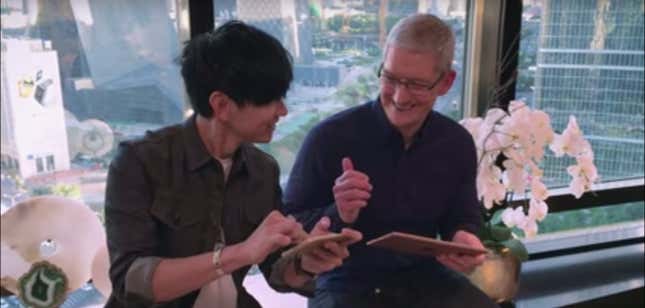 The visits come as Apple's honeymoon period with China nears its end. After years of unimpeded growth, the company reported its lowest quarterly sales results in the country since 2014. The company also appears to be facing more government scrutiny. Authorities blocked domestic access to iBooks and the iTunes movie store, and the company lost two bizarre trademark lawsuits coming from local companies.
Cook isn't the only CEO to go touring China in the face of commercial adversity. Facebook's Mark Zuckerberg has aggressively courted China-ready photo opportunities. In March he shared photos of himself jogging inside Tiananmen Square amidst smog defined as "hazardous" by Beijing's Air Quality Index. He has also made public appearances speaking rudimentary Chinese, and even showed off a copy of Xi Jinping: The Governance of China when officials visited Facebook's offices in California.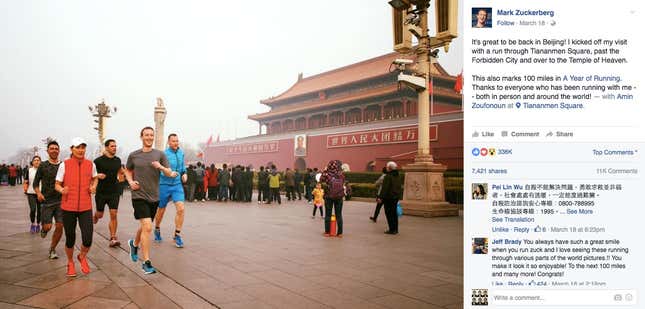 Zuckerberg's camera-hogging in China appears to be part of a charm offensive to get Facebook into China. The company has an office in Beijing where it helps Chinese advertisers buy space on its site. But Facebook and Instagram remain blocked in China, meaning that the company effectively has no access to China's consumer market—where the real money is.
Other CEOs have taken similar steps as they struggle to secure a spot in China's market. Earlier this year Google CEO Sundar Pichai shared pics of himself playing Go against Chinese champion Ke Jie and other players, in a nod to Alphabet's artificial intelligence program AlphaGo. The search giant is trying to re-enter China with an app store.
Uber CEO Travis Kalanick, meanwhile, has made appearances at Chinese universities and government summits, talking about innovation and entrepreneurship. The ride-hailing giant burned through $1 billion a year as it struggled to lead the market in China, before rival Didi Chuxing purchased its China unit this month.
Why the rush for PR-ready snapshots? China is the world's biggest consumer market, but authorities are keen to keep foreign technology companies at arms length. Over the past several years, various policy guidelines have outlined a plan for the country to wean itself off of its dependence on foreign technology by 2020.
Achieving such a goal might be unrealistic. But its mere existence serves as a warning to foreign technology providers that going against the ruling party's wishes could hinder their efforts in a lucrative, fast-growing market.
Publicizing CEOs smiling with politicians and celebrities is one way foreign companies can appease authorities and win over consumers. By visually demonstrating an interest in Chinese culture, as well as a fondness for the nation's leaders, they symbolically show a willingness to get along with the government—however anti-competitive or politically controversial its policies might be.