As US warships edge ever closer to North Korea, the servicewomen and men on them should at least have some rudimentary facts about the country they're going to loom over, if a Marine Corps manual from 1997 is anything to go by.
The Marine Corps' "North Korea Country Handbook" adroitly mixes military manual with travel guide. Hundreds of pages of niche tactical detail are followed with Lonely Planet-esque descriptions of how Americans are viewed abroad: "Because of their distinctive dress, speech patterns, and outgoing personalities, Americans are often highly visible and easily recognized when they are abroad."
Meanwhile, a phrasebook has Korean translations for "Hello" and "Nice to meet you," alongside phrases like, "Have you seen communists?" and "Please give us ammo."

Some highlights:
A brief history of the country, which we are told is "a Communist state led by a Stalinist-type dictatorship" that "is, and will likely remain, one of the most dangerous countries in the world."
A scathing description of former supreme leader Kim Jong-il, father of current leader Kim Jong-un: "[He] has been described as paranoid, spoiled, and suspicious, not having his father's abilities, and his access to the government bureaucracy is through a clique."
Intense detail about North Korea's geography and infrastructure: Roads were "85 percent crushed stone or earth surface; 15 percent paved."
A very pre-9/11 description of terrorism, which "may seem like mindless violence committed without logic or purpose, but it isn't."
A guide to Pyongyang's military doctrine ("a blend of Russian operational art, Chinese light infantry tactics, and North Korean lessons learned during the Korean War") and expected plans for how the North might invade South Korea.
A load of pictures of military equipment, organizational charts, and cute drawings of North Korean military uniforms.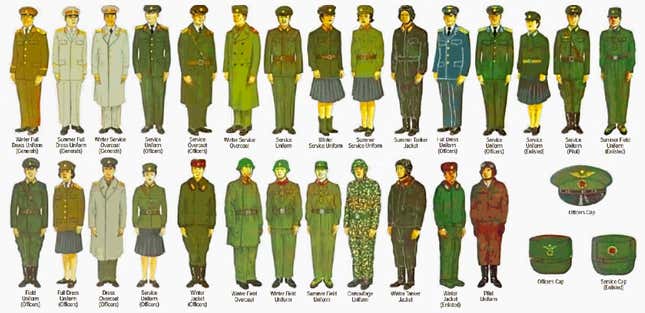 An earlier version of this story attributed the unearthing of the manual to Wikileaks. It actually was released by the US Defense Intelligence Agency in 2004, in response to a Freedom of Information Act request.
​
​
​