Eddie Liu, a 47-year-old engineer in the southern Chinese metropolis of Guanghzou, began teaching his son English before he could even speak. Now 13 years old, his son, who attends a local public middle school, is reading Harry Potter and the Order of the Phoenix, a 896-page book that portrays the young wizard's struggles through his fifth year at Hogwarts boarding school.
Instead of sending his son to the typical cram school that teaches English for grueling college entrance exams, Liu decided to create his own program, using novels, BBC programs, and most recently, by asking his son to use Wikipedia to study the life of a former Japanese prime minister.
Chinese parents like Liu are pushing their children to study English much earlier than before in China, as the country's rising middle class sends an ever-larger number of students abroad to study every year. The US, for example, received some 330,000 Chinese students last year. Liu wants his own son to study abroad, but also wants him to be able to make the most of such an experience and not be separated from his American peers by a language barrier.
And he knows China's test-driven education culture doesn't teach students English in a way that leaves them comfortable using it in social settings.
Decades of English study, but of little use
"In many ways, Chinese are studying English while kneeling," says Li Cen, 39, who developed his own online English-tutorial program. Li means that many students regard the language with reverence, and that holds them back, which is why he advocates becoming familiar with it by reading English novels.
For his program, Li divided up four novels, including from the Harry Potter series, and then walks students through the sections. Around 7,000 primary school parents have purchased the program for their children, according to Li. He has around 50,000 fans (link in Chinese) on China's popular social media site Weibo and wrote a book—an introduction of English vocabulary for ages zero to 12 (link in Chinese)—in 2013.
Li had earlier tutored high school students preparing for China's gaokao, the National College Entrance Exam, and found "the test studying culture is very problematic." Chinese children begin to study English as a compulsory subject at the age of seven. However, many see English studies as a subject they need mainly to get high marks for a good high school and college. So they focus on textbooks and test papers—usually made up of multiple choice questions about grammar.
When studying law at China's Tsinghua University in 2004, Li  also noticed that "those cases written in English were rarely touched by students because of the language barrier."
According to an online survey by Beijing-based nonprofit 21st Century Education Research Institute in 2013, over 80% of the 45,758 Chinese parents who responded said that their children "learn English just for entering a better school or preparing for a future career"(link in Chinese) while less than 10% "simply expect their children to master a foreign language."
Difficulties overseas
"I wasn't used to the local speaking speed at all when I arrived last year," says 26-year-old Will Zhang, a computer-science major at Boston's Northeastern University, "everyone was speaking so fast."
Zhang had studied English for years but ultimately found "all the studies, including the IELTS test [International English Language Testing System], were useless."
Zhang was not alone. Liang Xiaowen, a 24-year-old marketer in Shanghai, said she found it "hard to understand totally" when she first went to the UK to pursue a master's degree at the University of Manchester.
Liang enrolled in an extracurricular course for English studies at the age of 15 to improve her exam scores and get into a good high school. But even though she describes herself as a big Harry Potter fan, she's never been able to read any of the books in the series in the original because she has to "keep looking up words in the dictionary."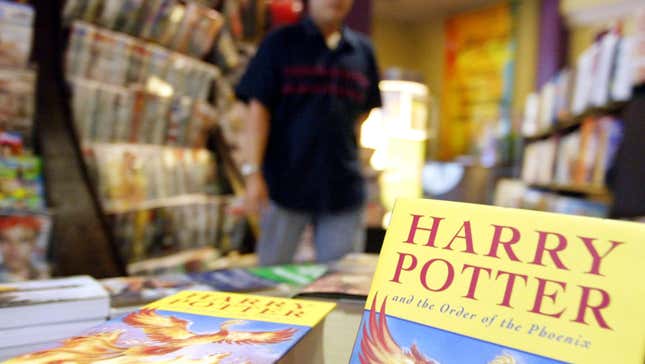 Enter Peppa Pig, Harry Potter
Some parents have started running private English reading clubs geared for young children, both to share popular titles and to connect and exchange English-teaching tips with fellow parents who have the same ambitions.
"For many Chinese children, reading and speaking are the core English abilities but many aren't provided the language environment," says Lynn Huang, founder of JoYokids (link in Chinese), a Shanghai-based club with more than 17,000 titles, making it the city's biggest private collection of English-language children's books, according to Huang.
Huang, who has an 11-year-old son, didn't find either cram schools or English courses that had children singing group songs satisfactory, since she also wants her son to study overseas. She also couldn't find children's English books she thought suitable in Shanghai's public libraries. Instead, Huang decided to teach her son English in her own way—and that included filling her suitcase every time she traveled abroad with children's books.
In 2014, she started her reading club to share her collection with other parents, and now has about 1,500 members. Subscription fees start at 300 yuan (about $44) for three months, for which parents can borrow five books at a time.
JoYoKids helps parents use benchmarks that are used in mainly English-speaking countries, such as the Standardized Test for the Assessment of Reading (STAR), developed by US-based software company Renaissance Learning. The STAR system has been used in New Zealand for primary and middle school students. After testing basic English skills, JoYoKids recommends books that can be obtained from her lending service, as well as reading tutorials.
"Magic Tree House, Peppa Pig, and Charlie and the Chocolate Factory are quite popular here," says Huang, adding "there should be commitment, both from children and parents." JoYoKids' goal is to get a child to read Charlie and the Chocolate Factory, by Roald Dahl, which has around 30,000 to 50,000 words, after three years of training that begins at age seven.
The Peppa Pig books, meant for ages four to eight, tell the story of title character Peppa, a lovable, cheeky piglet, and her family. Charlie and the Chocolate Factory, first published in 1964, features the adventures of young Charlie Bucket inside Willy Wonka's chocolate factory.
Jo Lusby, former managing director for North Asia at publishing house Penguin Random House, told Quartz that the shift among Chinese parents toward "soft English language teaching materials" is due to a big change in the parents.  "This is only possible because parents are themselves more confident in their levels of English ability, and can use English books rather than English learning textbooks," Lusby says.
More and more private clubs like JoYoKids have appeared on the scene, especially in first-tier cities. Annikids, a Beijing-based book club, for example, has some 250,000 children's English books (link in Chinese) to lend to members.
A booming market for English kids' books
The new demand from parents, along with the growth in China's e-commerce distribution channels, have created a thriving children's English book market.
"The sales volume of imported children's foreign books has been doubling every year since 2013," says Philip Huang, manager of the importing department at Zhonghua Shangwu Traiding Company, one of the biggest importers of foreign books in the mainland. The company imports and sells some 30,000 to 100,000 copies of I Can Read, a reading series by Harper Collins, every year, according to Huang.
Huang says that the children's foreign book market in China will keep growing, especially through online purchases via e-commerce sites like Tmall, through which Huang's company sold some 600 (link in Chinese) Harry Porter series in March. Huang estimates that annual sales of foreign children's book are around 1 billion yuan ($145 million), and could reach 1.3 billion yuan ($189 million) by 2018.
Other online platforms have also contributed to the growth. "Word of mouth is incredibly important, in China or in any market," says Lusby, who described groups on the popular social-media platform Wechat as "the most powerful channel" where some "behave like parents' groups, and some behave like book clubs, but they themselves are distributing, selling, and recommending children's books."
"They are the engine of the children's book business in China today," says Lusby.
Huang expects demand to keep growing, to the point that within five years, one in every five children's books sold in China will be an English one, up from one in 20 now.
It's not just aspirations for the future that are driving them, parents say, but forming their children's characters in the present. Liu, the engineer in Guangzhou, says he wants his son to study overseas for sure, but he hopes the novels will also help his teenager absorb what he sees as the best of western values, including "equality, respect and forgiveness."