China's manufacturing sector, its engine of growth, contracted for the second month running and weakened to its worst level for nine months, according to Thursday's HSBC/Markit's flash index (pdf), which fell to 48.3 in June from 49.2 the previous month. As PMI watchers know, a score below 50 indicates that manufacturing is shrinking, and the last six months tell a sorry tale of constantly eroded expectations.
Take a look at the statements from Hongbin Qu, HSBC's chief China economist, who provides color commentary to go along with the monthly numbers, as the economy shows early signs of decline, then irrefutable proof of major troubles. In particular, watch how his tone shifts as he addresses China's conflicting need for structural reforms and short-term growth—especially as it becomes clear that Beijing is far from eager to stimulate the economy further.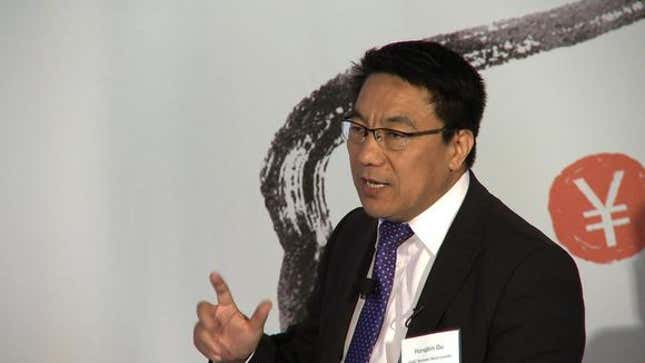 January PMI—52.3
In the halycon days of early 2013, Qu says that the manufacturing sector "is gaining further steam on the back of improving domestic conditions," and predicts a "sustained recovery in the coming months." No need to mention the central bank—everything is going great!
February PMI—50.4
There was slight hiccup in February, but Qu wasn't overly concerned. "China's recovery continues, on improving domestic demand conditions and the labor market," he says. "The pace of ongoing recovery is mild, implying no need for the PBoC [People's Bank of China] to tighten policy any time soon."
March PMI—51.6
"China's recovery continues." Domestic demand is in the driver's seat, but inflation remains a risk. Qu suggests that "lingering external headwinds implies the Beijing policy makers should keep a relatively accommodative policy stance in place."
April PMI—50.4
Still in positive territory, but only just. "The slower growth of manufacturing activities in April confirmed a fragile growth recovery of the Chinese economy," says Qu. A lack of demand, tighter profit margins, and weakness in the labor market are "likely to invite more policy responses in the coming months." Translation: policymakers might want to consider lending a hand, if they're not too busy, because the economy is sputtering.
May PMI—49.2
Contraction. What happened? Qu says the fall was "thanks to deteriorating domestic demand" and "persisting external headwinds" —meaning weakness in Europe, the US and Japan. His tone grows more insistent: "Beijing needs to boost domestic demand," and China's new leaders "should strike a delicate balance between reform and growth."
June Flash PMI—48.3
Things are looking worse. "Manufacturing sectors are weighed down by deteriorating external demand, moderating domestic demand and rising destocking pressures," says Qu. He now observes that Beijing prefers reforms over stimulus, but warns that "while reforms can boost long-term growth prospects, they will have a limited impact in the short term."
The consequence? HSBC expects even weaker economic growth in the second quarter of this year. It's not alone—several banks cut their estimates for China's economy in 2013, and further downgrades are sure to come unless something changes.