The party may actually be over.
Ben Bernanke's Fed appears to be dead set on tapering the easy money sloshing around the economy. Investors worried about how the global economy—and its financial assets—will cope with a less supportive Fed are heading for the exits. Here's a quick tour of today's market carnage.
Gold started selling off on the Fed statement and press conference yesterday afternoon. The decline gathered steam overnight, eventually dropping below $1,300, a level we haven't seen since late 2010. Gold is down more than 5% today.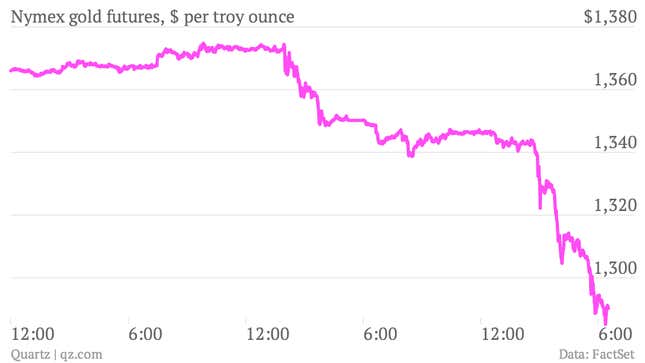 The Indian rupee weakened sharply to an all-time low against the US dollar. The amount of rupees it takes to purchase $1 rose above 60 at times this morning. Indian officials stressed that they would stabilize the currency if needed.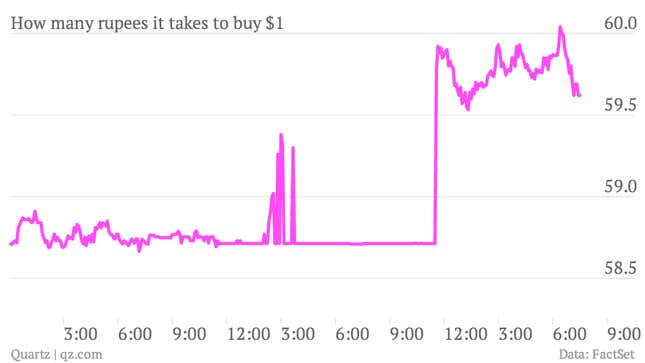 On top of Fed-related worries, fresh data suggests that Chinese manufacturing is slowing, and markets in Asia sold off hard. The Hang Seng was down about 2.9%. China's A shares in the Shenzhen Composite Index—always more volatile—were down by 3.4%. Perhaps most troubling were signs of investor jitters about China's liquidity squeeze, and what it means for some of the biggest banks in the People's Republic. For instance, massive mainland real estate giant China Overseas Investment tumbled 6.2%.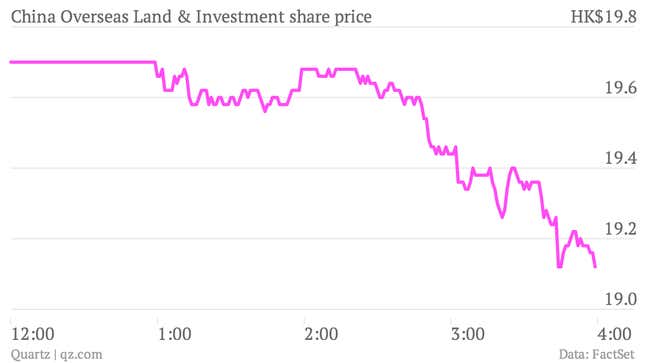 And that Chinese credit crunch seems to be getting worse, by the way. The overnight interbank lending rate in Shanghai surged to 13.44% Thursday. This is quite serious as it means there is very little trust within the Chinese financial system.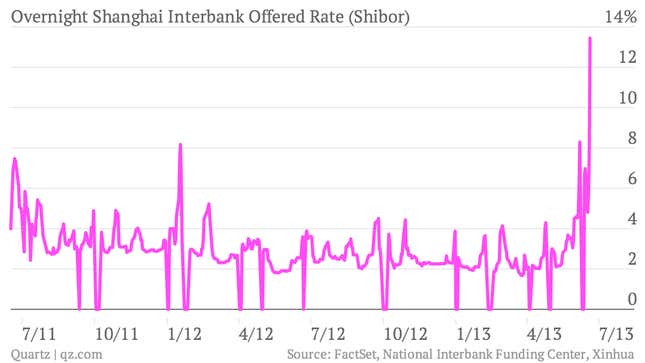 Closely tied to China is the fate of the Australian dollar, which started selling off hard on Bernanke's comments yesterday. It's currently near its weakest levels of the last two years. It's down about 3.5% so far this week, which is a serious move in the world of currencies.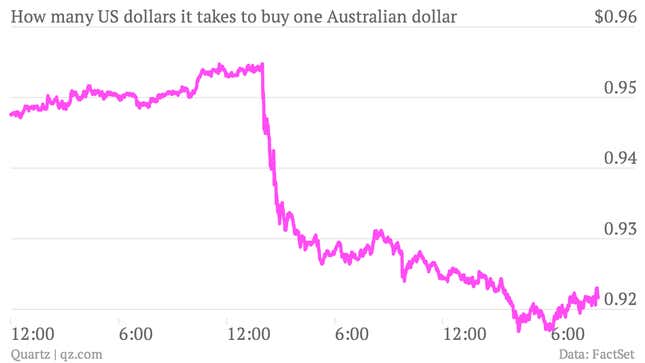 But the dynamic is the same in other currencies. Check out the US dollar versus the Turkish lira, which touched an all-time low today.