Being China's first-ever soccer ambassador is getting serious for David Beckham.
The British soccer star, who was granted the title in February before the Chinese Super League season, was stampeded by around 1,000 people (paywall) during his visit to a Shanghai university to meet its soccer squad. The mayhem left five people injured and one guard bloodied.
Authorities cancelled the event and Beckham left without meeting the team. Here are some images circulating Sina Weibo (registration required):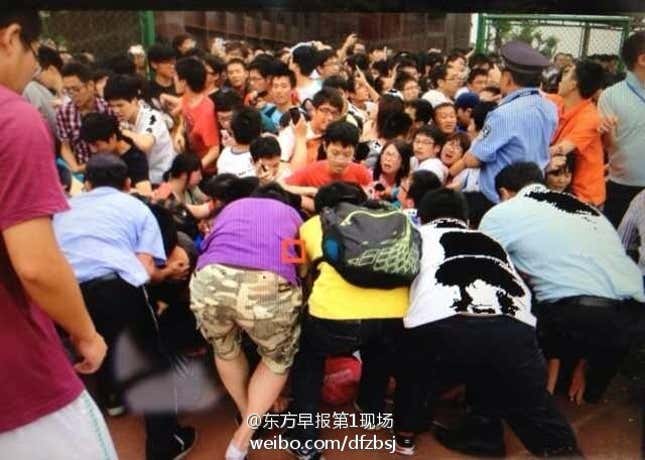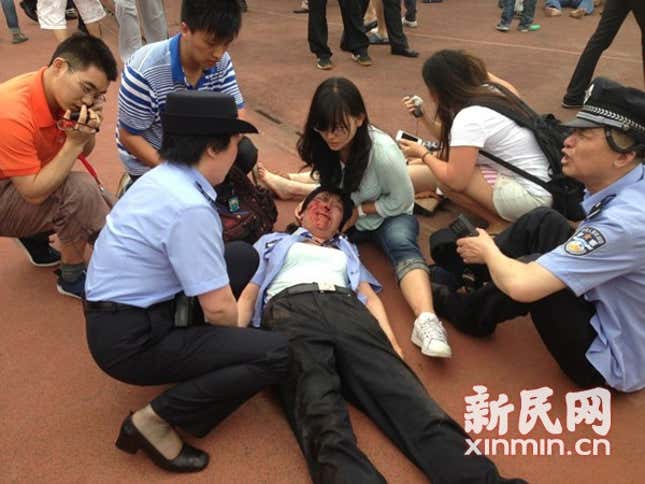 In ambassadorial style, Beckham joined Weibo three days ago (registration required), and in April he tattooed a line from Confucius' Analects on his rib cage.
By now, Beckham is aware that soccer is a notoriously touchy subject in China—some might even call it a source of national shame. It is China's most popular sport, even though Chinese teams have a long history of disastrous performances and corrupt practices (this 2011 Economist piece is a definitive take on that).
It's an official sore spot. While in Mexico, president Xi Jinping—an avowed soccer fan—bemoaned the state of Chinese soccer (paywall). Then on Tuesday, the Chinese national team lost 5-1 to a junior Thai squad, after having lost to Uzbekistan and the Netherlands. Chinese internet users lambasted the performance, noting that the combined annual salaries of the Chinese team was 350 times that of Thailand's squad (link in Chinese). The loss spurred riots involving angry fans clashing with police, with more than 100 people injured.
To remedy the problem, the Chinese government has been stocking up on choice foreign assets like Beckham, Didier Drogba and  Jose Antonio Camacho, who is paid $3.7 million a year to coach the national team. Though Beckham denied being paid for his first visit, Chinese media report CSL saying he will earn $2.6 million for his ambassadorial duties.
So far, his responsibilities mostly involve promoting the game to Chinese people by visiting soccer teams around the country. But it's unclear what good his proselytizing will do. As one Sina Weibo user put it, "He should be promoting the CSL [Chinese Super League] to the world, not to Chinese people. What he's after is renminbi, and anyone who's interested in him is interested in the entertainment value, and not Chinese soccer!" (link in Chinese).