Google wants you to use Google Maps to find the way to your destination. Google Earth, which shows satellite views of the globe, is for those with the itch to explore the world.
Unveiled April 19, the new Google Earth functions like a beautiful magazine to flip through. Available on Chrome browser and Android, new functions include "voyager," represented by an icon of a helm, which offers a five-page magazine of places that Google thinks you should explore, each with a short, curated story like "remote islands" or "national parks of North America." Search for any place you want, and a deck of "knowledge cards" will pull up with a short paragraph about the place, next to the location pin.
Photos and text on the new Google Earth are curated in partnership with organizations including The Jane Goodall Institute, BBC Earth, and NASA Earth Observatory. Much of the content emphasizes conservation.
For example, "What Is Missing?"  is an interactive story played out with a deck of cards containing a brief history of species's declining population, linked to relevant locations. One of the cards shows a limestone cliff in southern France. Behind it is a cave painting, where the earliest depiction of lions was found. Further down in the deck you can browse 360 underwater photographs of dive sites in Indonesia that are home to 76% of the world's coral species. Unfortunately, underwater street view has not been developed, so you can't virtually walk on the ocean floor.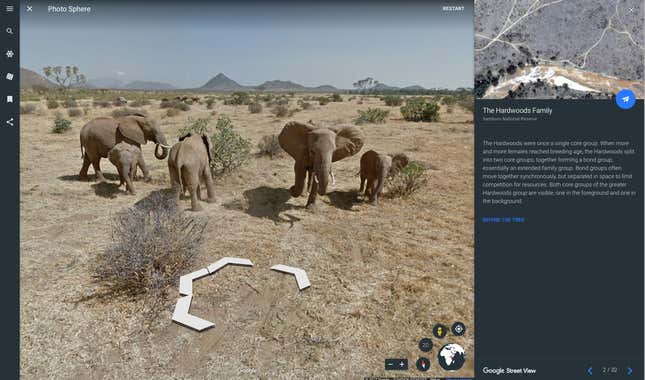 Other perks include a function to send a satellite-snapshot postcard to friends, and an "I'm feeling lucky" function that will bring you to a random location by rolling a dice.
Google Earth is also available in VR. With the likes of Facebook Oculus or HTC Vive headsets, you can fly over anywhere on Earth and pull up close to check out 3D renderings of architecture and geography—or even drag the sun to view a place at different times of the day.