Ensconced in a handsome Hans Wegner Papa Bear armchair, Anthony Bourdain, the beloved idol of globe-trotting foodies, held court at Brooklyn's Wythe Hotel. Bourdain was in the hipster enclave this week serving as the lead judge of the American Craft Council's Rare Craft Fellowship Awards, a role he's taken on for the last three years.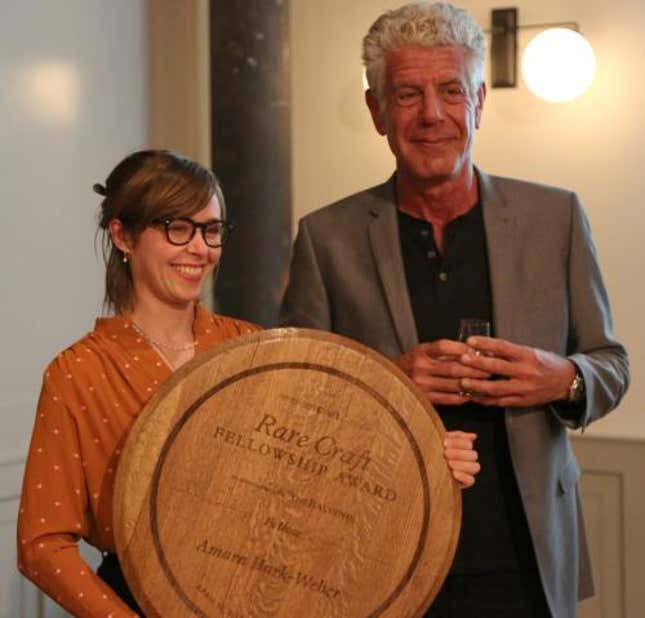 Bourdain's turn as the de facto patron saint of American artisanal craft came by accident. As an endorser of the Scottish whiskey brand Balvenie, the 6o-year-old TV personality has been filming vignettes about blacksmiths, bookmakers, cobblers, and furniture makers for a worth-watching web series called Raw Craft.  
Quartz pulled up a Danish chair and sat down with Bourdain to talk about his aversion to Philippe Starck perfection, the design vision for his Manhattan food market, his obsession with the legendary Los Angeles hotel Chateau Marmont, and his affection for American craftsmen. Here's our chat.
How has your design sensibility evolved since meeting the designers and artisans you interview on Raw Craft?
Having featured tailors, bookmakers, blacksmiths, boot-makers, I pay more attention to those things now. I appreciate them in a way that I didn't before.
If you could apprentice for one of them, who would it be?
I wish I could work with wood. I wish I could make something as tangible and lasting, like a chest of drawers or shelves. I'm hopelessly inept at those things. In another life.
Did you see yourself as the champion for American craft when you started Raw Craft?
No. I was just responding to the opportunity to tell stories, in this case about people I really admire.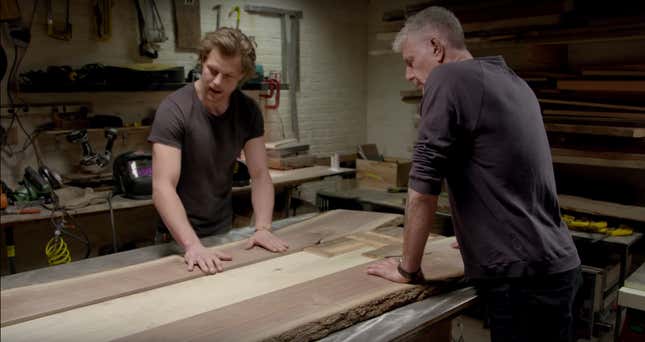 In all your travels, what's the best hotel room you've stayed at?
I live in a very modern building that threatens to look like a glass box, and I wanted to feel comfortable there. My favorite hotel in the world is the Chateau Marmont in Los Angeles. I made every effort to furnish my apartment like that—mid-century, mismatched, very comfortable and old-looking stuff. I even got the candles so it smells like the Chateau.
I paid a lot of attention to how designers design their room as if they haven't designed their rooms… It doesn't feel over-designed. You don't feel like you're in a Philippe Starck [bubble]. Some people like that, but I feel that it's oppressively designed —with untz, utntz, untz in the background. I like that sense of controlled chaos, or teetering on the edge of discord, that just somehow works.
You now show these hotel rooms on your Instagram video, with some cryptic music in the background.
Someone described it as "compellingly banal." I love films. I like atmospheric soundtracks. [I choose them] depending on my mood. Or maybe I'm sending secret messages.
Tell us about the design brief for the food market, Bourdain Market, you're opening in New York City in 2019.
I work with [interior designers] Roman & Williams, who have a very cinematic approach to their projects. My original concept for them to work with: Imagine Grand Central Station—sort of an old New York space if it was post-apocalyptic times and it had been taken over by Chinese hawker vendors. I used Blade Runner as an extreme example. The bones would be old-school municipal New York architecture but with a very modern, very Eastern sensibility. A sense of chaos, rather than a unifying design theory.
I'm looking for a chaotic feel of a wet market in Hong Kong or a hawker center in Singapore—but for real, not a Disneyland version. It's going to be a working public market. There will be forklifts, produce markets, and butchers. It's not a food hall or a food court.
Bourdain Market's interior designers, Stephen Alesch and Robin Standefer of Roman & Williams, invented hipster design and then later publicly denounced it. Are you fond of the Brooklyn hipster aesthetic?
That's the very essence of hipster aesthetic, isn't it? Create something awesome, and then everybody jumps on board, and quickly try to separate yourself as quickly and as far as you can. Any creative person should try to run far away from what they did last week.