Juno always had the best sales pitch. The company started in New York in early 2016, a late entrant to the competitive ride-hailing business, but quickly made a name for itself by promising to be nicer to drivers. Juno pledged to keep its commission low, at 10% of a fare, and to operate a round-the-clock support center. It also told drivers that, by working enough hours, they could earn Juno stock from a special program, and share in the company's long-term success.
Uber has alienated many drivers by repeatedly cutting fares and misleading them about how much they might earn. "A lot of Uber drivers' complaints fall on deaf ears," Talmon Marco, Juno's founder, said in February 2016. "Juno is literally addressing all of these pain points that Uber hasn't done anything about for years."
It took a little more than a year for Marco to convert that pitch into a sale. Juno said today that it had been acquired by Gett, another ride-hailing company in New York, in a deal priced at $200 million. Under the terms of the deal, Marco and his three co-founders, as well as the rest of Juno's employees, will join Gett to run its New York team. The services will merge and rebrand as "Juno by Gett."
And in an email to drivers, "Juno & Gett Are Joining Forces," Juno said its stock program had been terminated, "effective immediately."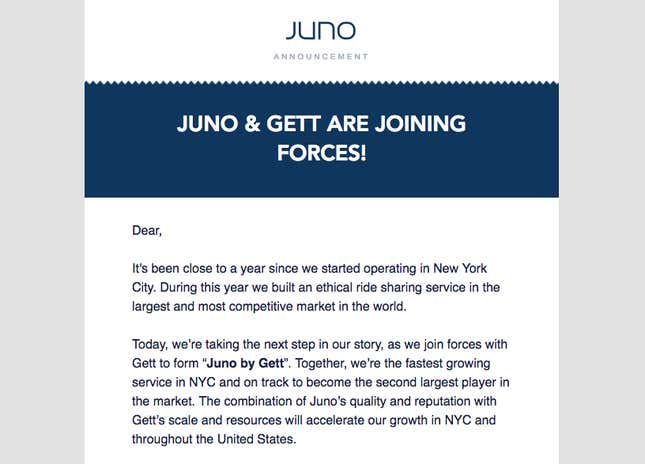 The sale has shaken for-hire drivers in New York, many of whom took Marco at his word when he talked about creating a better, more ethical ride-hailing company. "I met with Talmon Marco directly and we had a conversation about the stock and stuff," Juno driver Steven Savader told Quartz Wednesday afternoon. "He really seemed like he really wanted drivers to be part-owners. He could have fooled me, and he did."
Savader started driving for Juno in early 2016, before the service officially launched. He was also signed up on Uber, Lyft, and Gett, but heard about Juno and was excited by Marco's talk of improving things for drivers. Juno gave him a free Android phone and data plan. That summer Savader received a "Restricted Stock Unit Plan" that said he would get either shares in the company or a cash payment in lieu of them if he worked at least 120 hours a month, for 24 out of 30 consecutive months. He and Marco both signed it.
In October Marco told Reuters, "I don't think our drivers are going to make millions, but they will potentially make a nice chunk of money in addition to their ongoing earnings."
Over his more than a year of driving for Juno, Savader became eligible for 6,035 restricted stock units (RSUs), a form of equity commonly given to employees by employers that vests in increments over a set period of time. In an email to Savader late this morning, Juno said those shares made him "eligible to receive a payment of $107, subject to certain conditions." It added: "In a few days you will get an email with more details about this one-time payment."
The agreement Savader signed does give Juno the option to pay him in cash instead of in shares. However, the numbers emailed to him today, and to a driver contacted by the New York Observer, suggest that Juno has priced the shares at less than 2 cents apiece. That's not even a tenth of the $0.20 share price Juno advertised to drivers in recruiting materials last summer. Two other contracts seen by Quartz offered $100 payments for 1,604 and 3,580 shares respectively, or 2.8 cents and 6.2 cents per share, suggesting that there may have been a minimum payment of $100.
"Juno promised us a future and they took it away from us," Savader told Quartz.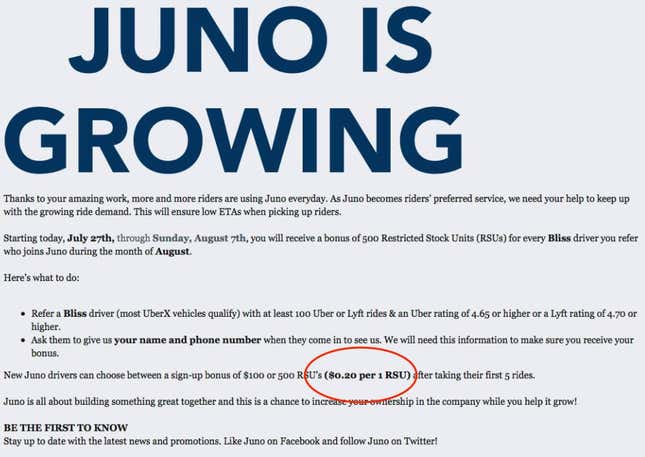 Keren Kessel, a Juno spokeswoman, said in an email that the company's stock program is being replaced with a "new cash incentive plan" for drivers who continue with Juno and agree to the terms. She declined to elaborate on what that plan would look like. Drivers who earned stock eligibility under Juno's RSU plan "are getting anything from $25 to a four-digit number," Kessel said. "Lots of drivers are having their payment rounded up," she added. She did not respond to calls and emails asking about the apparent discrepancies between the advertised RSU price and the prices offered to drivers. A spokesperson for Gett also did not respond.
Juno was said to have raised $30 million from investors. Among them was Rakuten, the Japanese e-commerce company. It had previously acquired Viber, a voice-messaging startup also founded by Marco, for $900 million. In October 2016, Reuters reported that Juno was seeking another $50 million and looking to expand beyond New York City.
The company put considerable effort in trying to gain a foothold in New York's ride-hailing market. Before it launched, Juno signed up drivers and paid them $25 per week just to keep its app on while they worked for other ride services, like Uber. The company rented an office on the 47th floor of One World Trade Center in downtown Manhattan and hired a team of "onboarding specialists" made up largely of former Apple Store employees. To entice riders, it offered discounts as high as 35%.
At a driver recruitment meeting I attended last June, a chipper woman named Megan spoke to nine prospective drivers about Juno's business model and vision. "Juno is for drivers," Megan said, in the tone of someone delivering a practiced sales pitch. "Uber is on record saying, 'I don't care about you guys … As soon as we get driverless cars we're going to deactivate you." At Juno, she continued, "you're going to have stock in this driverless car company, so even when you're not driving for us anymore, you'll still be making money." The title on the slide behind her read, "True partnership."
Despite those efforts, Juno trailed well behind its competitors in the New York market as of February, according to ride data published the Taxi and Limousine Commission, the local taxi authority. In the week beginning Feb. 19, Juno completed 170,000 trips, compared to Uber's 1.7 million and Lyft's 390,000. Only two services reported fewer trips that week: Via, a a carpooling service that operates only in some parts of the city, and Gett, with 68,000.