No one thought it would be easy, except, apparently Donald Trump.
Nearing his 100th day in office, the US president sat down for an interview with Reuters on Thursday (Apr. 27) and spoke candidly about the trials of his job. "This is more work than in my previous life. I thought it would be easier," he told Reuters.
A photo taken during that interview by Reuters photographer Carlos Barria shows Trump shrunken amid his official surroundings, a perfectly-timed metaphor for the isolation and challenge of his new role. "You're really into your own little cocoon, because you have such massive protection that you really can't go anywhere," Trump said. He sounded hemmed in by his presidential duties, also noting that he missed the autonomy of driving.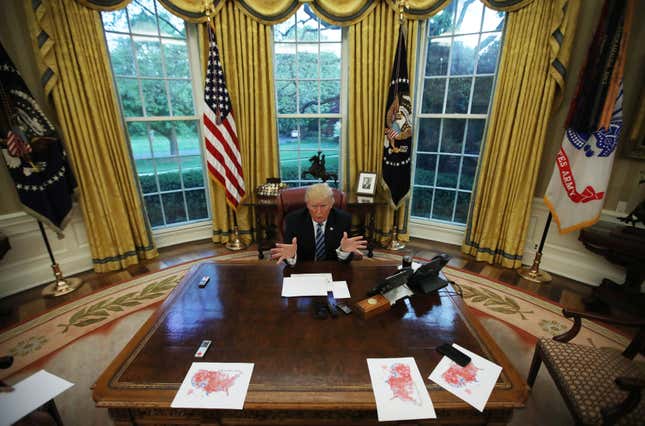 The photo is somewhat distorted from Barria's wide-angle lens: The typically imposing six-foot-wide Resolute desk used by many past presidents appears both lower and wider than usual. Trump himself looks dwarfed by the setting, his arms close to his sides as if pinned by his chair.
Before him lie three bright red-and-white prints of the 2016 electoral map, reportedly showing the areas where he garnered the most votes during the presidential elections six months ago—a topic he has frequently returned to since taking office.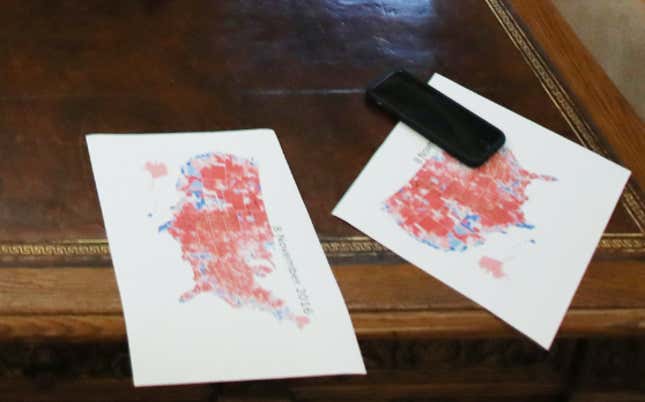 Trump's favorable election results are one of the few reassuring metrics he has at the moment. His approval ratings are at record lows compared to previous administrations. Trump has also been unable to follow up on some of his biggest campaign promises including a tax reform, the repeal and replacement of Obamacare, and construction of border wall with Mexico.
As he nears his first major milestone, Trump is slowly realizing the realities of life in the White House. Will the president who blustered his way to power ultimately face the massive demands of his office? Or will the brightest spots in his presidency remain in the past?