I eventually erased my mother's frantic voicemail, but it still beats inside me, like a second heart.
"Your brother is dead! Please come home," she screamed.
A sudden heart attack claimed my brother's life at 30. He died in his sleep, found by his eldest son.
When I lost my iPhone, eight months after his death, I mourned him for the second time. All the childhood pictures and final texts my brother, Wesley, had sent me were on there. I had not backed any of it up in my iCloud account. I feared the phone slipped out of the back pocket of my new black skinny jeans after I crossed a crowded bar.
"They're too tight for slip-outs. You were pick pocketed," said my friend as he securely placed his iPhone in his front pocket.
I thought the geniuses who created the "Find My iPhone" app would be my savior if I ever misplaced my phone. But now it wasn't technology on which I desperately relied; I was at the mercy of whomever snatched my phone and was reading my frantic pleas.
"Life or death situation. No joke. Please contact me. I WILL PAY YOU," I texted, from a friend's iPhone to my stolen one.
I wasn't yet freaking out because I could track my phone's whereabouts. The dot that represented my phone was still on the move. But after one hour, it disappeared for good, along with my hope of any reconnection. My guilt kicked into overdrive. Not only did I lose my brother, but also the relationship we'd just restarted.
*  *  *
A year after I was born in the Dominican Republic, my mother divorced my father. She left me in the care of my grandparents and left for New York City. Five years later she returned to me, with a new husband and child. That's when I first met my brother, Wesley. I was introspective; Wesley was hyperactive. From identical outfits to forced playdates, our mother pushed a bond.
A year after we were all united, our mother divorced Wesley's father. Newly single, in a one-bedroom apartment in the Bronx, she doted on Wesley and depended on me. I became my brother's guardian and my mother's spokesperson at school. Several times each month I faced the principal, in her office, due to Wesley's disruptive behavior. At home, I complained to Mom about being pulled out of class, to receive yet another lecture on his disobedience.
"I know it's hard, but you are his big brother, and I'm at work," our mom explained.
"He is my HALF-brother," I responded.
"You are full brothers because you both came from me," she replied, as she placed both my hands, firmly, on her stomach.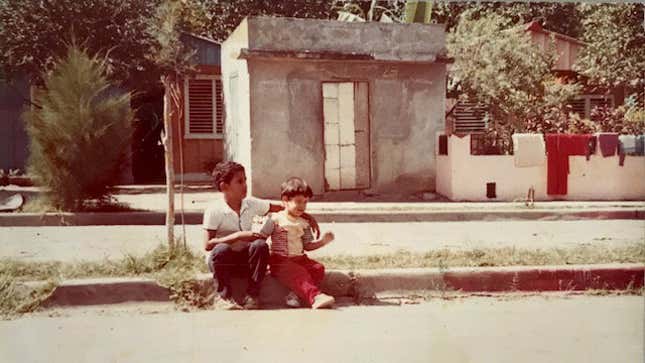 Throughout the rest of our childhood, we fought for attention with our fists and words. While Wesley and our mother danced to merengue in the living room, I'd lock myself in my room, with Madonna in my earphones, ruminating on a plan to move out the day after high school graduation.
It took ten years of distance to change my relationship with my brother. After college, I immersed myself in my career. I also sought therapy for my maternal deprivation. My brother stayed by my mother's side and helped her grow the child daycare learning center she founded. He also got married and had four kids. His last two sons, Xavier and Agustin, shared the exact age difference we did, four years apart. Unlike us, his wife, Sasha, had a close relationship with her older sister.
"This is our new family. I want them to love you, from the beginning," Wesley said to me.
When I moved to San Francisco, and he stayed in New York, we texted countless times a week, with the "family plan" and two iPhones I bought for us. Though we managed to establish a connection, we were still total opposites. I was an orthorexic neat freak. Wesley was carefree and over-nourished. But we managed to stay in touch.
*  *  *
The hope that whoever had my phone would return it had vanished. I wished there was an app available to reach that thief's heart. I got a replacement through my insurance after a $200 copay. Two weeks later, at work, I received a text from an unknown number. It was the person who had "purchased" my old phone through Craigslist, in Indiana.
"Can you remove your iCloud account so I have a usable phone?" texted the stranger.
"Contact the thief you bought it from, if it isn't you," I replied.
"Could I pay you to remove it? I have tried to contact the person with no luck."
"My brother is dead! His last texts to me and family pictures are on that phone," I explained.
"I do repair phones, and I think I could get them for you. But I need access," extended the person.
I was tempted to take the offer. But it could have been a scam. I did not want to risk getting burned while feeling so vulnerable.
"Stop this NOW, or I will contact the authorities," I texted. "Deal with it. I still am," I demanded.
So, I permanently blocked the stranger's number. In the palm of my hand I stared at the cold, shiny screen of my smartphone, and remembered how eight months before, I had to shut down Wesley's Facebook account. Though my brother was beloved by many, my mother and I did not want to be bombarded with messages while we mourned.
Facebook does offer an option for remembrance. For centuries, people have searched for the secret of eternal life, and now the social networking site offered to convert deceased users' pages into permanent memorials. But, if I couldn't restore his physical being, keeping his digital presence alive wasn't the solution. For some, their program is a great comfort. For us, it was a reminder of the pain of loss. We'd prefer a drive to the cemetery for a "visit," instead of a website.
Given that we passed on the memorial, there are two ways to take a Facebook profile offline—deletion or deactivation, which hides a user's page, but allows for reactivation later. We decided to delete it permanently—but I didn't have my brother's password. I Googled "how to permanently close an account for a deceased person." I needed to submit a special request form, which required copies of the dead person's birth and death certificates, in addition to proof of authority under local law that I was the legitimate representative of my brother or his estate. I was all the things the requirements asked for. But Wesley and I had different last names, and proof of that would have been needed as well. I still had to help my mother plan and co-host the funeral, clear all belongings from his apartment, and settle his finances.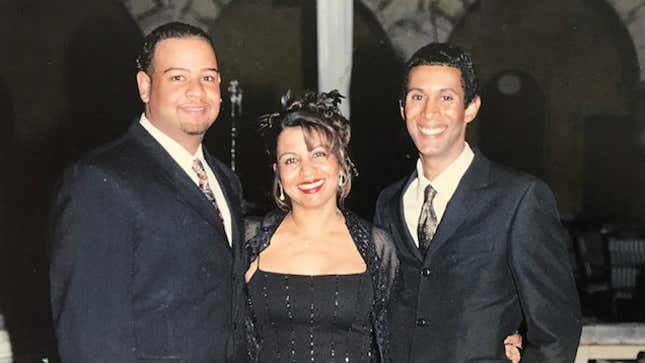 To delete his account without providing the documentation, I had to figure out his password. It took five hours and multiple name combinations, but I cracked it, with Sasha's help. It was the first two letters of the names of each of his two sons—and me.
"Your brother always called the three of you his boys," Sasha shared with me.
The day before Wesley's burial, I deleted his profile. He loathed social media, calling it "the blabbermouth." He only started a Facebook page after I moved away. I reexamined its content and pondered the irony that I would erase the very presence I'd urged him to create. On his profile page were countless posts asking if he was dead.
The private messages section contained demands for him to prove his death, along with cries for him to watch over them from heaven. I sent a note to everyone in his contact list:
"It is with great sadness and heavy hearts that we inform you that Wesley has died. This message comes from his brother and mother. We thank you for your condolences. This will be the final message from his account."
*  *  *
I found the picture of the first time we met when he and our mother picked me up from the Dominican Republic. He smiled; I wrapped an arm around his shoulders. I burned that image into my mind to access the following day, at his open-casket funeral. I could replace most of the lost pictures from our childhood, thanks to our mother's archives.
When scanning the old photos, I noticed how, in times before digital, the people and environments captured faded along with the paper quality. Now we can remaster memories through Photoshop and reverse the aging process via specialized filters. But there are no back-ups for the ones we love. It's been three years since Wesley died.
The records of our digital connection are lost to me, but I still remember his last text to me by heart: "Hey how r u? Just want to let u know I miss u and I love u. Wish u were here, I really need my big brother."