A woman's tongue curls around dark, slimy strands dangling in front of her face. Two fingers thrust a piece of salmon between half-open lips. The caption, in curly white writing, reads "Love At First Bite."
The ads are for Postmates, a San Francisco-based food delivery startup. They recently appeared in New York's subway system and are, if nothing else, provocative. Here are just a few of the comments they provoked among my coworkers, many of whom commuted this morning on a subway car or via a station with the ads:
"Ugh these are gross"
"They're like women's mouths sexually eating noodles"
"I thought she was being attacked by a squid"
"Is that rotten blood dripping from the salmon"
"The egg salad/avocado looks like vomit"
And via Twitter: "Postmates is a delivery service. Looks like torture."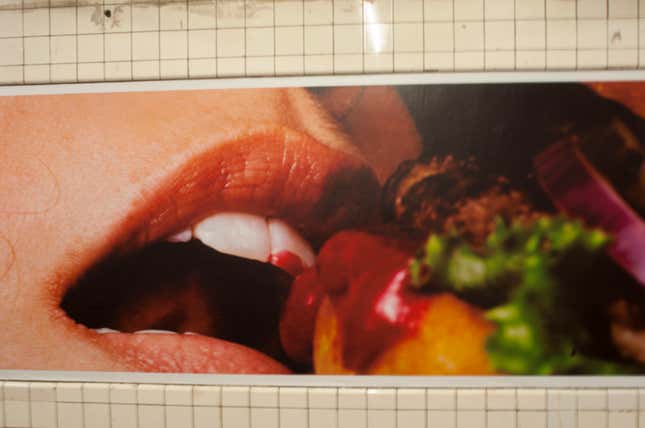 Buying ad space on the subway system is trendy among startups these days, particularly those that deliver meals and groceries. There are ads for HelloFresh, a subscription meal service, and PeaPod, a grocery delivery company. Seamless, the online food-ordering platform owned by Grubhub, has blanketed subway cards with snarky appeals to New Yorkers. "We deliver everything from your local bodega except the cat," declared one on my N train to Manhattan two weeks ago. "You did spin class. Now let us bike over to you," said another, over a commuter slumped asleep on the subway bench.
These ads tend to be brightly colored, with pictures of food or cartoon figures and a decidedly family-friendly vibe. Not so for Postmates. Its new campaign is unapologetically sexual, with close-up photos of people—mostly women—frozen in orgasmic excitement over whatever piece of food is poised to enter their mouths.
"'Love at First Bite' is a series of images that show a diverse group of people that explore the relationship between food and our senses," April Conyers, a Postmates spokeswoman, said in an emailed statement. "We hope you enjoy them."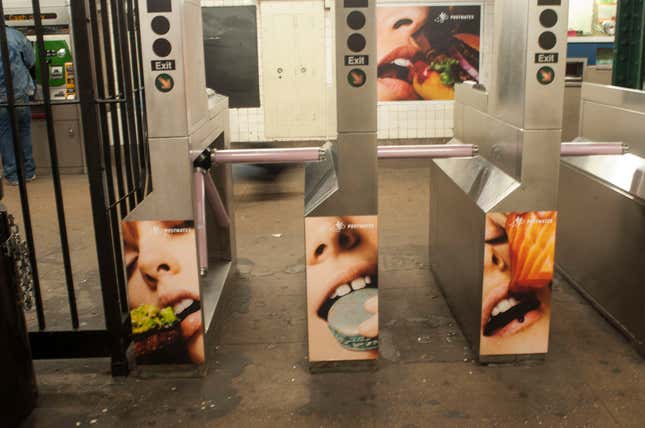 Postmates was founded in 2011 and launched in New York in May 2013. It aimed to be an Uber-for-anything, but, six years later, the bulk of its business remains in food delivery. Like many of its peers in the so-called on-demand economy, Postmates has struggled to make instant gratification cheap. Its prices can be opaque and its delivery and service fees can easily top $10 for food that costs less. Postmates is valued at $600 million and completed its latest funding, in October 2016, at a flat valuation. The company lost $47 million before interest and taxes in 2015 and expected to lose another $60 million in 2016, according to an investor presentation previously obtained by Quartz.
Food delivery is a uniquely brutal business. In the last year and a half, it has claimed many victims. California-based SpoonRocket went under in March 2016, India's Tiny Owl in May, and Belgium's Take Eat Easy in July. Maple, a New York food delivery startup that dreamed of delivering a better office lunch, shut down on May 8. Venture-capital funding to food delivery startups has also dried up. Investors put $1 billion into startups that deliver prepared meals in all of 2016; the year before, they awarded $1.5 billion in the fourth quarter alone.
Postmates has said it will be profitable in 2018. (It previously promised to reach profitability by 2016, and then by 2017.) To get there, Postmates last year told investors its annual sales—i.e., the total amount of food and other stuff sold through its platform—would increase nearly 400% by 2018, with the company's revenue growing even more, according to documents obtained by Quartz. How it would get there was less clear, though the company has made at least one change to boost revenue in recent months: It raised its "service fee" on orders to 9.99%, from 9%.
All of which might explain why Postmates has canvassed New York's subway system with such garish ads. That they are uncomfortable-bordering-on-repulsive is less important than that they are attention-grabbing. In a sea of food delivery apps, attention is what Postmates needs more than anything. A woman closing her eyes and shoving avocado toast into her face is one way to accomplish that.