Over a million Muslims are expected to head to Mecca during Ramadan, which starts May 27,  to perform the Hajj pilgrimage. Non-Muslims—who are barred from the Holy City—can now get a view of the pilgrimage on a virtual-reality app developed by an Egyptian startup.
Experience Mecca was created by BSocial, the first Middle Eastern developer to offer apps on Oculus. The app provides a virtual walk-through experience of the Kaaba, Islam's holiest site in Mecca, towards which all Muslim prayers are directed.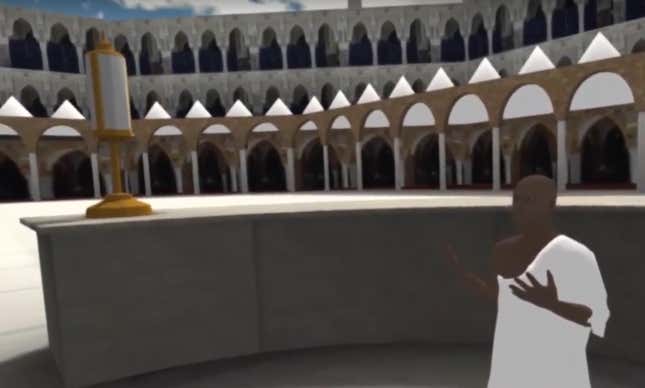 Once inside the app, users can wander freely in the Holy Mosque. A handful of pilgrims are seen making their prayers, while a preacher's call to prayer plays in the background. A female voiceover sometimes explains features in the mosque when users approach a certain object or pilgrim.
But the app is not meant to be a replacement for the Hajj. "The idea is for people to experience the spiritual journey," says Ehab Fares, director of BSocial. "But by no means is it a replacement." Fares hopes the app could allow non-Muslims to learn about the religion, but also for Muslims to feel more encouraged to travel for the pilgrimage. Since its release in April 2016, it has garnered over 165,000 downloads in the Oculus store.
BSocial is now developing a second Oculus application, Experience Quran, designed for young Muslims and offering a 360 animation that enacts selected verses from the Quran. The app is expected to be released before the end of Ramadan on June 26.